Despite clashes between police and protesters on the streets of Mong Kok in Hong Kong, a university student used a brief moment of quiet to relieve the tension and ask his girlfriend to marry him.
Yau Chi-hang, 22, got down on one knee and proposed to his girlfriend, 21-year-old Crystal Chan, on Sunday morning as another day of the occupation started.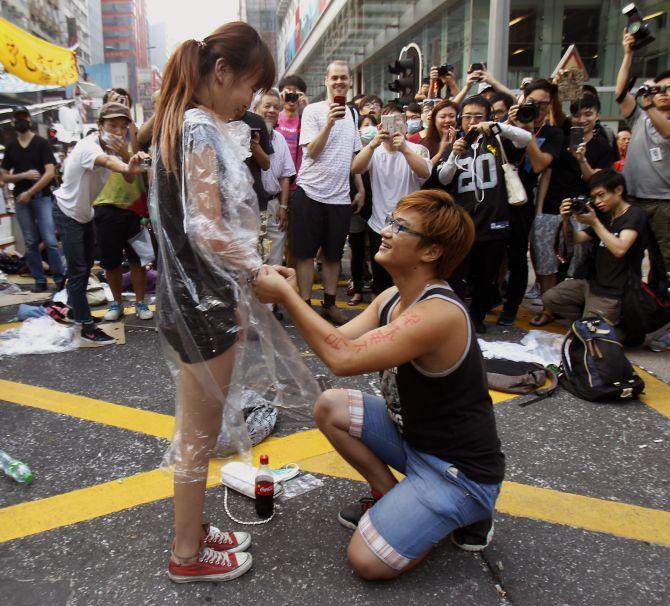 Yau, 22, gets down to his knees and proposes to his girlfriend Chen, 21, both university students and pro-democracy protesters on a main street which they occupied, at Mongkok shopping district in Hong Kong. Photograph: Liau Chung-ren/Reuters

Chan, wearing a plastic parka which has become a standard gear of the protestors in the week-old campaign , said yes. The couple then embraced and kissed each other, drawing cheers from the crowd as cameras clicked away, the reports said. The couple then chanted "Leung Chun Ying step down" and "real universal suffrage".
Asked about children, they were quoted as saying: "We hope our next generation won't have to be occupying the streets as they'll have true universal suffrage."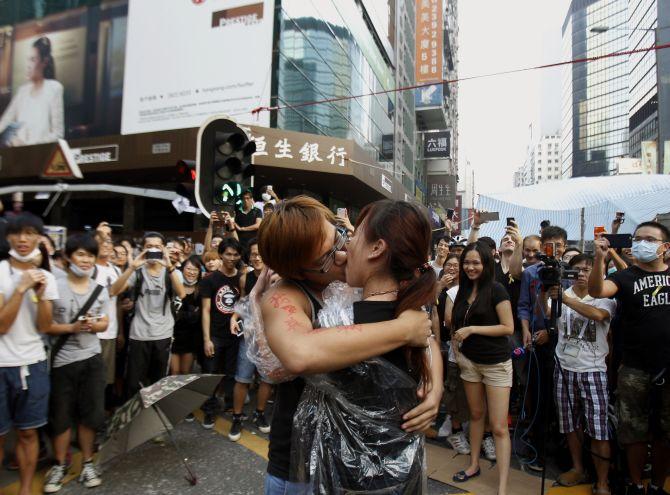 Yau kisses his girlfriend Chen after she says yes to his marriage proposal. Photograph: Liau Chung-ren/Reuters

Yau said he had been up all night before the 7 am proposal. "To begin with, I had been thinking of proposing on the 21st," he added. "But then I saw there's so many people here, so why not do it today, so that everyone can be a witness to our love."
Thousands of people are occupying several parts of Hong Kong in continued opposition to the Chinese Government's refusal to let them select their own candidates for leadership elections in 2017, allowing only pre-approved politicians to stand.