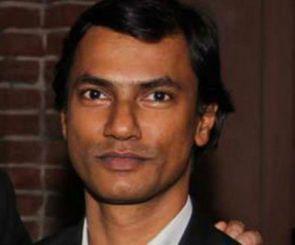 Bangladesh police detained a college student and claimed to have found some "important evidence" in connection with the brutal killing of two gay rights activists at an apartment in the national capital.
"We have detained a college student last night for questioning," a police spokesman said on Tuesday, a day after the machete-wielding killers hacked to death USAID staff Xulhaz Mannan and his friend Mahbub Tonoy, a university student.
Senior Assistant Police Commissioner Shibli Noman said that police found a bag used by the assailants which appeared as "important evidence" in investigating the case.
"Police ASI Momtaz Ahmed chased the killers and managed to snatch a bag from them as they were fleeing the scene -- during the scuffle the officer was also injured," Noman said.
One police official said they found several items including a mobile phone in the bag. But no-one from the law-enforcing agency would give further details.
Mannan, a cousin to former foreign minister Dipu Moni, also edited 'Roopban', the first magazine in Bangladesh that advocates the gay rights.
Dhaka police's joint commissioner Krishnapada Roy earlier told PTI that the pattern of killings of the two activists suggests the incident was carried out by suspected Islamists.
The killing of Mannan, who had worked at the US embassy in Dhaka, prompted US Ambassador Marcia Bernicat to ask Bangladesh in the "strongest terms" to apprehend the killers.
Prime Minister Sheikh Hasina ordered intensified steps to nab the killers and bring them to justice. She also accused main-opposition outside parliament BNP and its ally fundamentalist Jamaat-e-Islami of hatching the murder plots.
"Everybody knows who were behind such killings...The Bangladesh Nationalist Party-Jamaat nexus has been engaged in such secret and heinous murders to destabilise the country," she said.
Witnesses said a group of youths, clad in T-shirts and jeans, carried out the murders and also attacked and injured a security guard with sharp weapons.
They said the attackers had fled the scene after firing from their guns and shouting 'Allah-o-Akbar' (God is great).
There have been systematic assaults in Bangladesh in recent months specially targeting minorities, secular bloggers, intellectuals and foreigners.
Last year, four prominent secular bloggers were killed with machetes, one inside his own home.