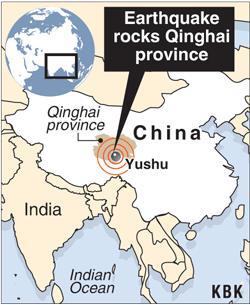 A powerful earthquake on Wednesday devastated China's remote northwestern province of Qinghai, killing 400 people as it toppled houses, created cracks in dams and left over 10,000 injured, officials said.
The trembler measuring 7.1-magnitude on Richter Scale hit the province in the Qinghai Tibetan plateau early today and almost flattened Jiegu township, where more than 85 per cent of the houses collapsed.
The Indian embassy in Beijing said that they have not received reports of any Indian casualties so far.
Paramilitary and rescue workers were reportedly working with their hands to remove the rubble to save the people buried under it. TV channels reported that all access roads to the region had been damaged and even the airport was cut off. Downed phone lines, strong gales and continuing aftershocks were hindering rescue efforts, with the Xinhua news agency reporting that bleeding people were lying on the roads.
A Chinese official said the toll could go up as houses in the remote area were mostly made of mud and almost all of them collapsed in the quake.
This quake comes less than two years after a magnitude 7.9 quake hit the neighbouring Sichuan province, which left 90,000 people dead. The rescuers were working hard to release water from a reservoir on the town's outskirts where cracks had formed after the quake. Among the casualties were many school children, who were buried under the debris of the building.
Many people are still buried under the debris of collapsed houses in the Gyegu Town near the epicentre in the Tibetan Autonomous Prefecture of Yushu in southern Qinghai, said Huang Limin, deputy secretary-general of the prefecture government.
The strong quake had a string of aftershocks, with the biggest one measuring 6.3 on the Richter Scale toppling houses, temples, gas stations and electric poles, triggering landslides, damaging roads, cutting power supplies and disrupted telecommunications, the official Xinhua news agency reported. Gyegu, also known as Jiegu, is the seat of the Yushu prefecture government. The town has a population of about 100,000, including permanent residents and migrant people.
Nearly 700 soldiers are now struggling to clear away the rubble and rescue the buried people, a spokesman with the Qinghai provincial emergency office said. More than 5,000 additional rescuers, including soldiers and medical workers, have been dispatched to the quake-hit region, according to a news conference held by the Qinghai provincial government.
"Our top priority is to save students. Schools are always places that have many people," said Kang Zifu, an army officer involved in the rescue operations.
Image: KBK Graphics
© Copyright 2020 PTI. All rights reserved. Republication or redistribution of PTI content, including by framing or similar means, is expressly prohibited without the prior written consent.