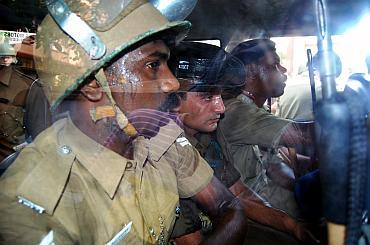 Communist Party of India-Marxist and Trinamool Congress workers clashed on Sunday during the fiercely-contested West Bengal civic polls, which recorded a high voter turnout of around 75 per cent. The polls, seen as a semi-final before the 2011 Assembly elections, were held in 81 civic bodies and in the 141-ward Kolkata Municipal Corporation involving an electorate of 85 lakh.
Counting of votes will take place on June 2. State Election Commission chairperson Meera Pandey said that re-poll was likely to be ordered in two booths in Kolkata. Altogether 45 arrests were made in the districts and the city for indulging in violence. A voter received bullet injuries when a Tripura police constable reportedly opened three rounds of fire at a polling booth at Patuli in South 24-Parganas district. The injured, identified as Bapi Dhar, earlier had an altercation with the policeman and was rushed to a hospital, IGP (law and order) S Purakayastha said. The Tripura Police personnel were manning the booth located at Kendua Girls' High School at Patuli which falls under Chief Minister Buddhadev Bhattacharjee's Jadavpore assembly constituency. An inquiry would be ordered into the incident, the IGP said.
In Burdwan, nine persons, including two policemen and a Trinamool candidate, were injured when Trinamool and CPI-M activists clashed during polling at Jamuria municipality. The police said the two sides clashed while voting was on at Sripur in Burdwan district. When the police reached the spot, stones were thrown at them damaging two of their jeeps. Sripur police station officer-in-charge Saikat Ray and another policeman were injured in the brick-batting, while Trinamool candidate Sadhan Chandra Ray was injured in the clash. Trinamool supporters clashed with the police in some wards of Hooghly district.
The IGP said Trinamool workers ransacked a police van at Sripur in Burdwan district. Some crude bombs were recovered from Liluah in Howrah district where police seized two motorcycles and made onearrest. EVM hitches slowed down the polling process in some booths, the officer said. He said para-military forces were extensively used for guarding booths and in mobile patrolling. Of the 81 municipalities spread across 16 districts of the state, the CPM-led Left Front was in power in 55 civic bodies, Congress in 11 and Trinamool Congress in 8. The Congress and Trinamool Congress jointly formed boards in six municipalities. The Congress, with the help of Independents, constituted board in one municipality in Murshidabad district.
In the outgoing 141-ward Kolkata Municipal Corporation Board, the CPI-M-led Left Front had 75 seats, while Trinamool Congress had 42, followed by Congress with 21 and BJP with 3. For the Left, the Kolkata Municipal Corporation polls is a prestige issue since it had snatched it from theTC in 2005. All the three major players -- Left, TC and Congress -- have a lot at stake in Sunday's polls.
For Chief Minister Buddhadeb Bhattacharjee, a good showing by the Left can be projected as their revival from the debacle of the last Lok Sabha elections when it won just 15 seats out of 42 against Trinamool chief Mamata Banerjee's 19. For the TC chief, who has campaigned vigorously for the polls, the results are expected to give enough indications on whether she will ride to power in the assembly polls due next May. An important factor is that Trinamool has parted ways with the Congress for the civic polls and may choose to go it alone in the assembly elections if the outcome of Sunday's exercise goes in its favour.

Image: Jawans near a polling booth during the Bengal civic polls. 
Photograph: Dipak Chakraborty
© Copyright 2021 PTI. All rights reserved. Republication or redistribution of PTI content, including by framing or similar means, is expressly prohibited without the prior written consent.