On her arrival to Delhi, External Affairs Minister Sushma Swaraj tweeted, 'Geeta -- Welcome home our daughter.'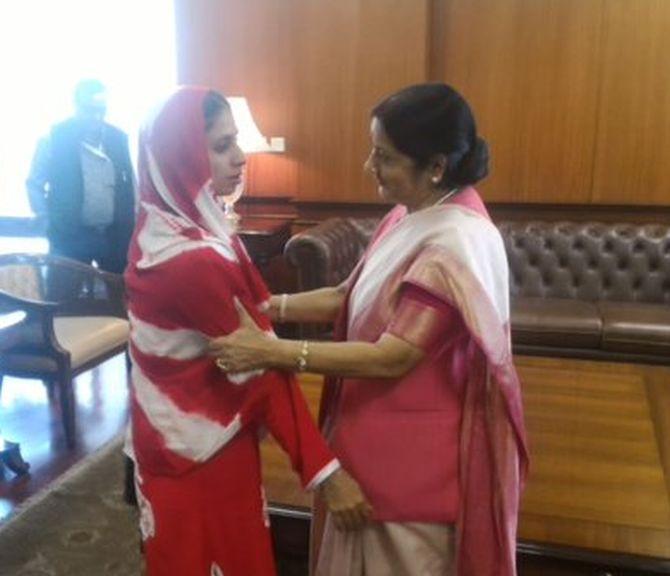 Nearly 15 years after she accidentally crossed over to Pakistan, Geeta, a girl with a hearing and speech impediment whose story has touched people on both sides of the border, returned to Delhi on Monday.
Pakistan International Airlines flight PK 272 carrying 23-year-old Geeta from Karachi landed at the Indira Gandhi International Airport around 10.30 am where she was given a warm welcome.
Dressed in a white-red salwar suit and her head covered with dupatta, she waved to the waiting people.
She was reportedly just 7 or 8 years old when she was found sitting alone on the Samjhauta Express by the Pakistan Rangers 15 years ago at the Lahore railway station.
She was adopted by the Edhi Foundation's Bilquees Edhi and lived with her in Karachi. Bilquis and her grandchildren, Saba and Saad Edhi, are accompanying Geeta.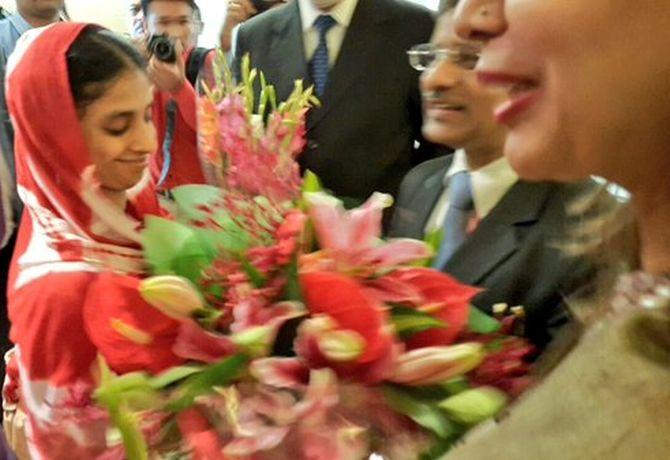 Her story came to light after the release of Salman Khan starrer 'Bajrangi Bhaijaan' in which the hero unites a girl separated from her Pakistani mother who was visiting India.
Indian high commissioner to Pakistan, T C A Raghavan, and his wife had visited Geeta in August after External Affairs Minister Sushma Swaraj directed him to meet her and try to locate her family.
Before boarding the PIA flight from Karachi, a beaming Geeta thanked the Pakistani people for taking care of her.
Faisal Edhi of the Edhi foundation told reporters in Karachi that they would continue to stay in touch with Geeta through social media and even visit her. "She is not really separating from us," he said.
Sources had earlier said that Geeta has identified her father, step-mother and siblings from a photograph sent to her by the Indian high commission in Islamabad. The family reportedly lives in Bihar.
Swaraj had said that Geeta would be handed over to the family after DNA test.
The ministry had said Geeta would return to the country as she is "India's daughter", irrespective of whether her family is traced or not.
Geeta's kin to be identified by DNA test
Meanwhile, the All India Institute of Medical Sciences has deputed two doctors to collect the DNA samples of Geeta, who has returned to India from Karachi almost after 15 years, to determine her parentage and the results will be known "after 15-20 days".
"We have deputed two doctors to collect the DNA samples of Geeta from the hotel where she is staying. These samples will be sent to the AIIMS Forensic lab and Central Forensic Science Laboratory for carrying out necessary tests to determine her parentage," said Dr Sudhir Gupta, Head of AIIMS Forensics Division.
Gupta said that they have already collected the samples of the family which claimed Geeta as its own on October 24 after the ministry of external affairs wrote to the hospital.
The ministry had asked it to collect samples for DNA test to confirm if Janardhan Mahato, who claims that Geeta is his first born Heera, is indeed her father.
"We have already collected the samples from her reported parents after we received a letter from the foreign ministry to assist in her DNA test," said Gupta adding that the samples have been sent to AIIMS forensic lab and CBI's forensic lab.
"We are fast tracking this test and the results will be out in 15-20 days," he added.
Photographs: @MEAIndia/Twitter