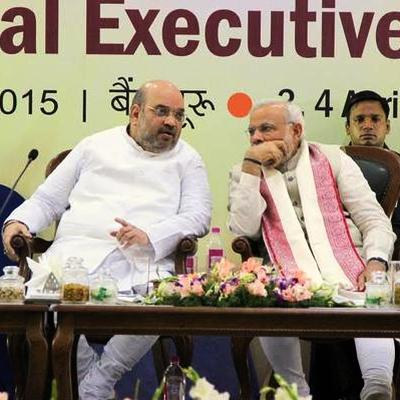 Bharatiya Janata Party chief Amit Shah on Friday took a dig at the Congress, stating that "instead of trying to find fault with the prime minister's coalition government, the party should find its missing leader."
Shah's remarks came during the national executive meeting of the BJP in Bengaluru where the party's A-listers led by Prime Minister Narendra Modi are working on plans for upcoming elections in important states like Bihar, and prepping an extensive campaign to counter the opposition, which has accused the government of exposing its "anti-farmer" stand by proposing land reforms that make significant changes to an existing law.
Rahul has been missing in action for over a month and Congress has insisted that he has been granted leave of absence to introspect over the party's affairs following a string of electoral reverses starting with its rout in Lok Sabha elections.
He skipped the first leg of the crucial budget session of Parliament, inviting sharp criticism from the opposition parties with even senior Congress leader like Digvijay Singh finding fault with the timing of his leave.
According to Congress sources, he will return to Delhi on April 12, a week ahead of a party rally to attack the government over its land reforms.
Rahul's disappearance from the political scene has given the BJP enough reasons to take a jibe at the former's party.
Doubting reports of Rahul's return, BJP on Thursday said it is not sure if such news reports are true and that his "vacation' is finally over.
"Are you serious?," is how BJP Spokesperson Shahnawaz Hussain responded when reporters sought his response.
"We do not know if reports about the date Rahul Gandhi is coming on are true. No Congress spokesperson has made any statement to this effect. What plane is he coming on, when will he meet (others), if his vacation is finally over' this all will be discussed when he does finally come back," he said.
Over the last few days, BJP leaders have also made remarks like "eclipses can be predicted, Mr Gandhi's return cannot".