Over two decades of having to live with the stigma of being labelled as a spy has been finally removed with the Supreme Court awarding him Rs 50 lakh compensation, former Indian Space Research Organisation scientist Nambi Narayanan said.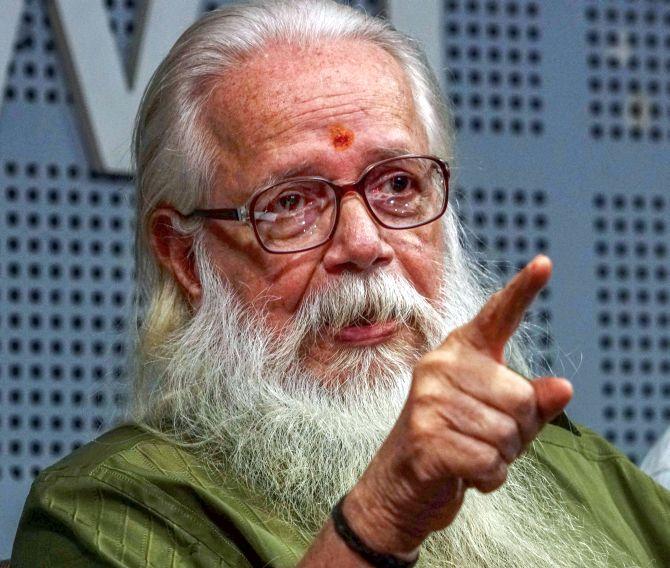 "I had a necessity to prove my innocence and the 24-year long legal battle to come out of the stigma of being labelled as a spy is over," he said on Wednesday.
Narayanan said he suspected that vested interests were behind the 1994 case to deliberately delay India's cryogenic engine technology by at least 15 years.
He also said the technology he was accused to have stolen and sold in the 1994 case did not even exist at that time.
Narayanan expressed the hope that the Supreme Court appointed three member to take appropriate steps against the erring officials would ascertain why and who had fabricated the case against the former ISRO scientist.
On the compensation awarded by the apex court, Narayanan said it need not be clubbed with the Rs one crore civil liability suit he filed against Kerala government and police officials responsible for his arrest.
Referring to the role of the media during the spy scandal in 1994, Narayanan said they were misguided and misled by certain investigating officers.
The apex court while ordering a probe into the role of Kerala police last week awarded Rs 50 lakh compensation to the 76-year-old Narayanan for being subjected to mental cruelty and asked the state government to pay it to him within eight weeks.
The bench, headed by Chief Justice Dipak Mishra, had formed a three-member panel headed by its former judge D K Jain to probe the framing of Narayanan in the case.
Narayanan had approached the apex court against the judgment of the Kerala high court, which said no action was required to be taken against former DGP Siby Mathews and two retired Superintendents of Police K K Joshua and S Vijayan, who were later held responsible by the CBI for the scientist's illegal arrest.
The 1994 espionage case pertained to allegations of transfer of certain confidential documents on India's space programme to foreign countries by two scientists and four
others, including two Maldivian women.
Narayanan had to spend close to two months in jail before the CBI concluded the allegations against him were false.
© Copyright 2023 PTI. All rights reserved. Republication or redistribution of PTI content, including by framing or similar means, is expressly prohibited without the prior written consent.