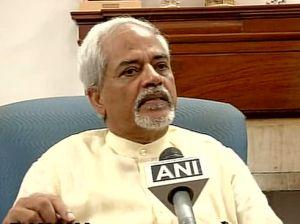 Marking an end to his tenure as St Stephen's principal, the college will on Sunday bid farewell to Valson Thampu who referred to himself as "controversy's child".
Thampum, who studied at St Stephen's and later served the college as a lecturer and officiating principal, took over as the college principal in 2008. His tenure ends on Monday and his successor John Varghese will take charge of the prestigious institution on March 1.
The principal, who has had a "love-hate" relationship with a section of teachers, alumni, students and even the media, says he is looking forward to celebrating the "festival of retirement".
A fellowship meal by the Christian Staff Fellowship and a farewell lunch at the principal's bungalow were held on Sunday followed by the launch of a Coffee Table book on his tenure.
"The farewell gesture closest to my heart was a coffee table book on my tenure which has been dedicated by few alumni including Diljeet Titus. I am thankful to them for this most appropriate gesture by way of celebrating and commemorating my retirement," Thampu said.
"It is, assuredly, a breath-taking product: a true collector's item. But it is not for sale. Another exciting thing, from my point of view, is the "Adieu Walk," which has been named "Shukran" by the Dean of Residence, which will take place tomorrow," he added.
Another farewell meeting will be held in the college on Monday preceded by Farewell Chapel Service. The Adieu Walk will mark the "celebration of a new beginning", Thampu said.
Allegations of forced conversion of an administrative officer to Christianity, fake degree used for his appointment, banning of e-zine for not seeking permission on content, shielding a professor accused of sexual harassment of a research scholar and proposing amendments to the college's 102-year-old constitution marked Thampu's stint at St Stephen's helm.
Repetitive demands were made for his removal by various quarters in wake of the controversies.
"I am a controversy's child and I have maintained that Stephen's can withstand 1,000 other controversies. No other institution in the world has been subjected to such 'harassment' and I challenge anyone to prove that any allegation levelled against the college had any substance, ever," Thampu said.
© Copyright 2023 PTI. All rights reserved. Republication or redistribution of PTI content, including by framing or similar means, is expressly prohibited without the prior written consent.