The Gujarat government on Tuesday banned entry of tourists at the Statue of Unity in Narmada district till March 25 and also directed hotels and restaurants to avoid hosting large functions in view of the
coronavirus threat.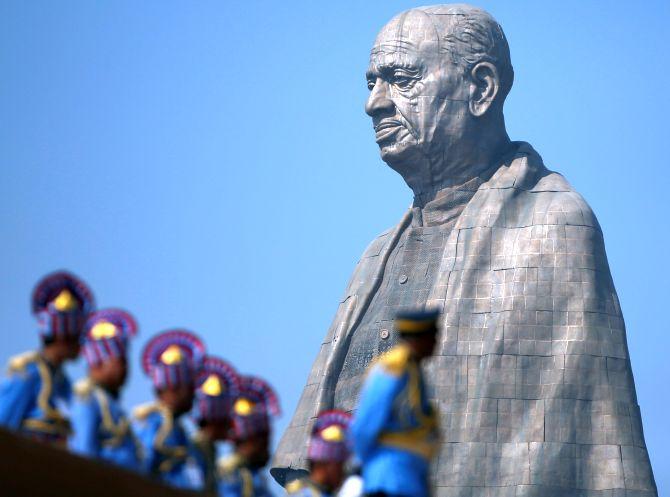 The Statue of Unity at Kevadia, a towering memorial dedicated to Sardar Patel, has emerged as a major tourist attraction ever since it was inaugurated on October 31, 2018.

Chief Minister Vijay Rupani said efforts of his government and cooperation from people have helped in keeping the deadly infection away from Gujarat so far.
Gujarat has not reported a single positive case of the novel coronavirus so far.

"Due to the state government's efforts and people's cooperation, no case of the coronavirus has been recorded in Gujarat.

"The disease has spread rapidly across the world and is found is small numbers in India too," he said in a video message released on social media.

The CM urged citizens to be vigilant so that disease does not spread in Gujarat.

People of Gujarat have migrated to many countries and regularly travel across the world for business, he said, adding guidelines issued by the Central government and World Health Organisation in regard to the coronavirus should be strictly followed.

Rupani said the government has taken a slew of steps to prevent spread of the deadly disease in Gujarat.

These measures include screening travellers coming from abroad at airports, closing schools, colleges, cinema halls, public places and tourist spots, he said.

Rupani advised people above 60 years of age and those who suffer from medical conditions such as hypertension, diabetes or any other ailment, to practice self-quarantine.

"The fatality rate of this disease in around 2 per cent and the state is prepared to treat patients so nobody should panic," he said.

Meanwhile, addressing the media on Tuesday, principal secretary (health and family welfare) Jayanti Ravi said the district administration of Narmada has decided not to allow tourists at the Statue of Unity till
March 25 as part of steps to avoid crowding.

Over 29 lakh tourists visited the Statue of Unity, located near the Sardar Sarovar Dam, since it was inaugurated and this generated a revenue of Rs 82.51 crore, the government had told the assembly in December last year. The tourist figure was from November 1, 2018 to November 16, 2019.

The government has also asked private doctors and government medical colleges to intensify surveillance to track cases of Severe Acute Respiratory Infection as they could be patients of COVID-19, she said.

"We spoke to several top doctors, experts of the Indian Medical Association as well as deans and superintendents of government medical colleges, and asked them to intensify surveillance of SARI cases
because they might be cases of COVID-19," Ravi said.

Hotels and restaurants have been asked not to host large functions, she said, adding a massive drive has been launched to clean and disinfect state transport buses.

Health secretaries of neighbouring and other states have been contacted and asked to prevent inter-state movement of people, the senior bureaucrat said.

Private organisations have been told to allow employees to work from home wherever possible, she said.

"The situation is reasonably under control. There is no need for panic. We are fully prepared in the event of positive cases coming up," she said.