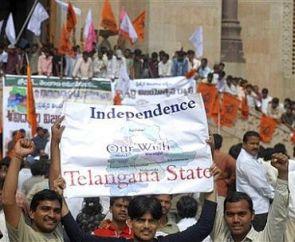 YSR Congress Party honorary president Y S Vijayalakshmi began her indefinite fast against the proposed division of Andhra Pradesh and accused TDP president N Chandrababu Naidu of having a tacit understanding with Congress on the separate statehood issue.
"Chandrababu's 2008 letter to the then union finance minister Pranab Mukherjee, agreeing to division of Andhra Pradesh, was responsible for the CWC's decision to carve out separate Telangana state," she alleged while addressing a public rally.
Vijayalakshmi, who recently resigned as MLA from Pulivendula constituency, along with her son and Kadapa MP Y S Jaganmohan Reddy, in protest against the "manner in which the division of the state was finalised by Congress", said that TDP was shedding crocodile tears on the issue.
She did not spare Congress either and accused the party of drawing a political mileage from the statehood issue.
"Congress decision (on carving out Telangana) is politically-motivated one and taken in keeping 2014 elections in mind," Vijayalakshmi added.
She said that Congress did not take into consideration the sentiments of people from the Andhra-Rayalaseema regions before taking a final call on the division of the state.
"YSR Congress' stand is clear. If equal justice can not be done to both the regions, the state should be kept intact. Before the bifurcation of state takes place, issues like sharing of finance, river water, government staff should be taken into consideration," she said.
In a veiled attack on TRS chief K Chandrasekhar Rao, Vijayalakshmi said, "People of Seemandhra are deeply attached with Hyderabad city and it is unjust to show them the door now."
KCR's purported statement on people from non-Telangana regions staying in Hyderabad post division had caused a furore.
Meanwhile, TDP leaders including former health minister S Aruna, MLC Nannapaneni Rajakumari and MLA Y Srinivas also sat on fast-unto-death.
At the venue of the fast, TDP leaders lashed out at Congress and YSR Congress accusing them of being hand-in-glove on the statehood issue.
"YSR Congress is the child of Congress party and is all set to merge with the latter. Both the parties sacrificed interests of Seemandhra region for political gains".