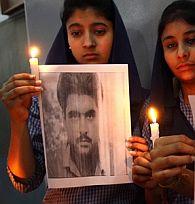 The mortal remains of Sarabjit Singh, which were brought to his village Bikhiwind 23 years after he inadvertently crossed over to Pakistan, will be consigned to flames this afternoon with state honours.
Pay tribute, light a candle for Sarabjit Singh
A large number of people, including women, have started arriving for the cremation of 49-year-old Sarabjit who succumbed to his injuries in a hospital in Lahore on Thursday following a brutal attack in Kot Lakhpat Jail where he was lodged since 1990.
Union Minister of State for External Affairs Preneet Kaur, an MP from Patiala, Punjab Chief Minister Parkash Singh Badal, his deputy Sukhbir Badal and a number of leaders are expected to attend the last rites of Sarabjit.

The government has announced a state funeral and also a three-day mourning as a mark of respect to Sarabjit, besides financial aid and government jobs for his family.
The village with a population of around 11,000 and located about 36 km from Amritsar, is in a state of mourning since Thursday with residents gathering near the house of the
family after the news of the Indian prisoner's death spread.

Shops and commercial establishments in this area have also remained shut. The village witnessed angry protests with locals raising anti-Pakistan slogans and burning effigies.
Officials of the district administration have made arrangements for the state funeral in the outskirts of Bikhiwind. A large posse of police personnel have been deployed.
Meanwhile, a second autopsy was conducted last night by a team of six doctors at the government-run AmritsarMedicalCollege to ascertain the cause of Sarabjit's death. The first postmortem was carried out at the JinnahHospital in Lahore.

Chief Minister Parkash Singh Badal has demanded an independent probe by an international agency into the circumstances leading to Sarabjit's death.
According to his family, Sarabjit had inadvertently crossed the zero-line near here in an inebriated state while working in his fields which run along the border.