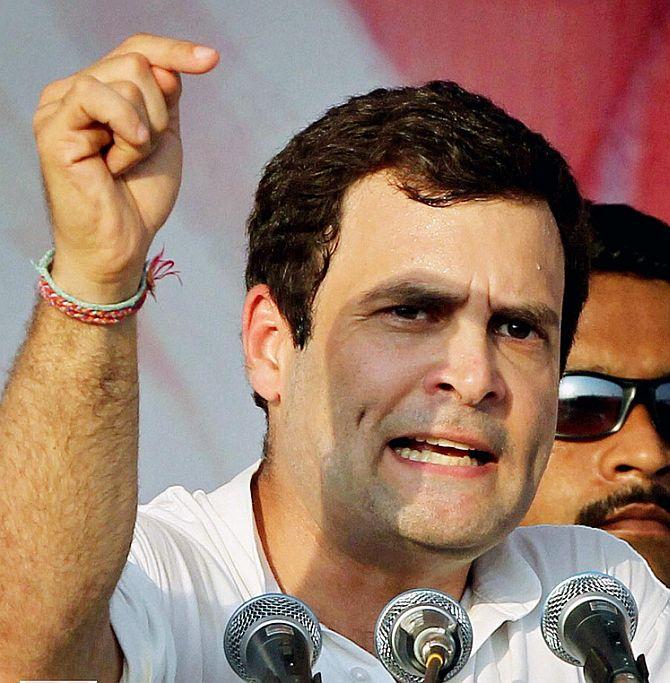 Dismissing suggestions that he had made a U-turn on Rashtriya Swayamsevak Sangh's role in killing Mahatma Gandhi, Congress vice president Rahul Gandhi on Thursday insisted that he stood by 'every single word' said by him.
'I will never stop fighting the hateful & divisive agenda of the RSS. I stand by every single word I said,' he tweeted.
His tweet came after media reports said that he took a U-turn on Wednesday when he told the Supreme Court that he did not ever blame the RSS for the assassination of Mahatma Gandhi but had only said that a 'few individuals in the organisation' were responsible for it.
Before Rahul's tweet, Information and Broadcasting Minister M Venkaiah Naidu said in the morning that wisdom had prevailed upon the Congress vice president.
'Good, Rahul finally admitted before Supreme Court that the RSS is not accused in the assassination of Mahatma Gandhi.
'Wisdom has prevailed. It may be a U-turn but a good turn. The RSS a patriotic organisation. RSS - Ready for Self Service anywhere any time (sic),' Naidu tweeted.
Rahul on Wednesday chose to set the records straight by telling the top court that he had never blamed the RSS as an institution for killing Mahatama Gandhi but persons associated with it were behind the assassination.
He buttressed his stand by citing paragraphs from his affidavit filed in the Bombay high court, while challenging the summons issued to him as an accused for his alleged defamatory statement in a 2015 election rally in Maharashtra.
Senior advocate and Congress leader Kapil Sibal, appearing for Rahul, cited the affidavit filed before the high court saying he had only accused certain people of the RSS and not the organisation as the killer of Mahatma Gandhi.
'I never made the statement that RSS killed Mahatma Gandhi but persons associated with the RSS killed him,' the senior advocate had told the Court.
Earlier on Thursday, Congress leader Digvijay Singh had dismissed suggestions that Rahul has made a U-turn in the Supreme Court on the RSS and said the party vice president stands by his assertion that the person who assassinated Mahatma Gandhi was from the organisation.
'No U-Turn by Rahul Gandhi on RSS. He stands by what he said. Person who killed was from RSS. It is the Ideology of hate and violence which killed Mahatma Gandhi,' the Congress general secretary said in a series of tweets.
Meanwhile, the Bharatiya Janata Party raked up past cases of rape and murder involving leaders of Congress to wonder if Rahul Gandhi can be linked with these heinous crimes.
The party also accused Gandhi of speaking lies to target RSS as it asked him why the United Progressive Alliance government did not take any action against the Hindutva organiation during its 10 years in power.
"Those living in glass houses should not throw stones at others. Will Rahul Gandhi be liked with the rape and murder of the Dalit woman Bhanwari Devi or killing of Naina Sahni because those accused of these crimes were from the Congress?
"The truth is that RSS has only grown in strength despite attempts by likes of Jawaharlal Nehru, Indira Gandhi, Rajiv Gandhi and Sonia Gandhi to target it. It just shows Rahul Gandhi's ideological bankruptcy and we do not take him seriously," BJP national secretary Shrikant Sharma said.
Party spokesperson G V L Narasimha Rao said, "Gandhi's "face saving verbal gymnastics after a surrender in Court on RSS won't help. False bravado and bluster no substitutes to truth."
© Copyright 2023 PTI. All rights reserved. Republication or redistribution of PTI content, including by framing or similar means, is expressly prohibited without the prior written consent.