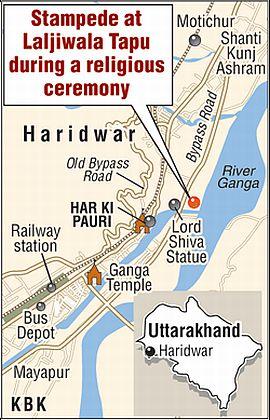 Sixteen persons were killed and at least 30 injured when a stampede took place inside the famous Shanti Kunj where half a million people were converging to participate in the birth centenary celebrations of the founder Acharya Sriram Sharma.

According to the police, the five-day celebration had begun on Monday and thousands of people were pouring in from across the globe to pay homage to the highly revered founder guru of the ashram that is spread across a sprawling area along the Haridwar-Rishikesh road.

"As many as 1,551 'yagyas' were beiing performed as a part of the ritual along the open banks of the Ganga river," said Harbir Singh, the local sub-divisional magistrate.

"The stampede was triggered when an old woman slipped in the midst of the moving crowd. Chaos followed as people went falling one above the other leaving five dead and at least 40 injured," he added.

"The dead included 14 women and two men." he said.

The administration has ordered a magisterial inquiry into the incident.