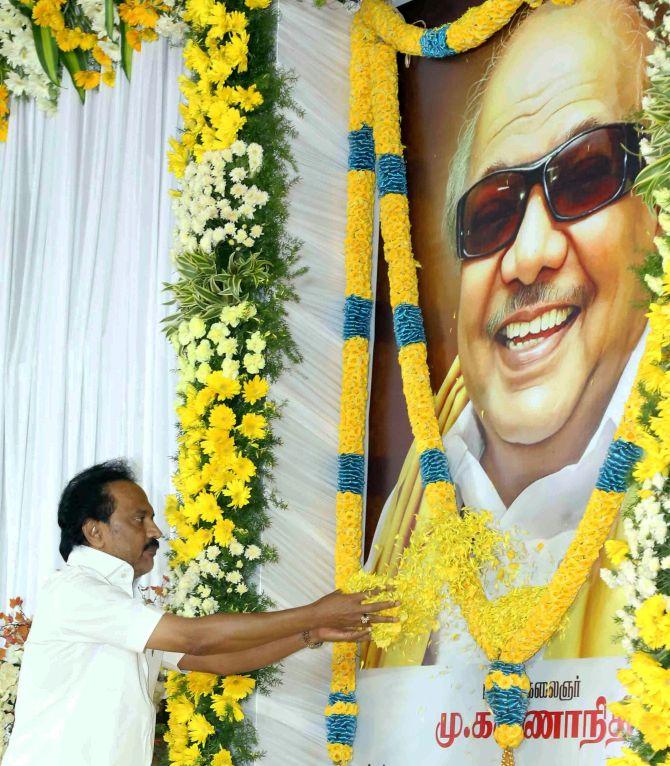 Dravida Munnetra Kazhagam leader M K Stalin on Tuesday said he literally 'pleaded' with Chief Minister Edappadi K Palaniswami to provide space for burial of party supremo M Karunanidhi on the Marina beach front.
The government, on its part, maintained that its decision to allot burial space for the Dravidian stalwart elsewhere was taken considering legal issues, but asserted it gave 'unprecedented respect' to the leader by ensuring state honours.
Stalin, DMK working president, said he decided not to pay heed to his senior colleagues' suggestion that he need not meet Palaniswami to make a plea on the issue and that they would do the job.
"I was prepared to lose my dignity and honour for the sake of Thalaivar (leader--Karunanidhi) and met the chief minister where we made our case (for space at Marina).
"He cited rules to say it was not possible and that even legal opinion was in this regard," he said at an urgent meeting of the DMK executive committee to mourn Karunanidhi's demise.
"I told (the CM) that legal advisers will only reflect the government...I literally pleaded with the chief minister, holding his hands, and asked his support for us in fulfilling our Thalaivar's desire (of being buried near the Anna memorial)," he said.
DMK founder C N Annadurai, fondly addressed as Anna, is the mentor of Karunanidhi from whom the latter took over the reins of the party and the government after his death in 1969.
A grim-faced Stalin, who broke down occasionally while reminiscing about his father, said Palaniswami 'did not oblige and just said the matter will be considered to see us off'.
Later, the state government announced allocating space near the memorials of former chief ministers C Rajagopalachari and K Kamaraj at Guindy, following which DMK knocked at the court door, he said.
Stalin credited the DMK's legal wing for securing a favourable verdict in the case.
The DMK working president said his father had endured so many struggles with success, adding 'even after his death he won'.
Reacting to the criticism, the ruling All India Anna Dravida Munnetra Kazhagam said the government could not initially allot space at the Marina beach for burying the DMK leader due to pending cases against construction of memorials on the famous sands.
Senior party leader and state Fisheries minister D Jayakumar said an AIADMK delegation led by deputy chief minister O Panneerselvam had earlier visited Karunanidhi's residence at Gopalapuram to enquire about his health when he was ill and that it was a matter of 'political decency'.
"We later paid respects (to his mortal remains) led by the chief Minister at Rajaji Hall. On behalf of the government, I had participated in his burial on the direction of the chief minister," he told reporters.
The government had offered land elsewhere as possible legal issues could crop up with his body lying in state, but 'we accepted the court order', directing the government to allot space at the Marina, he added.
Adequate police protection was provided even during Karunanidhi's hospitalisation and his subsequent death, Jayakumar said.
"The Amma (Jayalalithaa) government provided him unprecedented respect by ensuring state honours," he said.
Jayakumar said criticism against the government would have been fair only if it had not allotted burial space at the Marina for Karunanidhi even if there were no cases.
The government showed 'no political vendetta', in this matter, he said.
Taking on DMK's ally Congress on the matter, he said even former Prime Minister Narasimha Rao was not cremated in Delhi after his death.