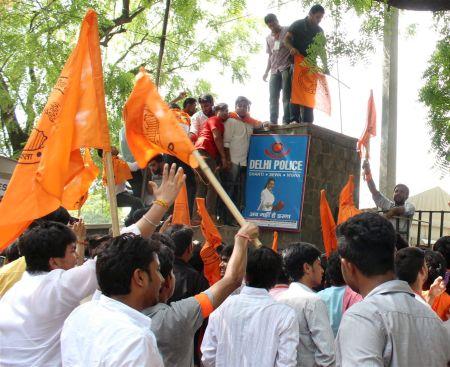 Amid a raging controversy over the alleged molestation at Stephen's College, the human resource development ministry on Saturday asked the University Grants Commission to take "appropriate measure" to ensure the institute's internal complaints committee completes the inquiry "expeditiously" and "impartially".
"Given the fact that the complainant has expressed apprehensions regarding the impartiality of the ICC, the ministry has asked the UGC take appropriate measure to ensure that the committee completes the required enquiry expeditiously and impartially," sources in the ministry said.
The ministry had earlier instructed the college to expedite the probe.
The complainant in connection with the alleged molestation case involving her professor at St Stephen's College has refused to appear before the ICC so far, saying she is "seeking redress elsewhere".
"I would like to make it abundantly clear that I have withdrawn my complaint from your committee and do not wish to pursue the matter before it as I am seeking redress elsewhere.
"Given the present situation of my withdrawal, the need for my appearance before the committee does not arise," she said in an email to the ICC chairman.
The research scholar had approached police on June 19 alleging that she was molested by Satish Kumar, an assistant professor in the college's chemistry department. She had also accused college Principal Valson Thampu of "shielding" the accused when the matter was reported to the ICC.
The complainant had withdrawn her complaint from the ICC on June 21 claiming that she has lost faith in the committee's proceedings.

Image: Students protest outside St Stephen's College against its professor Satish Kumar, who has been accused of sexual harassment by a research scholar. Photograph: PTI