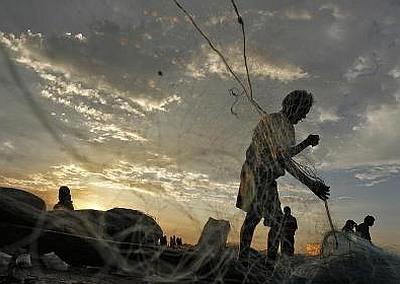 Sri Lankan Navy has arrested 12 Indian fishermen for allegedly fishing in their territorial waters.
The arrest comes a day after Tamil Nadu Chief Minister O Panneerselvam asked the Centre to send a 'firm message' to the island nation over continued apprehension of the state's fishermen.
On Tuesday, seven persons from Pudukottai district were detained for allegedly fishing in their waters and taken to KangesanthuraiPort, along with their boats.
Three groups of fishermen from Pamban near Rameswaram were arrested on Tuesday night by the naval men for fishing off Thalaimannar and were detained at the police station there, fisheries department officials said on Wednesday.
20 fishers who had set out for fishing from Pamban in two mechanised boats and a country boat were rounded up by the Lankan authorities while they were fishing in the south sea using the banned fishing nets, Rameswaram Fisheries Department Assistant Director, Gopinath said.
While fishermen in one of the boats managed to get away in their boat, twelve others were caught and taken to Sri Thalaimannar, Lanka, he said.
In his letter to Prime Minister Narendra Modi, Panneerselvam had said that a permanent solution to the fishermen's issue would be in restoring India's sovereignty over Katchatheevu islet.
"It is the consistent stand of the government of Tamil Nadu that a permanent solution to this vexatious problem faced by our fishermen will be possible only by restoring India's sovereignty over Katchatheevu by securing the right to fish in traditional waters," he had said.
Image for representation only.