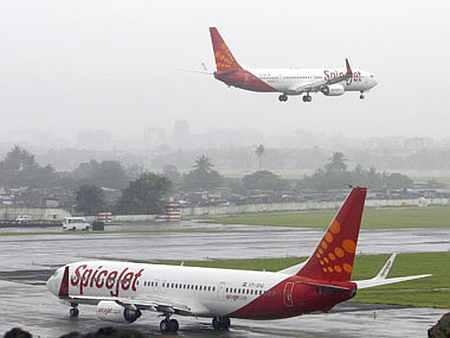 No-frills carrier SpiceJet is in active discussions with Singapore-based budget carrier Tigerair for a possible stake sale even as they are set to sign a code share agreement soon, sources said.
According to sources, SpiceJet promoter and media baron Kalanithi Maran may offload up to 24 per cent to Tigerair as the airline faces fall in profits and attempts to retire debt, the sources familiar with the development said.
The Chennai-based airline reported a 10 per cent fall in its net profit in the June quarter. "SpiceJet and Tigerair have already held two rounds of talks for a possible equity deal as promoter Maran is looking for the FDI route for further funds infusion," sources said.
The discussions between the two on code-share are at the concluding stage and an announcement to this effect may come in any time now, according to sources.
Code share is a commercial agreement between two airlines transferring seats among themselves from one destination to another. When contacted, a Spicejet spokesperson refused to comment, saying they do not react to market speculation.
Tigerair had early this year said it was looking for a partner to invest in India. "We are studying about having an inter-airline agreement or a strategic partnership with (an) Indian Airline," Tigerair commercial director Kaneswaran Avili had reportedly said in
March. Tiger Airways, operating as Tigerair, is a low-cost airline headquartered in Singapore and flies to regional destinations in Southeast Asia, apart from Australia, China and India from its main base at the Changi airport of Singapore.
Recently, SpiceJet, which is the second largest no-frills carrier with a 20 per cent market share in terms of the number of passengers carried, while admitting that a few investors have evinced interest in it, had said, "it will be very premature to comment on the possibility."
On Monday, SpiceJet reported a 10 per cent fall in net profit in the June quarter to Rs 50.55 crore (Rs 505.5 million) on a total income of Rs 1,704.30 crore (Rs 17.04 billion) in the June quarter, which rose from Rs 1,466.69 crore (Rs 14.66 billion) a year ago.
Shares of SpiceJet today closed 1.75 per cent down at Rs 25.30 apiece on the BSE.