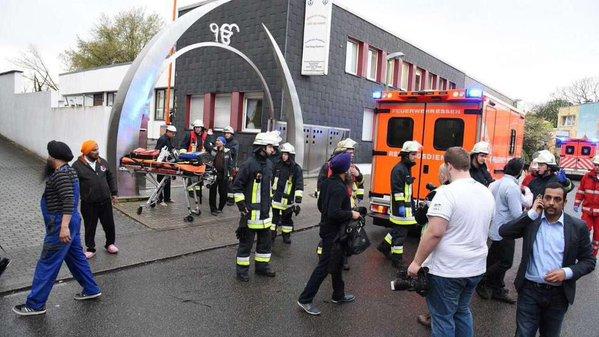 A special commission has been set up by Germany's western city of Essen for a thorough probe into the gurdwara explosion in which three persons were injured, even as the India's Consul General in Frankfurt visited the Sikh community and held talks with authorities.
Consul General Raveesh Kumar was apprised of the current level of investigation and the situation following the attack on the Nanaksar Satsang Darbar Gurdwara during meetings with the Mayor of Essen Thomas Kufen and Police Commissioner Frank Richter on Sunday.
The mayor assured Kumar that the city administration, the police and the state prosecutor's office would take all necessary measures to ensure that the Sikh community can feel secure, the city of Essen and the police commissioner's office said in a joint statement.
Religious freedom is guaranteed in the German society and any form of violence against religious minorities will be totally unacceptable, Kufen said.
Richter told Kumar that the police department has set up a special commission to thoroughly investigate the explosion, which occurred in the entrance hall of the gurdwara.
Richter said that the police so far have no indications of a terrorist background, "but we are investigating in all directions and thereby we are working closely with the Indian authorities".
A 60-year-old suffered serious injuries and had to be hospitalised while two men had minor injuries. The injured included the 'granthi' (priest) on whom the whole pane of glass had fallen due to the impact.
India had expressed "distress" at what is being deemed as a deliberate act.
Eyewitnesses have spoken of "a kind of bomb" that exploded at the gurdwara on Saturday evening. About 200 people, including many children, were present at the wedding that began very late and was ongoing when the explosion occurred.
The explosion was so violent that windowpanes of adjacent buildings were broken. The building was heavily damaged.
Kumar and Kufen jointly visited the Sikh community after their discussions and the mayor conveyed his solidarity and the city's support to protect them, the statement said.
The police were searching for a masked man dressed in black, who was seen by eyewitnesses fleeing the area soon after the detonation. Three occupants of a car parked near the gurdwara, who were taken into custody on suspicion of involvement in the explosion, were set free after questioning on Saturday.
Gurdwara Nanaskar and the residence of the Sikh community's president have been put under police protection. It is one of the main places of worship for the Sikh community in the German state of North Rhine Westphalia.
© Copyright 2022 PTI. All rights reserved. Republication or redistribution of PTI content, including by framing or similar means, is expressly prohibited without the prior written consent.