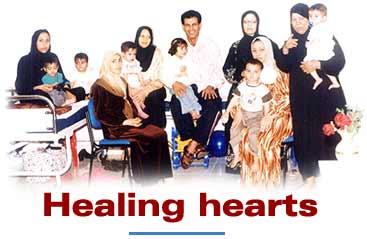 I feel blessed to be part of Dr Cherian's team. I feel blessed to be doing this work," says Delhi-born Dr Inder D Mehta, director, paediatric cardiovascular surgery, MCV Campus, Richmond, Virginia. He is in Chennai to assist Dr K M Cherian, who is providing free treatment to 20 Iraqi children with complicated heart problems at his newly opened International Centre for Cardio Thoracic and Vascular Diseases.
"I have been with Dr Cherian for the last several years. I returned from the US after completing my medical studies because I felt I was needed in India. I have been associated with many such efforts initiated by Dr Cherian," says paediatric cardiologist Dr Snehal Kulkarni.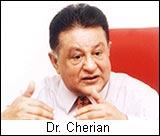 Dr Cherian, 62, a pioneer in the field of paediatric cardiac surgery in India, does not think he is doing anything unusual. In his lengthy career, he has performed free surgeries on numerous children in India and from other poor countries. (This writer was witness to his kindness.)
It is because of Jonathan Miles, of the Brothers Together of Shevet Achim, that the Iraqi children are under his care. After spending nine months in Iraq with the US army, Miles realised hundreds of Iraqi children were affected by various complicated congenital heart disorders. It would cost hundreds of thousands of dollars to treat these children in the United States.
Miles had heard of Dr Cherian's pioneering work in the field of paediatric cardiac surgery through Pediheart, an exclusive, New York-based club of 2,500 paediatric surgeons from all round the globe. He asked Dr Cherian if he would help some of the children
Dr Cherian, Pediheart member and a Padma Shri awardee, is one of the world's leading cardio thoracic surgeons. He performed the first coronary artery bypass surgery in India in 1975. He also performed the country's second heart transplant, first infant cardiac surgery and the first heart and lung transplant. In 1996, he performed a minimal invasive coronary artery surgery. He was honorary surgeon to the President of India from 1990 to 1993. To date, he has performed about 27,000 cardiac surgeries.
He developed excellent cardio thoracic and vascular facilities at the Railway Hospital, Perambur, Vijaya Hospital and the Madras Medical Mission in Chennai. Miles' request to help the Iraqi children came when Dr Cherian had just opened his own hospital (The first operation at the International Centre for Cardio Thoracic and Vascular Diseases was performed just 10 days ago, on February 23).
"I agreed to do the operations for free; each operation otherwise costs over Rs 100,000. I decided to divert the money earmarked for the hospital's inauguration for this noble cause. As I hold the major share in the company, Frontier Lifeline Pvt Ltd, which promotes the hospital, I do not need anyone's permission to take such a decision," he says.
Money has never been an issue with Dr Cherian. After studying in Australia, he returned home to India in 1975 and became a railways doctor, taking home Rs 647 a month. In the process, he threw away a job that paid him $30,000!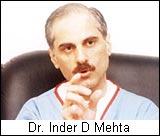 The first of the Iraqi children were operated on March 1. Dr Cherian and his team are operating on two children every day, and hope to complete the operations by March 10. Doctors from Europe and the US have come to Chennai to assist Dr Cherian in this venture.
Dr Mehta is one such volunteer. In Richmond, Virginia, where he lives and works, Dr Mehta has been involved with an organisation called the International Hospital for Children that helps children from Third World countries. After Dr Cherian agreed to help the ailing Iraqi children, Gift of Love, the organisation that helped Miles facilitate the process, asked other American organisations if they knew of doctors who were willing to assist Dr Cherian.
"I came on my own to help Dr Cherian. I do this kind of work in Virginia for children from South American and Caribbean countries. We get three or four children at a time. This is the first time 20 children are being operated on in one place. It is great that people like Dr Cherian, who live in a part of the world where resources are limited, are willing to do this on a volunteer basis," says Dr Mehta.
Dr Mehta and another doctor Dr Tom Paccella are planning to create paediatric cardiac hubs in tandem with the World Heart Foundation and the International Hospital for Children. These hubs will be created in certain countries to begin with, so that children from poorer nations need not go all the way to the US for treatment. "We could make India a hub for South East Asia. In that case, there is a possibility Dr Cherian's hospital may become the hub," says Dr Mehta.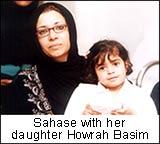 In the corridors of Dr Cherian's hospital, Hadee Sabeh paces up and down. His three-year-old son, Rasul, had been successfully operated upon on March 2 and is recovering in the Intensive Care Unit. "Insha Allah, my son is fine. I thank Dr Cherian and India," he says in broken English.
Other Iraqi parents are waiting for their children to be operated on. Sahase, who can speak a few words in English, has come to India with her three-year-old daughter, Howrah Basim. Her husband and mother are looking after their other four children in Iraq. "India... good. Doctor... good. I thank...," she says with tears in her eyes.
Atheir is here with her younger sister's three-year-old daughter, Karar, a blue baby. She is a nurse in a cardiac hospital in Baghdad, while her husband is a journalist. Iraqi hospitals are in very bad shape after the war, she says. 'Life is very difficult for everyone. Yes, there is freedom now. There was no freedom during Saddam's time." Though money is very hard to come by, Atheir leads a relatively better life than most Iraqis.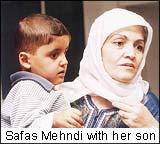 Safas Mehndi's life has worsened since the war although she is a school teacher and her husband is in the police force. "There is nothing there. Life is very difficult," she says.
It had been an arduous journey for the 20 children. Most of them are blue babies (these babies are born with a heart defect which basically results in deoxygenated blood flowing through the body, giving the baby a bluish tinge) and also for the accompanying 18 mothers and two fathers. Of the 130 odd cases discovered by Miles, these 20 children were the most complex.
The children -- most of them are four or five years old; one girl is 20 -- made a 48-hour bus journey from Baghdad in Iraq to Amman in Jordan. Two Jordanese paediatricians took care of them during the journey. Two of the mothers could not travel further as they were not permitted to enter Jordan. The children and the remaining parents flew to India, accompanied by a nurse. They had no visa, because the US does not recognise visas issued by the Saddam regime. All they had with them was a paper stating the purpose of their visit.
The Iraqi children are expected to return home by March 20. Their parents and relatives constantly express their gratitude to India and to Dr Cherian, who has the final word. "Don't forget, all this was organised by a Jewish organisation. The airfare for the children and their parents is being taken care of by a Christian organisation. The patients are Muslims and the operation is being done in India, a secular country." 
Photographs: Sreeram Selvaraj
Image: Uday Kukcian