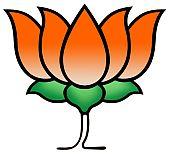 High drama unfolded in the Bharatiya Janata Party on Tuesday on the eve of election of a new party president with Yashwant Sinha procuring a nomination form and Mahesh Jethmalani complaining that he was being denied one even as Nitin Gadkari appeared set to get a second term.
Gadkari, who shared the stage at a party programme in Utan in Maharashtra with senior leader L K Advani, will reach the capital tonight. He will file his nomination papers on Wednesday and is likely to be declared elected unopposed, party sources said.
Gadkari and Advani were not seen exchanging any word at the programme and the apparent cold vibes reflected the rift within the party on the incumbent getting a second term. However, with the RSS still firmly backing Gadkari, he is likely to get another three years at the helm.
Sinha created a flutter this evening when he procured a nomination form and voters' list from Chief Electoral Officer, Thawar Chand Gehlot. Advani declined to anwser newsmen's questions as to whether Sinha, a former Union Minister, is in the race.
Confirming this, Gehlot said Sinha is the only person to have taken the form from him till now. However, he hastened to add that the forms are easily available on the party website and state headquarters of the BJP.
Earlier in the day, Mahesh Jethmalani said he is being denied a nomination form to prevent him from contesting.

Party veterans point out that despite all the pretence of an election of the BJP President, the stringent provisions of the party Constitution will make it difficult for the forms of Sinha and Jethmalani to be accepted.
A candidate for the BJP Presidential poll should have been an active member of the party for 12 consecutive years and an ordinary member for 15 years. He would also need at least 20 proposers each from five different state units, which adds upto 100.
While Mahesh Jethmalani fails to qualify, Sinha is unlikely to get 100 proposers from five states.

Asked by reporters about today's developments, Advani said, "I have nothing to say at this moment."
But there were murmurs within BJP about Advani and his team still being unhappy with Gadkari being given a second term in the wake of charges of dubious funding of the Purti Group with which he has been associated in the past.

The Income Tax authorities created some unease for Gadkari and his camp when they conducted on-field inquiries on some "shell" companies which had invested in Purti Power and Sugar Limited.

Gadkari came out with a prompt statement condemning these inquiries by the IT authorities as "calculated, mischievous and politically motivated". He described the "highly questionable move" as a "command performance at the behest of its political masters sitting in New Delhi who have hatched a political conspiracy to tarnish his image".
Interestingly, the statement said the IT department's action has taken place on the eve of Gadkari's "re-election as BJP President for a second term". The party issued a corrected version later when journalists drew its attention to this line.
The new version spoke of the action taking place on the eve of election of BJP President. Some maintained that the first version was not put inadvertently.
Gadkari said IT department's act "smacks of the ruling UPA's nefarious designs to create confusion in the BJP ranks".


He warned the UPA government against indulging in political vendetta against its opponents and said that such cheap gimmicks will not deviate him from fulfilling his commitment to serving the nation.

Sources close to Gadkari said his nomination form and the list of proposers is in order and he will file his papers on Wednesday at the BJP headquarters.
Meanwhile, Purti Power and Sugar Limited also issued a statement saying the companies on which the Income Tax Department has conduced the "surveys" are not part of the Purti Group and have only invested in it. "Purti Group has nothing to do with the actions of IT department," Sudhir Dive, Managing Director of PPSL said.