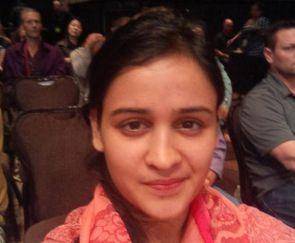 The Samajwadi Party on Sunday declared that party supremo Mulayam Singh Yadav's youngest daughter-in-law, Aparna Yadav, will contest the 2017 Uttar Pradesh assembly polls. Sharat Pradhan/ Rediff.com report from Lucknow.
Aparna Yadav, the second daughter-in-law of Samajwadi Party supremo Mulayam Singh Yadav, has entered politics and will be the party's candidate from a Lucknow assembly seat next year.
Aparna is the wife of Mulayam's younger son Prateek Yadav.
A formal announcement to that effect was made here Sunday afternoon by Mulayam's younger brother Shivpal Yadav, who, not only holds multiple key portfolios in the Akhilesh Yadav cabinet but was also known for his antipathy towards his nephew.
The 26-year-old Aparna will contest the 2017 assembly election from Lucknow's Cantonment Assembly seat, senior minister and Mulayam's brother Shivpal Singh Yadav said on Sunday. The seat is currently held by former state Congress president Rita Bahuguna Joshi.
Earlier, the seat remained for several successive terms with the Bhartiya Janata Party.
The SP supremo, his elder daughter-in-law Dimple Yadav, his nephews Dharmendra Yadav, Akhshay Pratap and Tej Pratap are Lok Sabha members while another brother Ramgopal Yadav is in Rajya Sabha.
IMAGE: Aparna is the second daughter-in-law of Mulayam Singh Yadav. Photograph Aparna Yadav/ Facebook