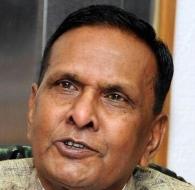 Samajwadi Party activists raised slogans and clashed with Congress workers during the foundation stone laying ceremony of a processing unit of the Steel Authority of India by Union Steel Minister Beni Prasad Verma.
The Union minister laid the foundation stone of the Rs 100 crore steel processing unit at Godani Basahi village in Risia area on Monday evening.
Soon, some SP workers reached the spot and raised slogans against Beni while waving black flags, sources said.
Later, SP and Congress workers clashed with each other and threw chairs; some people were injured in the scuffle.
No case has been registered by the police so far, they said.
Meanwhile, Beni once again attacked SP supremo Mulayam Singh Yadav.
He claimed that the Congress would again win in the Lok Sabha elections, the BJP's tally would be reduced to half and the SP would be wiped out.
Even Mulayam and his daughter-in-law Dimple would be defeated and the SP would only get two seats, he claimed.
In a veiled reference to Mulayam, Beni said one leader had said in a statement that BJP leader L K Advani never lies. From this, it was clear that the leader was with the BJP, he alleged.
Beni added that the area would develop once the factory comes up, which would produce one lakh tonne steel every year, and it would provide employment to locals.