Political observers say that neither Mulayam Singh Yadav nor Mayawati have any intention of toppling the UPA government, as neither stand to gain from it. Sharat Pradhan reports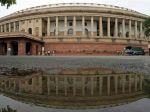 Far from pulling away their crucial support to the United Progressive Alliance government at the centre, both the Samajwadi Party and the Bahujan Samaj Party were likely to facilitate a smooth sail for the national government during the winter session of Parliament commencing on Thursday.
Highly placed sources in both political parties have clearly indicated that their leadership had taken a conscious decision to continue support to the UPA. However, they were both discreetly taking care to avoid giving the impression that they were completely sold to the Congress-led centre.
Evidently, the top leaders of both individually-run parties, which have their main support base in India's most populous state of Uttar Pradesh, have their personal axe to grind. That is perceived to be the key factor behind the support, even though ostensibly, both SP president Mulayam Singh Yadav and BSP chief Mayawati have been putting forth ideological reasons for extending such support to the UPA.
"Even though we have major differences on several issues, we would continue our support to the UPA simply because we must keep communal forces (obvious reference to BJP) at bay," said Mulayam Singh Yadav, who has been harping on this line for quite sometime in an apparent bid to impress his Muslim vote bank.
Mayawati has, however, chosen to put up a facade of keeping the UPA on tenterhooks. "My party has authorised me to take the final call on the crucial issue of withdrawal of support to the UPA; so I will do that when the time comes," Mayawati told mediapersons after her luncheon meeting with Prime Minister Manmohan Singh in New Delhi recently.
Asked to comment on her recent dinner meeting with the prime minister, she remarked, "We just had an informal chat; there was no discussion on the question of support. Our support to UPA is issue based; therefore it could vary from issue to issue." She however refused to reveal her cards on various issues that were likely to crop up during the winter session.
Her party national general secretary Satish Chandra Misra, who was the only one to accompany her for the all-important meeting, told Rediff.com in Lucknow, "BSP will stick to our old stand on the question of FDI in retail. Behenji (Mayawati) has made it loud and clear that while she has been opposed to FDI, she was open to the idea of reviewing her stand in case she found some strength in the oft repeated claim that FDI would actually benefit the small farmer."
"Furthermore, we will reiterate our demand for passing the bill on introducing quota in promotion of government officials," he emphasised. "As for other issues, our party president will single-handedly take the final call as and when the issues comes up," the BSP general secretary added.
As for Mulayam Singh, he was more open and clear-cut about his party's continued support to the UPA. "During his recent dinner meeting with prime minister Manmohan Singh, netaji (Mulayam) made it quite clear that the Samajwadi Party would not indulge in any act that could lead to the fall of the central government and thereby directly or indirectly benefit the BJP," said SP spokesperson Rajendra Chaudhary .
Accompanying Mulayam was his son and Uttar Pradesh Chief Minister Akhilesh Yadav as well as his cousin Ram Gopal Yadav, who was also the national general secretary of the party.
Political observers, however, were clearly of the view that neither Mulayam nor Mayawati have any intention of toppling the UPA government. "As a matter of fact, neither SP nor BSP stand to gain anything from toppling the present government," argues Arvind Mohan, economics professor at the Lucknow University.
A retired bureaucrat, who held a top position in an earlier SP regime in Lucknow, feels there were other "more pragmatic factors" to keep Mulayam and Mayawati away from even attempting to bring down the UPA government. 
"Both Mulayam and Mayawati were being probed by the country's premier agency -- the CBI -- for allegedly amassing huge assets far disproportionate to their legitimate sources of income. They are fully aware that the central government alone could get them reprieve in those cases, therefore it suits them to keep the UPA in good humour," he observed on the condition of anonymity.