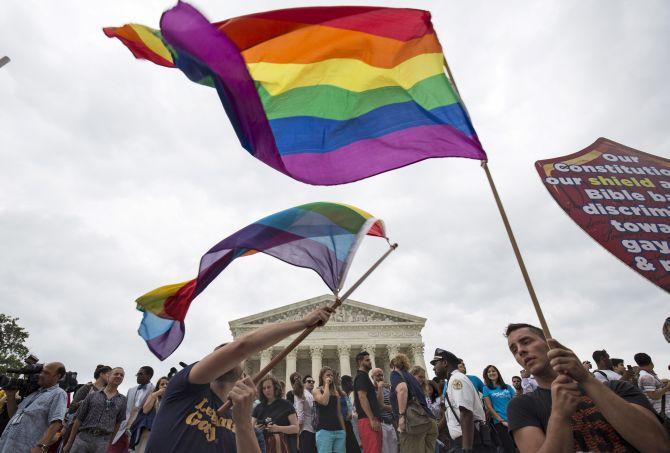 Indian-American elected officials, civil rights organisations and queers welcome the United States Supreme Court historic decision to legalize same-sex marriage nationwide for all Americans on Friday.
The Supreme Court ruling 5-4 on case between petitioners "Obergefell verses defendant Hodges" (James Obergefell v Richard Hodges, Director, Ohio Department of Health) recognizes same-sex marriage as constitutional right under the Fourteenth Amendment.
The case was authored by Associate Justice Anthony Kennedy and he was joined by Justices Ruth Bader Ginsburg, Stephen Breyer, Sonia Sotomayor, and Elena Kagan.
"As Americans, we must always strive to live up to the promise of our ideals to form a more perfect union that demands for equality for all," Council member Ash Kalra of Indian descent said through a press note.
He said that the decision has helped move us towards that ideal by ensuring that the commitment between two people is honored regardless of who they choose to love.
"It's was an amazing news," said Nauman Butt reacting to the I was planning to move to California to get married because it was not legal in Atlanta and I love kids and want to have a family," Butt, 32 and is of Pakistani origin and is presently dating an Indian man told Rediff.com. Butt who works at Coca Cola along with his partner said he learned about court's ruling through his elder brother.
It's hard for desis when they come out to their family. It's hard and it's still a taboo and you cannot talk about it, "But this ruling gave the base to stand for yourself," Butt said.
He said in India at least people talk about it and conversion is there but in Pakistan you cannot."
Aparna Bhattacharyya director of a non-profit Raksha, based in the State of Atlanta reacting to the Supreme Court ruling told Rediff.com, "Its huge news for us. I am so happy and excited. Raksha is the only South Asian organisation in Atlanta, so we try to help whatever way we can by proving support for individual need."
"We weren't sure it was going to happen. Many of my friends can now get married in Atlanta," Bhattacharyya said and added, "I am also happy for safety issue now in same sex relationship they have access to divorce, release or adopted a child."
Until now many travelled to different states and got married but were not able to get the same benefit as married couple.
"Also now it will help people in domestic violence, or child custody issue because their relationship is now been recognised and they cannot be discriminated," Bhattacharyya said, "The ruling will encourage more equality."
"The ruling is going to have a huge impact," Monica Davis, Chairperson, Trikone in California told Rediff.com, and added the ruling shows that this country embraces freedom.
"Now people in South East Asian countries may find America to be more welcoming," said Davis who also believes might bring more immigrants to US.
The Supreme Court ruling is an opportunity for culture shift believes Davis said many years ago the United States Supreme Court, invalidated marriage between Mildred Loving, a black woman, and Richard Loving, a white man, it was in 1967 but today if this happens people says who cares.
In the same manner in 20 years from now because of this huge landmark decision, you will hear the same thing, 'who cares.'
She said her friend is Texas was panning to get married in California because State of Texas until today did not recognise same-sex, now they are getting married in September and in Texas.
The one huge benefit of this law that is relevant to South Asian community is that it gives job flexibility but LGBTQ community still has many battles to fight before true "equality" can be achieved.
The employment percentage of transgender community who are people of colour is exponentially higher than the average unemployment rate.
"There are many issues around transgender and if a transgender woman is sent to a prison they are kept into male prison where there is high possibility of abuse. So there are many issues that we have to work on," she added.
The recent silencing of Jennicet Guitierrez, a trans-woman of colour, by the President earlier this week serves as a reminder of the political exclusion of trans-people and immigrant groups from human rights and equality.
It is dangerous to think our work is over; The murder of trans-people of colour and their invisibility in the larger march towards gay equality signals that we still have much to do.
While Trikone celebrate this most recent victory over Pride weekend it is important to remain vigilant that very anti-queer, anti-black, and xenophobic inequalities that disenfranchise people of colour endure.
Very little has changed for many.
Trikone is committed to fighting for the dignity and respect of our larger community.