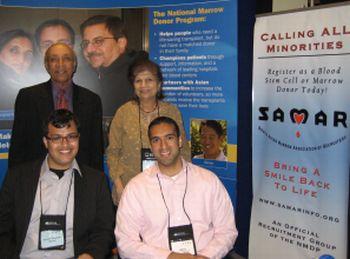 Nikita Mathur started volunteering for bone marrow donation drives even before she left high school. Now as she gets ready for college, the teenager is looking forward to networking with more South Asians to fuel her efforts.
She is among a dozen South Asian teenagers in half a dozen cities including New York, Boston and Philadelphia emerging as tomorrow's leaders in the 18-year-old organisation SAMAR (South Asian Marrow Association of Recruiters).
Her interest in volunteering began thanks mainly to her mother, Nisha, a commentator and announcer for television.
"My mother became involved because her friend had leukemia," Nikita said.
"Soon we were becoming aware of the extreme shortage of donors in our own community."
The concern became more as bone marrow donation experts said the chances of finding a match in one's own community was greater than a general search. There are about 1 lakh South Asians registered in the National Marrow Donor Program's Registry (which has a total 1.8 million would-be donors in America) thanks to SAMAR and similar organisations. But the number ought to be far more, activists say.
The chances of matching human leukocyte antigen typing for South Asians in the United States are 1:10,000 to 1:1 lakh, according to the Asian American Bone Marrow Foundation. There are approximately 125 South Asians in the US who need an HLA type match. Some are babies ranging in age 6 months to 3 years.
According to the Asians for Miracle Marrow Matches (A3M), a Los Angeles marrow donor recruitment organisation, when someone of South Asian origin needs matching bone marrow, the chance for a match dwindles to just one or none at all.
When a Caucasian needs a bone marrow transplant, he has a chance of finding about 15 matches.
For Rafiya Khan, founder of SAMAR, the task of getting more donors seemed daunting. "It was tough going out into our communities and telling the people the urgency for this donation," she says.
"But we forged ahead, and today it is heartening to see young South Asians joining our drive."
'Getting the best match of the potential matches is a critical factor in the transplant and recovery process for a patient,' she had said earlier.
But many people in the community, she says, "just did not want to hear anything of this. For some reason, many thought the process of donating would be very complicated. We tell them it isn't. Some people who would register drop out at the last minute, dashing the hope of the would-be recipients and their families."
A former clinical scientist who managed the HLA lab at New York's Memorial Sloan Kettering, she found help and encouragement for her effort in her husband Moazzam Khan, who ran an advertising company in India, and who now is SAMAR's community outreach director.
The Khans point out that last year SAMAR helped 26 new patients, recruited almost 5,000 donors, added over 150 new volunteers and provided callback services for 200 potential donors for further testing. The organisation has 75,000 donors in all.
Among the donors over the years, Anand Shah, SAMAR director Jayendra Shah's son, was only 14 when he volunteered with SAMAR, Rafiya Khan says.
"He registered a few months after his 18th birthday in 1997 and 12 years later he fulfilled that commitment by donating his marrow to save the life a patient in need."
"We are reminded so many times a day how urgent our work is," she continues. Three brothers had volunteered to be donors, and one of them was diagnosed with leukemia a few weeks later.
Her husband applauds the young donors and volunteers.
"We are blessed that teenagers and young Indian Americans are keeping up, in fact even improving, the work SAMAR does," he says.
"We are at the same time baffled why so few Indian and other South Asian doctors have come forward. Perhaps they think they are doing enough good for the patients but we want them to register with us or similar organisations. That would be a lot of encouragement to fellow doctors and other professionals."
For Vikramjit Chhabra, who runs SAMAR's Massachusetts chapter, it was the news of a young Sikh girl who needed a transplant that kindled his passion for helping others with similar problems.
Chhabra, who is in the information technology business, has a three-year-old daughter. "She reminds me there are very young people in all walks of life who need our help," he says.
He has taken the drive into other minority communities in the Boston area. And with help from his students has held drives in Boston, Harvard and MIT, at temples, mosques, gurdwaras and churches.
SAMAR has also held drives at Princeton, Rutgers, at New York University, at Wesleyan University, at University of Connecticut and many other places.
Despite the educational efforts over the years, some people are still scared of the donation procedure, Moazzam Khan says.
'They used to call it bone marrow donation,' he told the Harvard Crimson not long ago. 'The people used to think they will take away your bone, because of a lack of awareness… I tell them, "We don't take your bones; you would be crippled if we took away your bones."
Contact SAMAR at (718) 592-0821. Website: www.samarinfo.org
Image: (Standing from left) Moazzam Khan with Raziya Khan with medical students