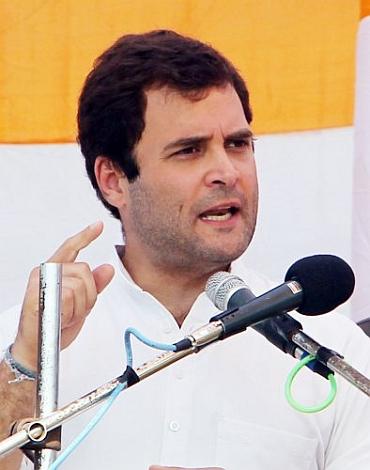 Hard-selling United Progressive Alliace's 'game changer' Food Security Act, Rahul Gandhi on Thursday reached out to the 'aam admi' and tribals recalling that Sonia Gandhi was in tears as she failed to cast her vote in Lok Sabha when her pet project was being passed in August.
"I will not go until the bill is passed (despite being taken ill in Parliament). I have fought this battle for years. I will not go without pushing the button (casting the vote)," Rahul quoted the Congress chief as having said on that day.
The Congress vice president said that he, being the son, was then feeling very angry that his mother was not going to a doctor despite being sick and was instead insisting on staying in the House. He recalled that as Sonia finally agreed to leave Parliament and visit a doctor ahead of the voting, she was in tears.
"When I asked her what is this, she said Rahul I had fought for this bill. I wanted to push the button (cast the vote) but could not do so," he said, addressing a public meeting in the poll-bound state.
After much delay and uncertainty, the Food Security Bill was passed by Lok Sabha on August 26.
Gandhi, who is the main force behind the measure, could not participate in the voting as she had taken ill and had to leave the House at around 8.15 pm. She was later admitted in All India Institute of Medical Sciences and discharged after spending five hours in the hospital.
The bill seeks to provide cheap foodgrains to 82 crore people in the country, ushering in the biggest programme in the world to fight hunger.
Taking a dig at the Bharatiya Janata Party-led National Democratic Alliance for its 2004 India Shining campaign and its development model, Rahul said, "While they talk about development and shining India on the one hand, they ask from where will the money come when we talk about food and land acquisition measures."
Rahul said that the Congress president was not willing to leave Parliament before casting her vote as Parliamentary Affairs Minister Kamal Nath had assured her that the bill would be passed as sufficient number of members were for it.
Striking an emotional chord, he said that her mother was determined to bring the measure, as she wanted to wipe the tears of lakhs of mothers seeing their hungry children crying but in contrast, the opposition talks about shining roads and hotels. "This is because we understand your hunger....," he said.
In a show of unity, all top Madhya Pradesh Congress leaders, including Digvijaya Singh, Kamal Nath and Jyotiraditya Scindia, were present on the dais with the Congress vice president.
Asserting that he wants to begin a "new kind of politics", Rahul told the rally that he wants common men and tribals to enter Parliament and assemblies while the opposition wants that these doors remain closed to them.
"I see one lacuna in the whole of India with regard to tribals. Your number is less in Parliament and assemblies. We have to change in the coming time. As long as the voice of tribals is not heard in Parliament and Assemblies, their problems will not be solved," he said.
Reaching out to the youth, he said that the next government in Madhya Pradesh will be formed by the Congress and it will be a government of the youth. "We will bring the maximum possible number of young people forward. We have to change Madhya Pradesh. Madhya Pradesh is stuck up as far as development is concerned," Rahul said.
Debunking NDA's development plank, he said that while only 2650 km of roads were constructed during the NDA regime, 9,517 km of roads were laid during five years of UPA. He also took a dig at Madhya Pradesh Chief Minister Shivraj Singh Chouhan over his power generation claims, saying that he has only talked about it at four places while not a single megawatt of power has so far been generated there.