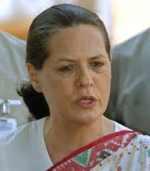 The Congress will kickstart its election campaign in the poll-bound Himachal Pradesh with party President Sonia Gandhi addressing a rally at Mandi on Monday.
Out of power in the state, the Congress is promising among other things, an unemployment allowance to educated youths of Himachal Pradesh in its poll manifesto, which will be released in Shimla on Friday.
Sources said the party is keen to rein in the rebel factor in the Himachal assembly elections in time as it had a tough time in Uttarakhand because of it and hence have already identified possible "trouble-makers".
Prime Minister Manmohan Singh will also address one rally in the state while Rahul Gandhi will be addressing public meetings at least in four places, sources in the All India Congress Committee said adding that the PCC is keen that Rahul addresses at least six meetings there.
Notwithstanding the controversy surrounding the issue of land deals in party-ruled Haryana, the Congress has decided to make it a big issue in the Bharatiya Janata Party-ruled Himachal Pradesh where it alleges that huge tracts of land have been given to people who are not from the state.
"Farmers were fleeced and the BJP government acted as a middle man buying land from farmers at cheap rates for different purposes and then selling them to others for totally different ends. We will launch a campaign against it," AICC general secretary in-charge for the state Chaudhary Birender Singh told PTI.
In the manifesto, which will be released in the presence of Union Minister Ghulam Nabi Azad, Delhi Chief Minister Sheila Dikshit, Birender Singh, the Congress has also promised to hold a comprehensive inquiry into alleged corruption during the BJP government in the last five years.
The Congress has already come out with a "chargesheet" on the issue.
© Copyright 2022 PTI. All rights reserved. Republication or redistribution of PTI content, including by framing or similar means, is expressly prohibited without the prior written consent.