The Congress chief and her son have been granted bail on personal surety of Rs 50,000 each. The next date of hearing is February 20, 2016.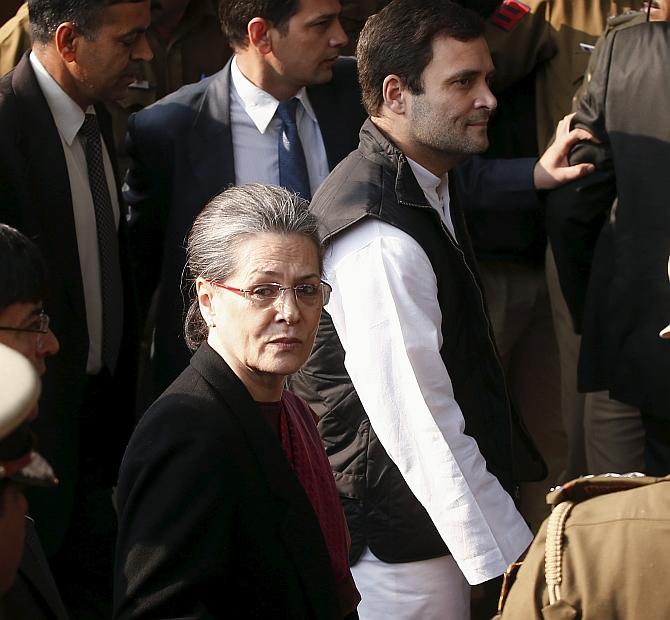 Congress president Sonia Gandhi and her son and the party's vice-president Rahul Gandhi at the Patiala House court in New Delhi. Photograph: Adnan Abidi/Reuters
Congress president Sonia Gandhi and her son Rahul on Saturday sought and got bail in the National Herald case after a local court rejected complainant Subramanian Swamy's opposition to the relief for them on the ground they are influential and can flee the country.
Amidst media hype and hoopla and tight security, Sonia and Rahul and three other accused Motilal Vora, Oscar Fernandes and Suman Dubey appeared before Metropolitan Magistrate Lovleen in the Patiala House courts complex in the heart of the capital in pursuance of the summons issued to them on December 8.
The case is based on a private criminal complaint lodged by Swamy against them of cheating, conspiracy and criminal breach of trust.
"The accused are reputed persons having deep political grassroots and there is no apprehension that they will flee," the magistrate noted while granting them bail on furnishing personal bond of Rs 50,000 each and one surety. He posted the case for further hearing at 2 pm on February 20, next year.
Former Prime Minister Manmohan Singh stood surety for Sonia, while Priyanka Vadra gave surety for her brother Rahul.
A K Antony stood surety for Fernandes and Ghulam Nabi Azad and Ajay Maken for the other accused. Sam Pitroda, yet another accused, was granted exemption from personal appearance on Saturday on medical grounds.
In his reaction, Swamy said all their claims that they would not seek bail proved false. "They said they will not take bail. What happened now," he told reporters.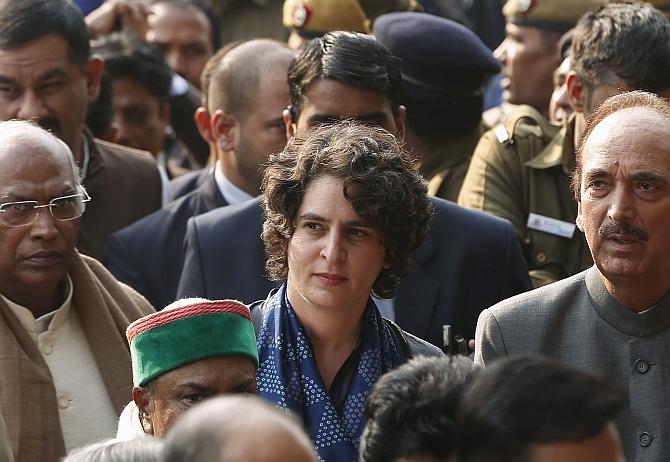 Priyanka Gandhi Vadra, daughter of Congress chief Sonia Gandhi, at the court premises. Also seen in the background are Congress leaders Ghulam Nabi Azad (right) and Mallikarjun Kharge (left). Photograph: Adnan Abidi/Reuters
Earlier, Manmohan Singh and a host of Congress leaders including Mallikarjun Kharge, Ambika Soni, Shiela Dikshit, Ashwini Kumar, Meira Kumar arrived at the court complex shortly before the hearing was to commence at 3 pm.
A smiling Sonia followed closely by Rahul emerged out of the court after 15 minutes of proceedings.
As the proceedings began Swamy opposed the bail saying the accused including Sonia and Rahul are "highly influential" people and can flee the country and that their passports should be seized and travel restrictions be imposed on them.
A battery of Congress lawyers including Kapil Sibal and Abhishek Singhvi told the court that these are people who have deep roots in society and they hold high office and do not have any previous charge against them.
The summons were issued by the court on December 8 after the Delhi high court the previous day had refused to quash the summons issued to them earlier to appear as accused.
Both Sibal and Singhvi told reporters after the proceedings that the court rejected Swamy's plea and gave bail to the leaders.
"It is most unfortunate that Swamy sought to impose conditions including restrictions on travel abroad but the court granted unconditional bail," Singhvi said.
"I don't see the slightest reason for dissatisfaction with the court order," he added.
Rejecting Congress criticism that he was doing vendetta politics at the behest of Congress, Swamy said look at the evidence in the case and not vendetta.
"I have so many friends (in the BJP). I am a Jan Sanghi. I know them (BJP leaders) personally. I have not taken an appointment with the prime minister and spoken to him at all about the case," he told reporters.
Sonia and Rahul, surrounded by members of the Special Protection Group, exit the courthouse after securing bail. Photograph: Adnan Abidi/Reuters
The magistrate made it clear that no exemption from personal appearance will be granted to any accused for the next date of hearing.
The judge, who held the proceedings in a closed room, asked Swamy to bring all relied upon documents in support of his complaint on the next date of hearing.
Sonia, Rahul, Vora (AICC treasurer), Fernandes (AICC general secretary), Dubey and Pitroda were summoned under sections 403 (dishonest misappropriation of property), 406 (criminal breach of trust) and 420 (cheating) read with section 120B (criminal conspiracy) of the Indian Penal Code.
The trial court had on June 26 last year asked them to appear before it on August 7, 2014 but the order was stayed on August 6, 2014 by the Delhi high court which on December 7 this year vacated the stay by rejecting the plea to quash the complaint and the summons.
On December 15, 2014, the court had further stayed the summons till final disposal of the petitions.
Swamy has accused them of cheating and misappropriation of funds in acquiring ownership of the now-defunct daily National Herald.
All of them were directors of Young Indian Ltd, a company that was incorporated in 2010 and which took over the "debt" of Associated Journals Ltd, the publisher of National Herald.
Swamy had accused Sonia and Rahul Gandhi and others of conspiring to cheat and misappropriate funds by just paying Rs 50 lakh by which YI obtained the right to recover Rs 90.25 crore which the AJL had owed to the Congress party.
Along with the Gandhis, five other accused – Suman Dubey, Moti Lal Vora, Oscar Fernandez, Sam Pitroda and Young India Ltd -- had challenged the summons issued to them by trial court on Swamy's complaint.
© Copyright 2023 PTI. All rights reserved. Republication or redistribution of PTI content, including by framing or similar means, is expressly prohibited without the prior written consent.