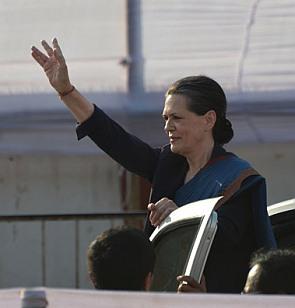 According to sources, Congress President Sonia Gandhi has not appreciated senior leader and one of her main confidantes A K Antony stating publicly that there is a perception that the Congress lost because it was seen to be too much pro-Muslim and this led to a Hindu consolidation in favour of the Bharatiya Janata Party.
With Prime Minister Narendra Modi and his council of Ministers keeping the politics of Iftar at a safe distance, Sonia has decided to reassert her closeness to the minorities and restate her party's secular ideology by hosting an Iftar party before Ramzan ends.
The Congress president's Iftar party is likely to be held on Sunday, July 27, while the Delhi unit of the Congress is hosting its party on Saturday. Sonia has been hosting Iftar parties at 24 Akbar Road (the headquarters of the Congress) where senior leaders and the media are usually invited, but this time, the situation has changed politically with the Congress now on the opposition benches after a gap of 10 years.
There is speculation on whether she will use the opportunity to reach out to other opposition parties and whether the party's allies and former friends would be invited to send the signal that despite winning only 44 seats, the party is not without friends or influence.
A senior leader said it was felt necessary for the Congress president to assert the party's secular credentials even though the ruling BJP has been able to mop up large parts of the Hindu vote and in the aftermath of the Lok Sabha results, Muslims have been targeted by them in large parts of the country.
A controversy broke out on Wednesday over a Shiv Sena member of Parliament who tried to stuff a roti into the mouth of a Muslim staffer at Delhi's Maharashtra Sadan even though he was on a fast, which this led to the Congress protesting in Parliament. The said MP has apologised pleading innocence.
In the chaos and pandemonium in the Lok Sabha, Delhi BJP MP Ramesh Bidhuri targeted the Congress party's Muslim MPs, asking them to go to Pakistan. Lok Sabha speaker Sumitra Mahajan has pulled up Bidhuri for the way he spoke.
In such an atmosphere with such incidents happening on a regular basis, Sonia appears to have decided to play by Congress brand of politics, never mind what Antony believes.