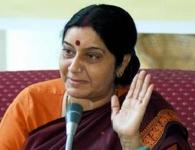 Minister of State in the Prime Minister's Office V Narayanasamy on Wednesday condemned Leader of Opposition Sushma Swaraj's 'act' in the Lok Sabha on Tuesday, describing it as ''unfortunate'' and ''not expected''.
Swaraj had alleged that Congress President Sonia Gandhi had instructed party members of Parliament to interrupt her speech in the Lok Sabha
Criticiing Lok Sabha Speaker Meira Kumar and Congress President Sonia Gandhi, Swaraj said her party would boycott all meetings called by Kumar and Parliamentary Affairs Minister Kamal Nath.
"Obviously, all Congress members will get agitated. Congress President Sonia Gandhi did not influence anybody to disturb the speech of Sushma Swaraj. Instead, members of Congress stood up and protested," said Narayanasamy.
Reminding the Bharatiya Janata Party of its past, he said, "The BJP should think of what they have been doing in the past. Didn't they interrupt the prime minister's speech? Now the BJP is sermonising to the Congress. We have the authority as the people have given us the mandate. As the opposition, they can debate and discuss. But not allowing the House to perform is the democratic way of functioning of the BJP, and later they criticise us. For the past four years, I have been seeing the BJP using lungpower. There are so many bills pending in Parliament, they have to be discussed, but the opposition just doesn't allow us to do so."
"Under the Right to Food Bill, the poor will get food at a lesser amount. There are many such bills which will help the common man, and help the poor live comfortably," he said.
"The way Sushma Swaraj spoke it seems the Speaker is just not present. This is highly condemnable," he added.
"The opposition should come for the all-party meet and then they have the right to disagree with the bills but this is not the way. The BJP has lost power since 2004 and they are frustrated and disturbed," he said.
Commenting on allegations about the ruling government trying to influence the Central Bureau of Investigation's conduct, Narayasamy said, "We have never poked our noses in any of the CBI's work, and in the future also, we will not do so."