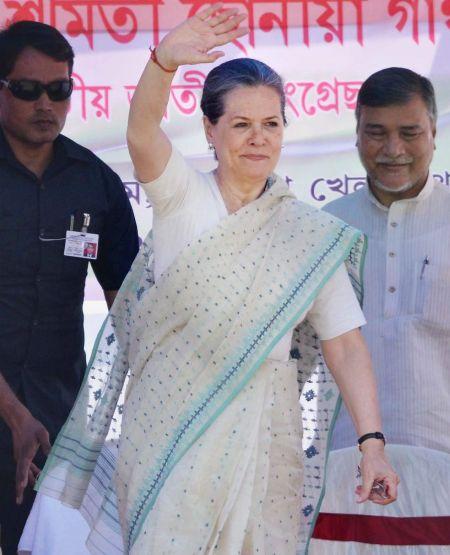 After Arunachal Pradesh slipped out of its control and Uttarakhand was placed under President's rule, the Congress president took matters into her own hands, reports Kavita Chowdhury
On March 29, when Uttarakhand was on the boil, with the Congress and Bharatiya Janata Party entangled in a legal battle over the trust vote in the assembly, Congress secretaries at the party headquarters in New Delhi were taken aback to see a circular land on their tables. Manipur Pradesh Congress Committee chief Gaikhangam Gangmei had been replaced with immediate effect.
After Arunachal Pradesh slipped out of its control and Uttarakhand was placed under President's rule, Congress president Sonia Gandhi took matters into her own hands. She acted swiftly to avoid a crisis like that in Arunachal Pradesh by appointing T N Haokip as the state unit chief in Manipur and quelling a potential rebellion.
The whole of this past week, she has been busy meeting state unit chiefs and listening to complaints from senior leaders. Sonia Gandhi, who had ceded organisational matters to her son and party vice-president Rahul, is firefighting crises in Congress-ruled states. Many within the party believe that while Rahul Gandhi might have managed to take on the government and Prime Minister Narendra Modi at the Centre, he has been woefully inadequate in addressing organisational matters.
It is obvious to any Congressman that the party's presence on the national political map is swiftly receding. It is well known that the Congress had it coming as far as the Arunachal Pradesh debacle goes, with dissidents camping in the Capital and neither Sonia nor Rahul Gandhi giving them a hearing. To pre-empt such a scenario in Himachal Pradesh, Sonia Gandhi finally met Chief Minister Virbhadra Singh who is beset with legal troubles and rebellion in the ranks. Sonia Gandhi directed the Congress general secretary in charge of the state Ambika Soni to hear the grievances of senior state leaders.
On Saturday, Soni met with Virbhadra Singh's baiters Kaul Singh Thakur, Asha Kumari, Viplove Thakur and G S Bali, among others. On the one hand, they were assured that their complaints against the chief minister on issues like implementation of the one-man one-post principle in appointing heads of state-owned corporation would be addressed, the party also extracted from them a commitment that a scenario like that in Uttarakhand would not repeated in Himachal Pradesh.
Said an insider who was privy to the deliberations, "The dissidents' loyalty to Sonia and Rahul Gandhi are unstinting even as they have issues with the chief minister. But they will not rock the boat and allow the BJP to destabilise the state government."
The BJP has been luring legislators from Congress, not just in Uttarakhand but in Himachal Pradesh as well. That things have undergone a subtle shift is evident from meetings being held at 10 Janpath, with the Congress president presiding and Rahul Gandhi sitting in. This is unlike earlier when party leaders who came to meet Sonia Gandhi were directed to meet Rahul at his residence for a final decision.

This, according to an old-timer, is a far cry from the Congress' erstwhile management tactics of letting organisational problems fester.
---
DIMINISHING FOOTPRINT
Charting the electoral decline of the Congress since 2013
January 2013
Rahul Gandhi appointed Congress vice-president. Congress president gradually takes a back seat with Rahul projected as the face of the party. Congress in power in 16 states - Andhra Pradesh, Arunachal Pradesh, Haryana, Himachal Pradesh, Rajasthan, Delhi, Maharashtra, Karnataka, Manipur, Meghalaya, Mizoram, Assam, Kerala, Jharkhand, Uttarakhand, Jammu and Kashmir (in alliance)

May 2014
Worst electoral performance in the Lok Sabha election, down to 44 seats from 206. Rahul accepts responsibility for defeat. Congress does not qualify to be even principal opposition party -- that requires at least 54 seats in the Lok Sabha

December 2014
Congress in power in 9 states -- Arunachal Pradesh, Himachal Pradesh, Karnataka, Manipur, Meghalaya, Mizoram, Assam, Kerala, Uttarakhand with allies

November 2015
Congress suffers its worst defeat in Delhi, with zero seats in the February polls. By year-end, Congress' face saver being a junior partner in the winning Grand Alliance in Bihar

March 2016
Congress loses its government in Arunachal in January to a split in its ranks, "engineered" by the BJP; then Uttarakhand comes under Prez rule. Of the 7 states, Congress faces anti-incumbency in Kerala and Assam