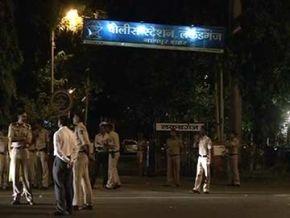 An eight-year-old son of a local dentist was abducted and then brutally killed allegedly by two persons, including a former employee at his clinic who wanted to seek revenge for being sacked from his job, police said.
The two accused have been arrested in this connection and have confessed to the crime, they said.
Yug, the son of Dr Mahesh Chandak, was kidnapped on Monday afternoon in front of his Chhapru Nagar house at Wardhamanagar by Rajesh Dhannalal Dawar, 19, who was sacked from his job by Chandak about a fortnight back, and Arvind Abhilash Singh, 23, presently working at the clinic, police said.
As the duo called the boy returning from school, the latter threw his bag towards the apartment's security guard and without doubting Rajesh's intentions sat on his bike.
Yug was rendered unconscious with a chloroform-soaked handkerchief by Arvind, who was riding pillion. The minor boy was later strangled, smothered and his head smashed with stones. The body was buried in sand under pipes and later thrown in a culvert in Patansaongi, about 30 kilometre near here, by the two accused, police said.
One of the accused calling himself as Mohsin had even made calls for Rs 10 crore ransom which was finally settled for Rs 5 crore. The ransom amount was to be delivered in Mumbai.
The ransom call was made when the dentist was at Lakadganj Police Station on Monday night lodging a complaint, as he suspected the involvement of Rajesh in the offence.
After kidnapping Yug, the duo went to Babulkhera village in Patansaongi, but did not harm him until they got a call from police to present themselves for questioning. It was then that they decided to kill the minor boy, police said.
Following complaint by the boy's father, a number of police teams were sent to all city border points. On Monday late night, police detained the duo based on suspicion. Later, during interrogation the two confessed to have killed the boy and on their information, the body was recovered on Wednesday.
The two accused were formally arrested on Wednesday and booked under sections 302 (murder) and 363 (kidnapping) of the Indian Penal Code.