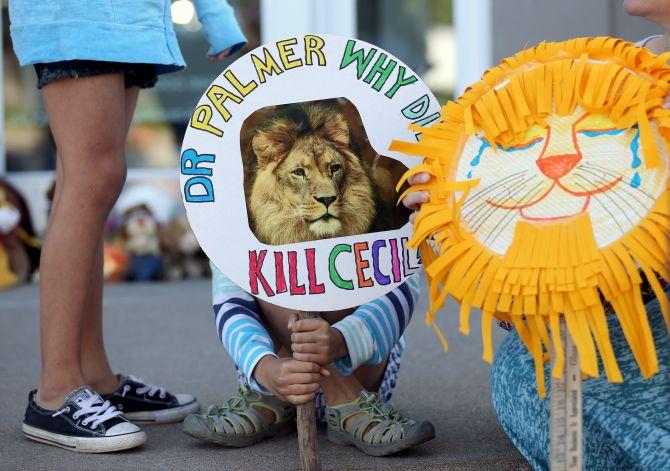 IMAGE: The killing of Zimbabwe's dearest lion -- Cecil -- had cause widespread outcry, with many demanding a strict punishment for the hunter. Photograph: Eric Miller/Reuters
The eldest son of Cecil the lion has been killed by trophy hunters in Zimbabwe, meeting the same fate as his father whose death in 2015 caused a global outcry.
Xanda, a six-year-old male, was killed just outside Hwange National Park in north west Zimbabwe -- near the spot where Cecil died two years ago.
Authorities were able to identify the animal -- believed to be Cecil's oldest cub --because it had been fitted with an electronic tag.
Two years ago, Walter Palmer sparked international outrage by shooting Cecil, one of Zimbabwe's most cherished lions.
Richard Cooke, the professional hunter accused of killing Xanda, also reportedly killed the cubs' brother in 2015.
Cooke handed Xanda's electronic collar back to researchers.
Andrew Loveridge, from the Oxford University research team is quoted as saying: "I fitted it last October. It was monitored almost daily and we were aware that Xanda and his pride was spending a lot of time out of the park in the last six months, but there is not much we can do about that.
"Richard Cooke is one of the 'good' guys. He is ethical and he returned the collar and communicated what had happened. His hunt was legal and Xanda was over six years old so it is all within the stipulated regulations."
Cecil was found beheaded and skinned near Hwange National Park in 2015 and authorities said Walter Palmer, a dentist from Minneapolis, paid a $55,000 (Rs 35 lakh) bribe to wildlife guides to allow him to shoot the lion with a crossbow.
He was forced to abandon his dental practice for weeks amid the outcry over the killing.