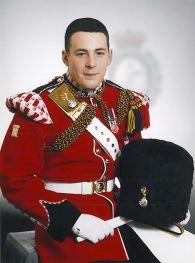 The British soldier murdered on the streets of London by two suspected Islamists had fought the Taliban in Afghanistan.
The soldier has been named as Drummer Lee Rigby of the 2nd Battalion the Royal Regiment of Fusiliers.
Two men are under arrest in hospital after police shot them near Woolwich Barracks Wednesday after the attack.
The suspects, believed to include Michael Adebolajo, were known to security services, sources have said.
The victim's name was announced by the Ministry of Defence pending formal police identification.
"An extremely popular and witty soldier, Drummer Rigby was a larger than life personality within the Corps of Drums and was well known, liked and respected across the Second Fusiliers," the Ministry of Defence statement said.
"He was a passionate and life-long Manchester United fan."
He had joined the army in 2006, and is described as a "loving father to his son Jack" who would be "sorely missed by all who knew him".
Commanding officer Lt Col Jim Taylor said of Drummer Rigby: "An experienced and talented side drummer and machine gunner, he was a true warrior and served with distinction in Afghanistan, Germany and Cyprus."
Shortly after the killing a man, thought to be 28-year-old Adebolajo, was filmed by a passer-by, saying he carried out the attack because British soldiers killed Muslims every day, BBC reported.
Sources said reports the men had featured in "several investigations" in recent years -- but were not deemed to be planning an attack -- "were not inaccurate".
Image: Drummer Lee Rigby
Photograph: Reuters