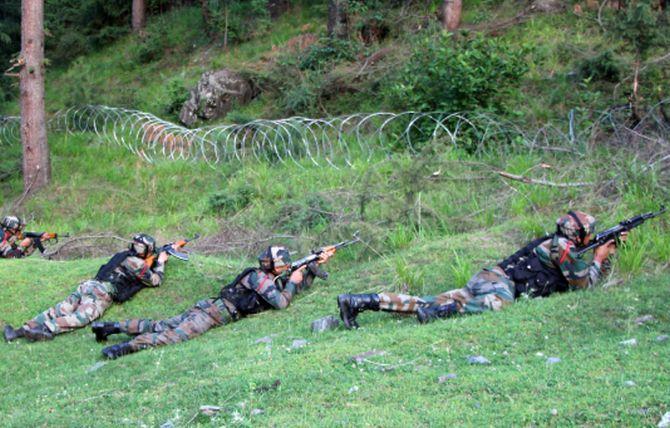 An Army jawan was killed while four others including a lieutenant were injured as Pakistani troops fired mortar bombs at forward posts along the Line of Control in Poonch district of Jammu and Kashmir on Tuesday, officials said.
The cross-border shelling by Pakistani troops started in Krishna Ghati sector on Tuesday morning and continued for over two hours, resulting in injuries to five soldiers including an officer, an Army officer said.
One of the injured soldiers later succumbed to injuries at the military hospital.
The deceased jawan was identified as 20-year-old Sepoy Mustapure Shubham Suryakant, a resident of Konerwadi village in Parbhani district of Maharashtra.
"The nation will always remain indebted to him for his supreme sacrifice and devotion to duty," defence spokesman Colonel N N Joshi said. Suryakant is survived by his mother Sunita.
A police official said a lieutenant and two junior commissioned officers were among the injured and they were evacuated to command hospital in Udhampur district for specialised treatment.
Col Joshi said that Pakistan Army initiated unprovoked and indiscriminate firing from 7 am using small arms, automatic weapons and mortar shells.
"Indian Army has retaliated strongly, effectively and proportionately to the unprovoked ceasefire violation," he said.
This is for the third straight day that Paksitani troops have violated the ceasefire and targeted forward posts and villages in the twin districts of Poonch and Rajouri.
However, the shelling failed to have any impact on cross-LoC trade which takes place for four days a week from Tuesday to Friday along the Chakan Da Bagh in Poonch district and Salamabad in Uri sector of Baramulla district.
Dozens of trucks from either side crossed the border from the trade facilitation centres, the officials said.
With the latest killing, the death toll in the Pakistani shelling along the LoC this year has gone up to 27.
The dead included 13 security personnel and five members of a family who lost their lives when a shell hit their house in Balakote sector of Poonch district on March 18.
Pakistani troops have violated the ceasefire along the LoC and the International Border over 650 times this year.
Shubham had told parents he will return
The 20-year-old army jawan had told his parents that he will be coming home in two days.
On Wednesday, they will receive the body of Sepoy Shubham Suryakant Mustapure at his village Konerwadi in Parbhani district of Maharashtra, for last rites.
Mustapure, who joined the Army two years ago, was killed as Pakistani troops fired mortar bombs at forward posts along the LoC in Poonch.
A pall of gloom has descended on the village as people await the arrival of his body, for the last rites to be performed on Wednesday.
Mustapure will be cremated with military honours at 4 pm on Wednesday, an official said. The soldier's body is expected to land at Aurangabad airport at 11 am and will be taken to Konerwadi by road, he added.
"Shubham recently called his parents and informed them he will be coming home in two days. Now, his body, wrapped in tricolour, will reach here," a relative of the soldier said.
The jawan, who was a bachelor, is survived by parents and grandparents and two younger brothers.
While one brother studies in Gangakhed in Parbhani district, another studies at Ahmedpur in Latur district, the kin said.
The soldier's father owns one and a half acres of farm and also supplements his income through tailoring.
When Shubham was recruited in the Army two years ago, after completing his 12th class, he had treated the entire village to a grand feast, the relative said.
Image for representation only.