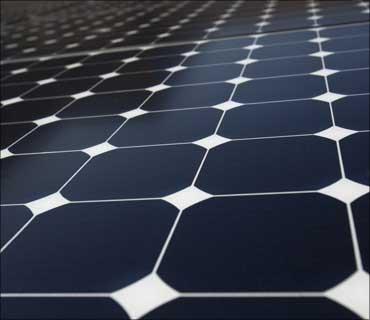 With the solar panel scam continuing to turn the heat on Kerala's Congress-led United Democratic Front government, telephone call details gathered by investigators showed that several ministers and political leaders had made calls to the prime accused in the case Saritha Nair, apart from getting frequent calls from her.
As the call list, beamed by the local media, caused further embarrassment to the Oommen Chandy government, ministers and members of Legislative Assembly sought to downplay the issue, holding that as public servants it would be difficult for them to monitor all the calls they get on their phones.
Though they put on a brave face, some expressed strong resentment at the leaking out of call details to the media by investigators, which they think had the approval of the home department.
The scam, pertaining to fraudulent deals running into huge sums pushed by Saritha and accomplice Biju Radhakrishnan, has brought the chief minister's office under a cloud with the arrest one of Chandy's personal aide and removal of two others from his staff.
Apart from demanding Chandy's resignation, the LDF opposition has trained its guns on Home Minister Thiruvanchur Radhakrishnan as well by seizing on calls Saritha had made to him and his visit to the home of serial actress Shalu Menon, who is under the scanner.
"I get a large number of calls on my phone. I call back when I find a missed call on my phone. But I cut the line when I realise that the call is from undesirable persons", Radkahrishnan told mediapersons.
A similar argument was advanced by Revenue Minister Adoor Prakash and Tourism Minister A P Anil Kumar, whose names have figured in the call list. Both Saritha and Biju have been arrested and remanded for cheating huge sums of money from several persons offering them solar energy solutions.
A magistrate court on Wednesday rejected the bail plea of former personal assistant of Chandy and police are on the lookout for former director of public relations department, A Firoze, for his alleged links with fraudsters.
Keeping up attack on the government, Opposition Leader V S Achuthanandan dared the home minister to come clean on the calls he had received on made to Saritha.
"He is duty bound to tell people as to why he has called Saritha, an accused in cheating cases," the Communist Party of India-Marxist stalwart said.