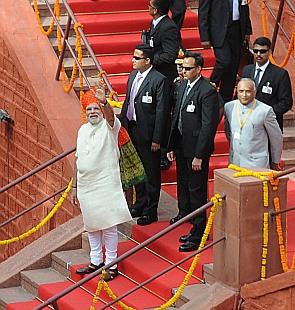 Prime Minister Narendra Modi's maiden Independence Day speech from the ramparts of the Red Fort on Friday received overwhelming response from the netizens.

"Whereas previous Red Fort speeches made tall promises, PM Modi bowed before people as true sevak. Most inclusive speech ever. Zero defect!," Union Health Minister Harsh Vardhan wrote on social networking website Twitter.

Author Suhel Seth praised Modi for the inspirational speech saying, "Brilliant speech by Narendra Modi. After 10 years, the ramparts of the Red Fort were awake..."

Entrepreneur Kiran Mazumdar Shaw tweeted, "PM's ID address to nation evoked national pride n a progressive future based on societal environmental n economic sustainability."(sic)

"Seen the 1st PM of India in my life time who could bring out tears from politicians with spirit of patriotism and service #ModiSpeech," spiritual guru Sri Sri Ravi Shankar tweeted.

Another netizen posted on Facebook, "Modi speech from Red Fort surpassed the impact of the Gettysburg Address by Abraham Lincoln, in sheer spontaneity, in vastness of the audience"

"No bullet-proof screen, no prepared speech. Its 'Modi'fied Independence Day!," another user, Arun Vijay said on twitter.

"#ModiAtRedFort
The PM seems at his best when speaking extempore. Rare gift. Astonishing how his thoughts are so clear," a tweet said.
Impressed with the PM's oratory skills during his 65-minute-long speech, users tweeted "#NaMO Zero defect, 100% effect" and "Truly inspirational I-Day speech! Modi spoke like a PM should!".
While hashtags like #NaMoatRedFort and #Modi speech were trending on the social networking websites, several politicians took to Twitter to wish the citizens.
Union HRD Minister
Smriti Irani
tweeted, "Happy Independence Day. A salute to those who gave up their lives so that we may live free under one flag, as one Nation."
Union Law Minister
Ravi Shankar Prasad
said, "Independence always goes with Discipline. Independence is also when you recognise the Inter-Dependence of our existence. #HappyIndependenceDay."
Union Minister
Prakash Javadekar
said in a tweet," We salute all those who fought for our Independence. #HappyIndependenceDay."
Congress President
Sonia Gandhi
also posted, "Wish Everyone a Happy #Independence Day."
Prior to his address at the Red Fort, Modi also wished Independence Day to the Twitterati.
"Greetings to my fellow Indians on Independence Day! May our Tricolour fly high and our nation scale new heights of development", he said.