Your work starts now, Mr Nitish Kumar
Last updated on: November 25, 2010 13:04 IST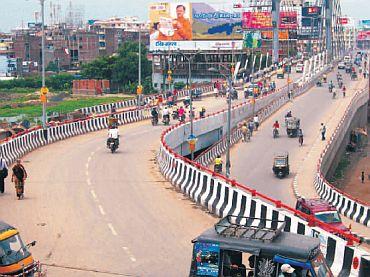 Gopal Krishna assesses what Nitish Kumar must do in his new innings as chief minister of Bihar

Roads and bridges that Nitish Kumar built have brought his alliance back to power. They made his journey safer. The mandate is clear. Caste politics too has a place because the deprived castes need 'development' the most.

Bihar voters have rejected the self-serving dynastic politics of Lalu Yadav and Ram Vilas Paswan. The way he reached out to backward Muslims has helped the alliance. The restoration of government services also became quite noticeable.

Notably, this victory was preceded by the boycott of US President Barack Obama's address to Parliament by Shivanand Tiwari, a veteran Socialist leader and Janata Dal-United Rajya Sabha member.

Is it a victory of 'complete socialism' as has been observed by Sharad Yadav, the national president of JD-U? Click on NEXT to read further...
Your work starts now, Mr Nitish Kumar
Last updated on: November 25, 2010 13:04 IST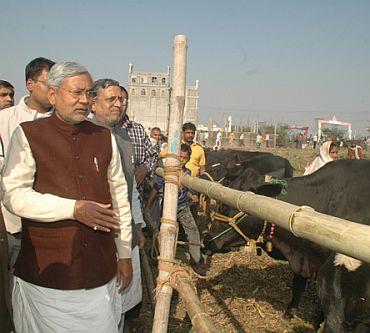 Not many people know that when the JD-U's ally, the Bharatiya Janata Party was founded in 1980, it chose 'Gandhian socialism' as its official ideology!

The same is mentioned in the form it submitted to the Election Commission of India at the time of  its registration as a political party.

The BJP had discarded this ideology in favour of the 'temple agenda' in the early 1990s. Is it willing to revert to it?

If so, will Bihar now have a common school system as has been recommended by a committee appointed by Nitish Kumar's government?

In 2006, he had called for the common school system to be implemented by the central government in order to ensure quality and non-discriminatory education to all. Bihar was the first state to have constituted a commission on the common school system.
Your work starts now, Mr Nitish Kumar
Last updated on: November 25, 2010 13:04 IST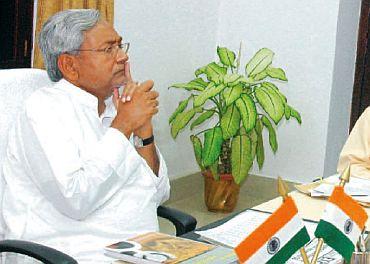 Since then, reiterating the recommendations of Kothari Commission, Bihar's common school system commission submitted its 313-page report in June 2007 but Nitish Kumar did not take any step to act on its recommendation that called "for a legislation underpinning the common school system."

If it happens, it would be a trendsetter beyond empty posturing.
Will he be able to get special category status for Bihar now? In 2006, the Bihar assembly had passed a unanimous resolution demanding special category status for Bihar. This decision emerged after a four-hour debate in the assembly on the resolution, which was adopted unanimously.

Participating in the debate, Nitish had stressed the need for a heavy dose of central assistance. He had listed grounds for making such a demand saying Bihar has international borders with Nepal, it is struck by recurring floods, the power scenario is critical and also there is a problem of extremism.
Your work starts now, Mr Nitish Kumar
Last updated on: November 25, 2010 13:04 IST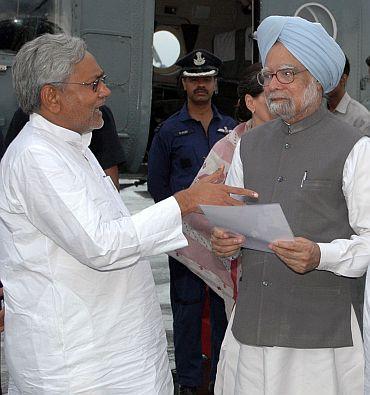 In a rare gesture of unity and rising above political affiliations, members from both sides rose in unison and forcefully approved the resolution calling on the Centre to include Bihar in the special category of states.
Bihar has been demanding this since at least since 1999. In 1989, then Prime Minister Rajiv Gandhi had announced a special package for Bihar of over Rs 5,000 crore for various projects, but it was never implemented.

Will there be an improvement in Bihar's per capita energy consumption, which is currently the lowest in the country given the failure of rural electrification campaign?

Its per capita energy consumption, at 75 kWh (kilowatt per hour), is the lowest in India and far below the national average of 613 kWh. Only 30 per cent of rural households in the state have been electrified.
Your work starts now, Mr Nitish Kumar
Last updated on: November 25, 2010 13:04 IST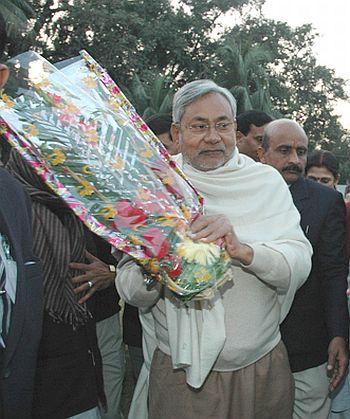 The Rajiv Gandhi Grameen Vidyutikaran Yojana, a centrally-sponsored programme started in 2005 to provide electricity in rural areas, is a failure in Bihar.

The RGGVY norms are inadequate in any case because it considered villages electrified if 10 percent households and some important structures like the panchayat building had electricity.

In remote locations, stand-alone systems can be more cost-effective than extending a power line to the electricity grid (the cost of which can range from $15,000 to $50,000 per mile).
Will Bihar adopt small grids for electricity which have become a compelling logic because capital intensive thermal and hydro-energy based power does not make any sense when transmission and distribution losses of the state electricity boards & distribution firms are almost 55 per cent?
Your work starts now, Mr Nitish Kumar
Last updated on: November 25, 2010 13:04 IST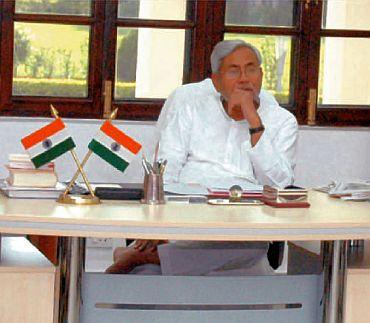 The T&D losses for the country as a whole are estimated to be in the range of 35 to 45 percent, according to Planning Commission's Eleventh Five Year Plan 2007-12 document.

Logically, powering houses or small businesses using a small renewable energy system, which is not connected to the electricity grid, makes economic sense and demonstrates environmental sanity.
Will the recommendations of the D Bandhopadhaya Committee on land reforms be implemented?

Will drainage congestion that led to the flood crisis in the Kosi river basin be decongested by restoring the natural landscape by dismantling the politician-contractors-engineers nexus that perpetuates status quo?


Your work starts now, Mr Nitish Kumar
Last updated on: November 25, 2010 13:04 IST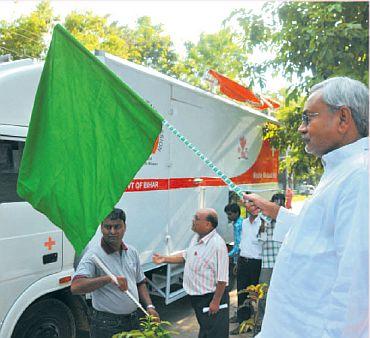 Will proposals for irrational projects like the Kosi High Dam and interlinking of Bihar's rivers be given up for being against the cardinal principles of river basin approach underlined by the formation of the Ganga River Basin Authority? Will Bihar get its share of water from the Ganga?
Will Nitish Kumar undertake a performance evaluation and cost-benefit analysis of existing embankments and come out with a White Paper on it before proceeding with the current programme? 
Will the Nitish government realise the disastrous consequences of pushing for bio-fuels in the face of food riots in 37 countries?
Will his government have the farsightedness to stop the commencement of hazardous industrial projects like asbestos cement factory in Muzaffarpur, given the fact that asbestos is banned in more than 52 countries as it causes incurable lung cancer?
Will the NDA alliance have the vision to stop ecologically destructive green revolution type of intervention in agriculture, which has turned Punjab into the cancer capital of the country? The central agricultural ministry has proposed this.
Your work starts now, Mr Nitish Kumar
Last updated on: November 25, 2010 13:04 IST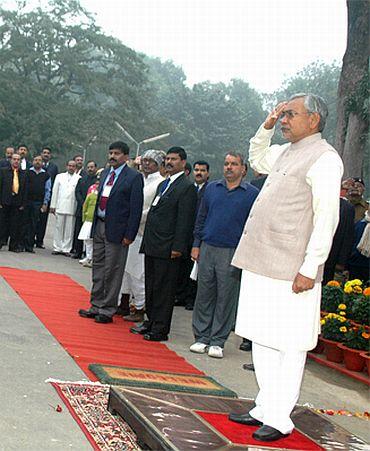 As things stand, while road construction made his return to power smooth, the construction of embankments on flood prone rivers like Kosi and Bagmati, which is underway, can prove to be his undoing in future.
It was too much to expect a government of five years to undo the damage done by the programme of flood control that started in 1954 comprising construction of embankments on both the banks of the Burhigandak, the Bagmati, the Kamla and the Kosi.
But during his second term, he should attempt steps to recover and restore the natural flow of rivers in Bihar. There is an emerging unanimity that structural engineering measures such as high dams, embankments, inter-basin and intra-basin transfer of water from rivers is inadvisable.
What is required is teh opening of navigable drainage channels as an alternative to the embankments letting rivers flow without impediments.
The benefits of free flowing river outweigh benefits from their damming and diversion, besides it ensures intergenerational equity.
These tasks require application of political imagination and one hopes wise ecological sense will prevail. But the million dollar question is: Isn't the verdict of the Bihar voters also a call for mid-term Lok Sabha elections given the non-performance of the Sonia Gandhi-led alliance?