Why the anger against AAP's dharna may be misplaced
January 24, 2014 08:20 IST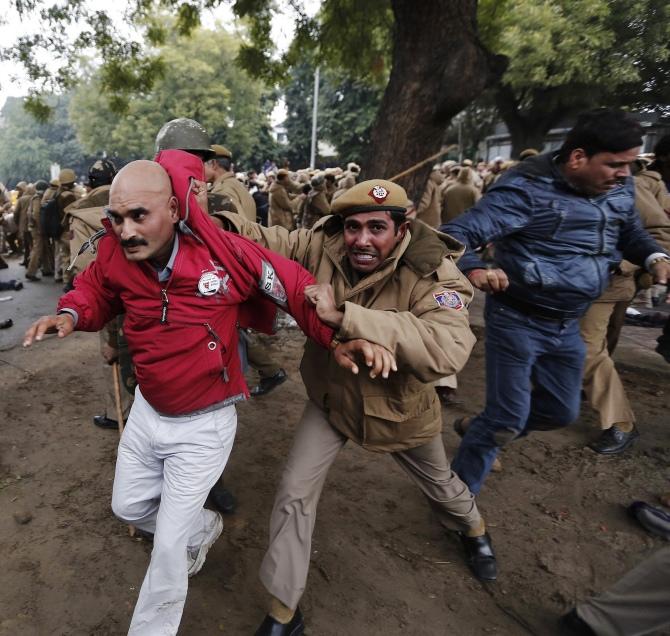 The AAP phenomenon is the voice of a people desperately wanting to believe that democracy and politics can create a decent society. For the media to ignore this and treat it as temporary one is both pompous and naïve, says Shiv Visvanathan
Articles and essays are often ways of settling intellectual debts in public. Writing becomes a way of acknowledging gifts, especially the gift of public space.
At a time when the social sciences in India are proud of the various dead ends they have reached by calling the process post-modernism, the media has created a surrogate social science debating political trends and issues in a way an arid professionalism has been unable to. Beyond the Economic and Political Weekly and Seminar, newspapers are the space of the sociological imagination allowing for debate, controversy, even plurality.
However, there have been moments of disappointment where the media exaggerates vulnerabilities, demonstrates impatience, pre-empting possible futures. Suddenly after the Rail Bhawan dharna, the press seems inordinately critical of the Aam Aadmi Party.
Television becomes inquisitorial rather than investigative and instead of an invitation to openness what we have is a redundancy of unfair critique. What was a possibility not just for us but for the future is suddenly written off as a terminal illness.
Click NEXT to read further...
A protest is seen as entropic
January 24, 2014 08:20 IST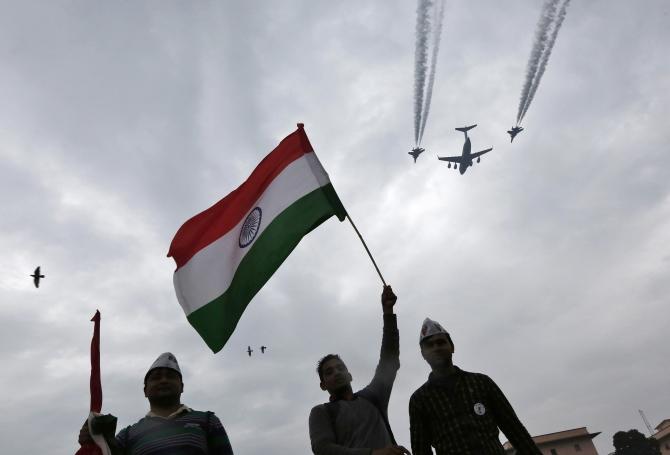 Certain motifs dominate this critique reflecting a mind-set which is unforgivingly and primly middle-class. A composite picture might be helpful. For the media, like a section of the middle-class, the Aam Admi Party is suddenly a disruptive force. A chief minister conducting a dharna against the Centre is seen as immature, a protestor who does not understand the possibilities of power and politics.
Present in this is the separation between governance and protest. There is a sense that protest defies and disrupts, while governance consolidates. Protest is seen as entropic while governance produces order.
Delhi Chief Minister Arvind Kejriwal confounds his crime by protesting a few days before the Republic Day. Suddenly he seems to be almost anti-national for disrupting Delhi before the Republic Day. He is threat to security, to law and order and the litany of hostility goes on.
If Kejriwal in turn were to say the safety, the everyday safety of a locality is more important than the empty rituals of the State, he becomes an anarchist.
The word anarchist has a strange career in India. Apart from a Gandhian dalliance, it is contextless, a floating word of insult for anyone who disrupts one's sense of order or the categories one holds dear. The very label anarchy disqualifies Kejriwal from governance. It allows Congress leaders to create forgettable quotes like 'protest is poetry but governance is prose' or Union Finance Minister P Chidambaram diktat to Kejriwal 'If you cannot govern, then quit'.

Click NEXT to read further...
Kejriwal's dismissal of Shinde is seen as an act of immaturity
January 24, 2014 08:20 IST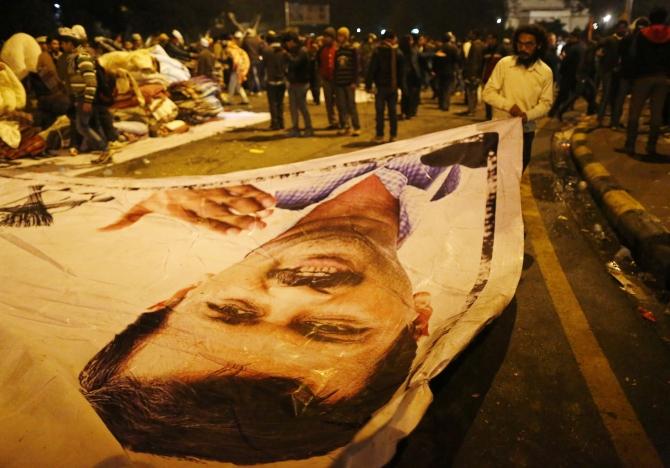 Suddenly Congress leaders, whose ineptness at governance is legendary, sound like World Bank handbooks. Union Home Minister Sushilkumar Shinde can facilely call Kejriwal a madman. Indeed, Kejriwal must be mad to expose Shinde's politics, his incompetence as a minister. Kejriwal's dismissal of Shinde, given his seniority, is seen as an act of immaturity.
Kejriwal's dream of an alternative idea of governance is brushed aside on the grounds of safety, order and security. A man talking of empowering a people is literally told 'Do not do it before Republic Day. The army will not like it'.
The word law and order is often summoned to domesticate and discipline the force called the AAP. It is this very law as legislators and police and the bureaucracy that has immobilised the country. These forces are protecting the law against Kejriwal's demand for justice.
The immediate response is to ask him to step down and to attribute to AAP a terminal illness. Yet few ask what is it that the AAP is trying to do. Is it trying to create possibilities of politics that this same threat of law and order has destroyed or made impossible.
Suddenly the media seems to posit a standing consensus around order, table manners, timing, and security. It seems to think there are no alternative ways of constructing reform, of seeking change.
Click NEXT to read further
AAP is a force erupting from the cultural and social unconscious
January 24, 2014 08:20 IST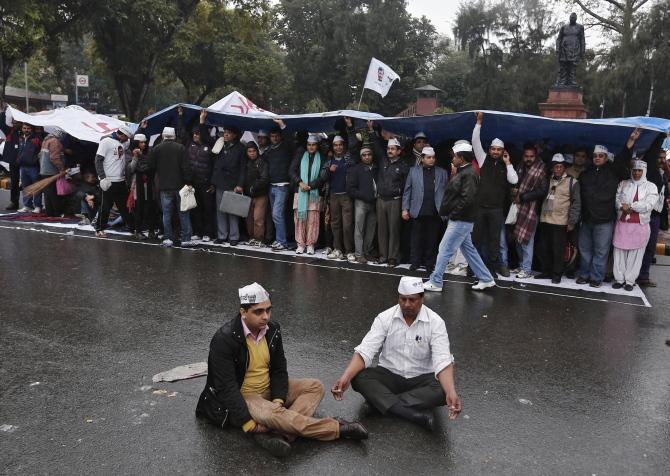 The fact that change is disruptive of habits and conventional categories does not strike the media. They want orderly change, reform which looks like a Republic Day Parade reinforcing current hierarchies and sequences.
Maybe the drama we need to encourage is the protest at Rail Bhavan. Everyone presented it as an immature tactic but no one saw the dignity of the act. Sensitive journalists with critical minds like Sheela Bhatt or Sevanti Ninan have sought to challenge this narrative but with little effect. The media which helped create and sustain the AAP as a force now feels jilted.
Suddenly the AAP is displaying a stark autonomy for what was dismissed as a media fiction. In fact critics claimed that a week of media silence would kill the AAP erasing it from the public consciousness.
The media can damage AAP but to arrogate such a role to itself will be futile. AAP is a symptom, a collective sign that a society, a generation that is tired of the Congress. Secondly, AAP is an attempt to alternative everyday possibilities of hope, of experiment from the myriad struggles that have occurred in the last four decades. The AAP is a force erupting from the cultural and social unconscious.
Click NEXT to read further...
Even power has to be questioned
January 24, 2014 08:20 IST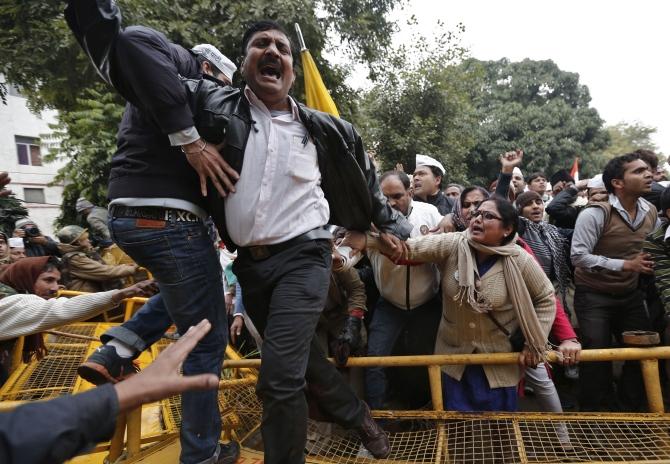 To think it is a customised artefact created by Kejriwal is to be naïve. He can resonate with it, direct it, but it is bigger than Kejriwal. It is the voice of a people desperately wanting to believe that democracy and politics can create a decent society. For the media to ignore this and to treat AAP as a temporary phenomenon operating under a good behaviour clause, is both pompous and naïve.
History can make an ass of mass media when it misreads or becomes reactionary because it fears the unpredictability of change. A bit of generosity and a touch of patience can create possibilities that the future will be grateful for.
I am not asking the media to suspend critique. I am asking it to question AAP but also create a framework, an ethnography of understanding for groups like AAP. The critique should be more systematic and demanding. What one needs is a conversation, playful and experimental, not an inquisition or a witch hunt.
I admit the media is powerful but even power has to be questioned. One hopes this tryst with democracy creates new rituals for the future not the closure that India has been dreading. It is forces such as the AAP that might eventually create the Indian century.
TOP photo features you missed last week
January 24, 2014 08:20 IST
Click on MORE to see another PHOTO features...