'Under Rajapakse, militarisation of Sri Lanka taking place'
November 11, 2013 13:59 IST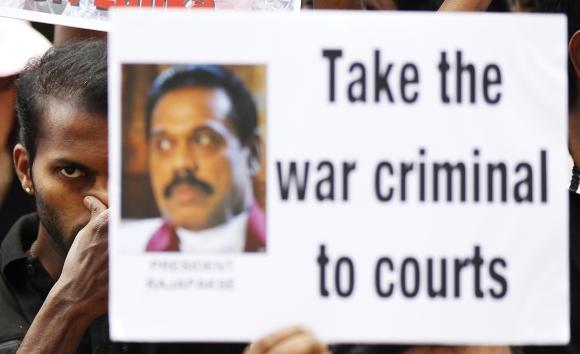 'The Tamils in military occupied areas are being denied the Right to Livelihood and Right to Life.'
'How can India allow the Sri Lankan government to forget that there are over 80,000 war widows? Many of them are maimed, living in inhuman conditions and unable to earn a living. What concerns Tamils in Sri Lanka concerns the Tamils in India,' says Dr Gabriele Dietrich, a grassroot activist and a naturalised Indian citizen.
From November 15 to 17, the Commonwealth Heads of Government Meeting, CHOGM, will be held in Colombo, Sri Lanka.
However, many human rights organisations have demanded the cancellation of the 53-nation summit because they feel CHOGM portrays that normalcy had returned to Sri Lanka.
These groups are of the view that the Sri Lankan government has got away with war crimes in the 30 years of strife and civil war in the country and are opposed to Sri Lankan President Mahinda Rajapakse.
Under pressure from Tamil Nadu Chief Minister J Jayalalithaa and DMK leader K Karunanidhi, Prime Minister Dr Manmohan Singh will not travel to Colombo for CHOGM, the second prime minister after Canada's Stephen Harper to boycott the meeting.
One strong voice in favour of Tamils is Dr Gabriele Dietrich, a grassroot activist and professor in social analysis and feminist theology. The German-born Dietrich has been a naturalised Indian citizen since 1990.
In a candid interview with Neeta Kolhatkar, Dietrich, 70, expressed her displeasure of Indian intelligence agencies's divide and rule policy with Tamil groups and the Government of India's allegiance to the Sri Lankan government.
She is disappointed that the Indian government has not demanded that President Rajapakse be tried for war crimes.
Professor Dietrich, how serious is the condition in the Tamil-populated areas of Sri Lanka?
Are the Tamils living under army rule and how severe is their condition?
The strife has been continuing for over 30 years. What concerns Tamils in Sri Lanka concerns Tamils in India.
In 2009, the war was supposedly over and we have seen the enormous loss of human life. Calling it genocide or war, these are just semantic terms.
The fact is, under the Rajapakse rule, we can see a complete militarisation of Sri Lanka taking place. A complete internal occupation has taken place in north and eastern areas and not just Eelam as is often understood.
The Tamils in military occupied areas are being denied the Right to Livelihood and Right to Life. For me, this is of highest concern. The Sinhalese army is using an excuse that there are land mines in these areas.
How can India allow the Sri Lankan government to forget that there are over 80,000 war widows? Many of them are maimed, living in inhuman conditions and unable to earn a living.
Their houses have been taken over by the Sinhalese army. In fact, Navaneetham Pillai, the UN Commissioner for Human Rights, visited these areas for over a week. Ms Pillai showed that despite many efforts to create new infrastructures and to restore tolerable living conditions, the sufferings of people in the camps, the pain of large scale disappearances and the lot of about 80,000 war widows have not been attended to.
This was the first time any international representative visited these areas. We want the government to boycott CHOGM, because it is time the Indian government stood up for their citizens. It is time the Sri Lankan government is made to pay for their excesses.
Please click Next to read further...
'Rajapakse must be put on trial'
November 11, 2013 13:59 IST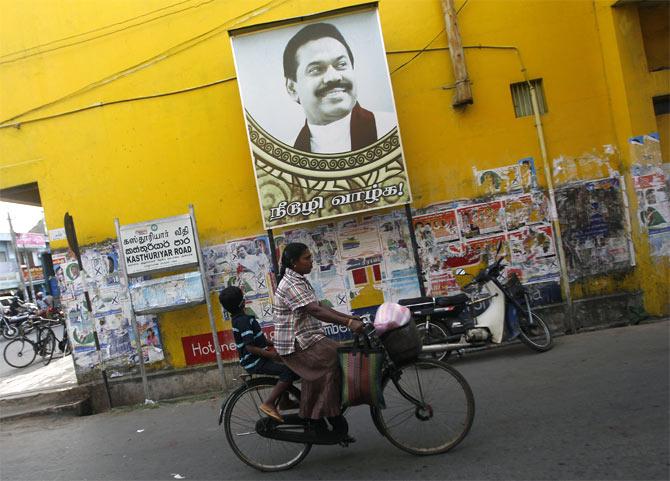 What are the demands you and the Tamil organisations are making?
The National Alliance of People's Movements, me and other people believe that CHOGM must not take place in Sri Lanka.
India needs to stand by this demand.
We demand that Mahinda Rajapakse must be put on trial by the International Criminal Court at The Hague, the Sri Lankan Tamils must be granted a referendum for a political solution for their plight.
We have also demanded that the Sinhala army be withdrawn from Tamil territories and that the lands, the houses of Tamils, be restored to them immediately. Their livelihood must be safeguarded and they should be allowed to lead a life free from violence.
You have alleged that the Indian intelligence agency, the Research and Analysis Wing, instigated the strife in Sri Lanka, even circulated arms to the dissidents.
I cannot share my notes and details with you, but it is true that R&AW trained rival Tamil groups and armed them too. It is a strong conviction that it created rifts within Tamil groups and yes, also circulated arms.
We need to think and realise what we have done in the neighbouring country, the problems we too have created.
Yes, in some ways, Indians may not believe our agency too has played a vital role. If you have read, the Delhi police arrested Soni Sodi at her home in Samali near the Chhattisgarh-Andhra border in October. She has been accused of being a Maoist.
The State can get away calling anybody a Maoist and arresting a woman... the police get away torturing activists, many of these policemen are given gallantry awards.
If we don't react in our own country, I don't think people will be concerned about taking the Sri Lankan government to task.
Please click Next to read further...
'India's double standards have aggravated the situation in Sri Lanka'
November 11, 2013 13:59 IST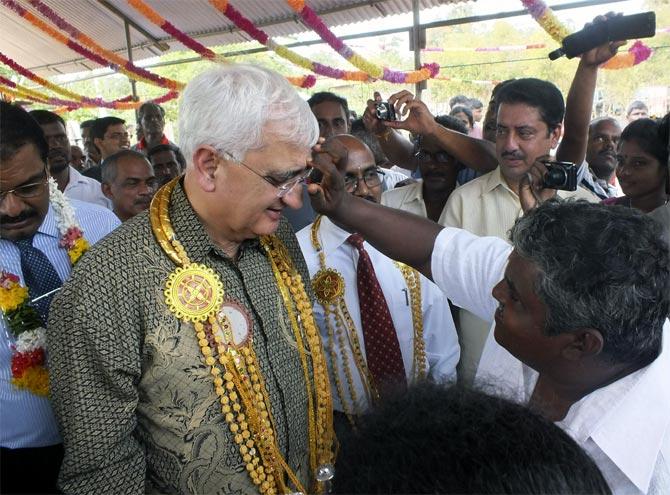 Do you think the Indian government has double standards, lacks political will, and that we have failed to get the Tamils their due rights in Sri Lanka?
There is absolutely no question that India has failed to take a stand. There is no political will.
We saw it when our own prime minister welcomed Rajapakse as the chief guest at the Commonwealth Games immediately after the 2009 killings.
India was not in a mood to listen to the troubles of Tamils.
This whole war is lopsided. We can just call anybody a terrorist.
Remember Operation Green Hunt? Our own Adivasis are getting sandwiched between the Salwa Judum on one side, the police on the other and the Naxals.
The Adivasis are pitted against all other forces. In this fake war, how do you assume who is a terrorist? It is catastrophic. And all this, when we are a democracy.
So while we knew we were aiding the Tamils in the various camps, our government sent the Indian Peace Keeping Force, IPKF.
India has double standards that has aggravated the situation in Sri Lanka. Yet we were hopeful that the IPKF was a peace keeping force and we would get some positive results.
However, the line of terror ran through the minds of our force and they did not distinguish between civilian and terrorist and the IPKF killed just about anyone.
It deepened the war and we all wondered how can a peace keeping force kill?
Did it once occur to our government, how can an army bring peace?
Peace can come only through positive action. The army is in need to be all the time at war.
Please click Next to read further...
'This government's priorities are different from that of the people'
November 11, 2013 13:59 IST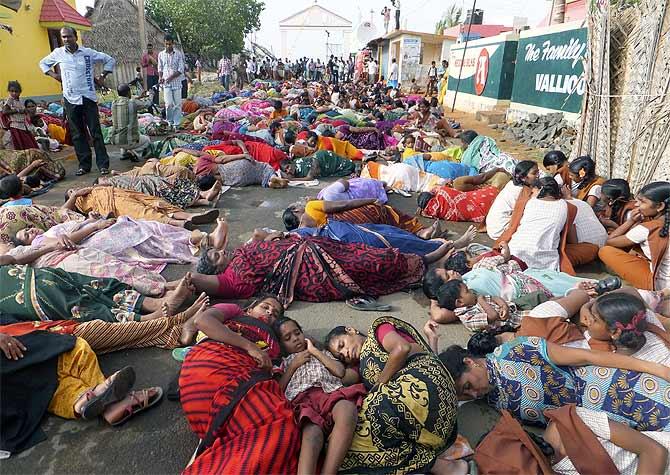 Are you saying a lot of the actions of the Union Government, the issues are inter-linked? That too with the Tamil issue in Sri Lanka? Please elaborate.
Yes, everything is inter-linked. This 123 understanding we have had with the United States government for peaceful nuclear power. The Kudankulam project, what have they made us believe, that it is for a peaceful purpose.
Since when has nuclear power been manufactured for peace? The hidden propaganda is clear.
We have nuclear war heads, the submarines, they all need nuclear power. Peaceful power is just a label.
The only one clause which we activists could force down their agenda was the Liability Clause.
This too, the Indian and US government would have liked to omit, had it not been for what we experienced in the Bhopal Gas tragedy. No insurance covers such accidents and that is why the importance of the Liability Clause.
Kudankulam is in Tamil Nadu. The best part is that the fishermen have been protesting. These are people who catch fish daily and eat, a most peaceful profession.
Has anybody heard them to go on hunger strike? They have been protesting and it is the most non-violent movement. Here too, it is being termed as political.
The government is selective and the fact is everything is connected. Sadly, many are facing sedition charges, these fishermen are not born satyagrahis. The government charges them, arrests them, but refuses to stand by the Tamils.
Such people are not being recognised and pushed away. The priorities of this government are different from that of the people.