A friend recalls Pandit Bhimsen Joshi
Last updated on: January 24, 2011 10:35 IST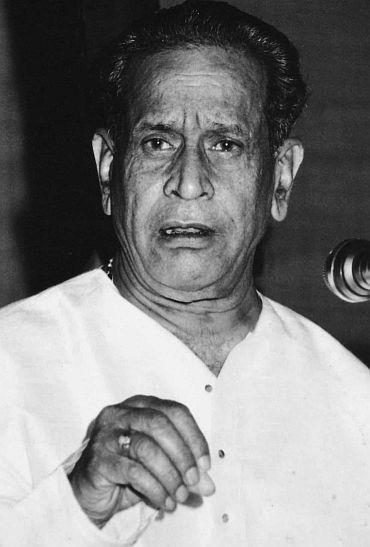 In 2009, Mohan Nadkarni, Pandit Bhimsen Joshi's biographer, wrote exclusively for rediff.com recalling his long association with the legend. We re-publish the feature.

It is rare that a biography of an artiste is published during his lifetime; every word in the narration of this biography is truthful.'
This is what the maestro, Pandit Bhimsen Joshi, said, releasing the first edition of my book, titled, Bhimsen Joshi: The Man and His Music, way back in 1983.
And it was the maestro who had visited me at home and asked me to write his life-story! This tiny biography, incidentally, caught the attention of HarperCollins publishers, in collaboration with Indian publisher Rupa & Co. They commissioned me to revise and update the edition and publish it under their joint auspices in 1994.
News of the conferment of the Bharat Ratna, the country's highest civilian award on the maestro, was indeed like a miracle that has simply happened. Doubly so, in a land where one has to be either thoroughly dead, or get woefully old and ailing to deserve State recognition!


Especially for this writer, only seven months junior to him in age, this great event is truly overwhelming. Indeed, I am at a loss to know what to say, how to say, and how much to say, as I write these lines. I turn nostalgic and my thoughts take me down memory lane. Way back to February 1943 -- February 16, to be precise.


Click on NEXT to read further...




Few could equal his box-office appeal
Last updated on: January 24, 2011 10:35 IST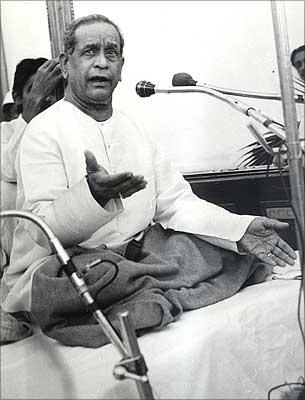 That was the day of his first broadcast from All India Radio, Bombay (as the city was then called). I still remember his programme schedule of three sittings of 20 minutes each: Miyan Ki Todi in the morning (Daiya Bat Dubar); then raga Marwa (Ab Mil Aaye) at dusk; and finally, raga Puriya (Piya Gunawanta), later in the evening.
Like me, whoever might have heard these radio sessions would have been left in no doubt that a brilliant star had risen on the musical horizon.

This musical acquaintance gradually matured into personal friendship, almost to a point when we could be on abusing terms! By then I had taken to writing on Hindustani music as a freelance writer and concert reviewer in 1954 in The Times of India and its sister publications. I cannot remember the number of occasions we may have met on and off the concert auditorium.
Indeed, in retrospect, we find that few contemporary Hindustani vocalists have enjoyed such tremendous popularity and for so long as Bhimsenji. One can even say that few could equal his box-office appeal, his phenomenal professional career at home as well as abroad has more than fulfilled the hopes and expectations raised by him in the early '40s.


Bhimsenji's great musical moments are truly great
Last updated on: January 24, 2011 10:35 IST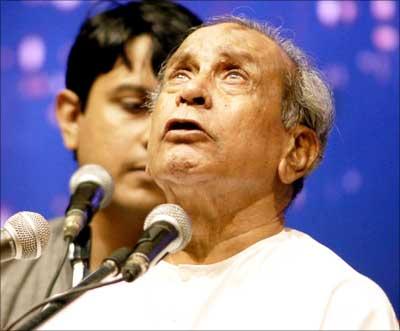 At the same time, in the course of his incredible climb to greater and still greater heights, Bhimsenji's approach to Khayal music underwent many significant changes, which evoked diverse reactions from his audiences. I am inclined to view the changes in his vocalism against the background of the qualitative changes witnessed on the wider musical scene after the attainment of political freedom.
This is equally true of the widening singing repertoire strictly outside the Hindustani traditional fare -- like his Sant Vani in Marathi, Kannada, Hindi; the Marathi stage hits; his playback singing, and his scoring music for Marathi stage presentations.
Bhimsenji's great musical moments are truly great. Indeed, at such moments he reveals a rare genius -- when the spirit seizes him in his creative ecstasy. Behind the powerful voice, amazing breath control, fine musical sensibility and an unwavering grasp of the fundamentals lies something that can only be termed sui generis.


Bhimsenji symbolised music itself
Last updated on: January 24, 2011 10:35 IST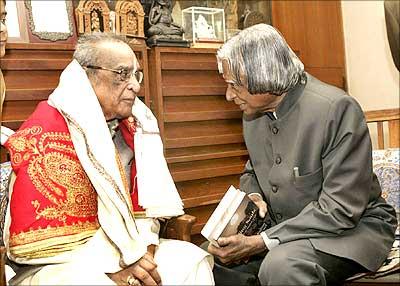 The observation made by the celebrated author E M Forster comes to mind in this context. To him, music was of two types: One, that reminded him of something, and the other, 'music itself.' Bhimsen
ji
 symbolises the latter type -- he is music itself. In this sense, I place him in the brilliant galaxy of some of the all-time greats whom I have heard for the last five decades and more, and who evoked an identical reaction in me.
Most of them, alas, have passed into oblivion and I regard Bhimsenji as one of the last --if not the last, perhaps -- surviving titans of the present generation of Hindustani vocalists.
In the mid-'80s, Bhimsenji seemed to succumb to glamour and money. True, he made history in the world of Hindustani vocal music when he won the Platinum Disc from HMV for his outstanding contributions. This was truly a triumph for the artiste and the recording company.


Unrivalled Hindustani vocalist of our time
Last updated on: January 24, 2011 10:35 IST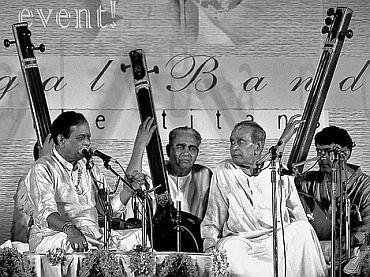 In contrast, it was more anguish than anger with which I viewed the maestro's teaming up with a variety of 'partnerships' -- like those with Lata Mangeshkar, Balamurali Krishna, the eminent Carnatic vocalist, not to speak of his 'teamship' with painter M F Husain.

These were all State-sponsored extravaganzas, ostensibly presented to promote the much-vaunted theme of national integration. It was doubly ironical that Bhimsenji'betrayed' himself by frankly revealing what he really felt.
But his appearance in Doordarshan feature Mile Sur Mera Tumhara, devised to promote national integration, rightly earned him incredible acclaim. His impassioned utterance, the complete identification of the man with his music is what has made Pandit Bhimsen Joshi the unrivalled Hindustani vocalist of our time.
True enough, here is a man who has loved and lived his life with all his romance and intensity and one who has sought to reflect it so eloquently to his music -- be it classical, light classical, devotional or the popular variety, like the Doordarshan number -- who has ever fused so subtly in his 'personality-bound' vocalism in all its anguish and ecstasy.