Image:
The Taj hotel under attack
Photographs:
Arko Datta/Reuters
Rajvardhan, a daring police officer who fought the terrorists at the Taj Mahal hotel on 26/11, discusses the terror attacks and its aftermath with Rediff.com's Vaihayasi Pande Daniel in an exclusive interview.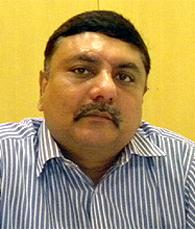 Mumbai police officer Rajvardhan (left) reads Indian history, non-fiction, spiritualism, philosophy, in his frustratingly-limited free time. William Dalrymple. Alex Rutherford. Larry Collins-Dominique Lapierre. Whatever he can lay his hands on.
Gregory David Roberts's Shantaram, with its Mumbai setting, streets away from his home, was an interesting read. It reminded him of his college days in Delhi and hanging out at similar, mildly-grubby 'joints'.
Late one evening, five years ago, when he heard there had been a curious round of firing in south Mumbai, at the Leopold Cafe, Colaba, the first thing that came to his mind was Shantaram. And the possibility that a new chapter of a gangland fight was unfolding at the (then) 121-year-old, buzzed, boisterous cafe.
He rushed to the Colaba police station from his home, and then across the road to Leopold without a gun. His job, then, as deputy commissioner of police at the Special Branch 2, did not require him to carry a gun on his person. He usually kept a revolver in his briefcase.
He reached Leopold probably 20 minutes after three Pakistani terrorists left the cafe's premises to walk up to the back entrance of the Taj Mahal Palace and Tower hotel, a few seconds from the Gateway of India.
On their trail, now much more puzzled over these mysterious gunmen, the gutsy Rajvardhan followed, headed up the shadowy lane that ran next to the cafe, past the tailor shop, the medical store, the Bagdadi restaurant, to the hotel.
Only when he entered the Taj -- saw the endless spent AK-47 cartridges littering the polished marble floor, the spreading pools of blood and the appalling number of bodies slumped about -- did an odd chill start to scuttle up his spine.
No, this was not out of Shantaram. This was a terrorist attack.
For the next 24 hours, or so, after he grabbed a revolver from injured Inspector Dhole, Rajvardhan --- who has seen action, and perhaps more bodies in the worst Naxalite belt of Maharashtra, at Gadchiroli -- fought a battle, shoulder to shoulder, with his Indian Police Service batch-mate, Vishwas Nangre Patil (then deputy commissioner of police, Mumbai, Zone 1) against a band of terrorists.
He deftly dodged near death, but was injured.
Patil, Rajvardhan and a small band of about 10 policemen/Taj security personnel, one of whom died, courageously made the best of a dreadful situation, holding the fort, steadfastly engaging heavily-armed terrorists with minimum weapons, preventing them, largely, from continuing their killing spree, till reinforcements arrived.
Rediff.com's Vaihayasi Pande Daniel's exclusive three-part interview with the daring police officer:
You knew it was a terrorist attack when you reached the Taj. Did you not see the cartridges at Leopold?
There were cartridges. But I did not see them.
When I entered the Taj I saw them. I saw the dog (the Labrador belonging to Taj security) and I saw that if there is anyone there, they are dead.
Then I realised it is something bigger.
Apart from that, what also made me realise it was something bigger was because if it were gang wars, or somebody was shooting like this, they would have left by now.
Why was that someone not leaving? But going up and up (deeper into) the Taj.
So it meant they had not come here to leave easily.
At that moment, what did you think it was?
I thought it was a terror attack.
But there are all kinds of terror attacks...
To be very frank with you, till the next day I did not know they were Pakistanis.
Mr (Vishwas Nangre) Patil is in charge of that area so he was supposed to be there. I had gone just like that.
He was slightly shaken up at that time, anyone would be. (When he saw me at the Taj) he asked me: Please help me out. I said okay, but I don't have a pistol or anything with me.
So I borrowed a revolver and I went inside. We tried to secure all the cutouts (exits or possible contact points in police operation parlance) of the ground floor. I thought it would be a bigger embarrassment if they shot many (more) people upstairs and come down and quietly walk away.
At least we should secure all the exits so they should not be able to run away, after what they were done. I blocked all the entrances and the elevators so they become non-functional.
When did you knew they were Pakistani terrorists?
I could not hear them speak. I came to know from my boss (the next day). I had to inform him, because I was injured, and he was my boss. So I asked him: Any idea who they were?
Please click NEXT for more...
'I felt nothing when I saw Kasab'

Image:
The Indian flag at the Leopold cafe, one of the sites hit by 26/11 terrorists.
Photographs:
Jayanta Shaw/Reuters
Has much changed for Rajvardhan in the five years since 26/11?
Rajvardhan, who prefers not to use his last name, whose family hails from Patna, Bihar, though he was schooled at the Vikas Vidyalaya boarding school in Ranchi, now in Jharkhand, came to Maharashtra in 1999.
After stints -- pre-26/11 -- at Gadchiroli, that left its parting mark in the form of a long slash across his face; at Malegaon, during the Hindu-Muslim riots; at Nashik, where he was partially credited with the 2006 Aurangabad arms haul (AK-47s and RDX to be used in a Mumbai attack, that did not happen, according to the Indian Express), the police officer, today concentrates on financial scams.
His attention is now focused on cases like the National Spot Exchange suit (a Rs 56 billion/Rs 5,600 crore payout scam), the SpeakAsia case (an Internet fraud scam) and understanding what he terms "how white collar criminals operate" and expanding his professional skill base.
His manner, as he speaks, is very low key; he chooses his words carefully, thoughtfully, but does not evade a question.
The scar inside him after 26/11 is much larger than wound on his face.
It is second nature for him now to ask a security man at a mall to remember to please check him, or to point out to hotel security men where their security is lax.
Seeing the surviving terrorist Ajmal Kasab, during the course of the Crime Branch investigation, he says, had no emotional effect on him.
"I felt nothing. The way you feel for a criminal. Not much more." Kasab was a foot soldier in the operation, but that did not take away from him the conscience that any human being has to tell him what is right and what is wrong, feels Rajvardhan.
Please click NEXT for more...
'We can't give terror a particular name of religion'

Image:
A protest against Ajmal Kasab, the 26/11 terrorist who was arrested, tried, convicted and then hanged.
Photographs:
Danish Siddiqui/Reuters
What have you learned from 26/11? Any fears?
Professionally, I have learned that terror can come in any shape. We can't give it a particular name of religion, colour, community or creed. It can adapt to circumstances and come (in another form).
Secondly, I have learned that we have to always emphasise the importance of training and learning. I always emphasise to our men to not get lax and to have systems in place, where we can respond if an attack comes.
If we are not able to prevent it, we need to be able to ensure it is localised, and it ends smoothly and very fast.
On a personal level I have learned, that when such kinds of crises come, I personally don't, at that point of time, feel that I am scared.
Please click NEXT for more...
'If you are not secure, how can you be free?'

Image:
Policemen in India are often overworked, under-paid, stressed.
Photographs:
Vivek Prakash/Reuters
What has changed for Mumbai post 26/11? Or India? Is it safer from terrorist attacks?
There have been periodic outbursts of anguish over the dire need for police reforms across the country.
Reforms that highlight the need, as Rajvardhan points out, to allow more "latitude to police planners" to train the force, add manpower.
The need to remove the yoke of political control strangling the police, that often results in random transfers.
The need to uncoil police priorities from bureaucratic tangles.
Police reforms is an issue that only retired police officers write about in the media, feels Rajvardhan. Who else is interested?
The fact that overworked, under-paid, stressed police officers, earning, for instance, salaries in the city of Mumbai, on the same scale as policemen in tiny provincial Indian towns, do not get time or the space to re-train, or further train, should be an issue of national concern, media concern, citizen concern, since it is about personal safety. But it is not.
Or the truth that, since 2008, the political establishment has made no legislative changes in fighting terror, as other countries have done.
Liberty, freedom and security go hand in hand --- "If you are not secure, how can you be free?" asks Rajvardhan.
Can ten men, with AK-47s, munitions and grenades, still audaciously float up to the city's coast in a small rubber dingy and walk onto land and terrorise a city?
Are Mumbai citizens now more safe?
Watch out for the second part of the interview on Monday, where Rajvardhan speaks about why citizens of India are only "50 per cent safer" today...