The Duchess of Kolkata's Sudder Street
November 21, 2013 11:21 IST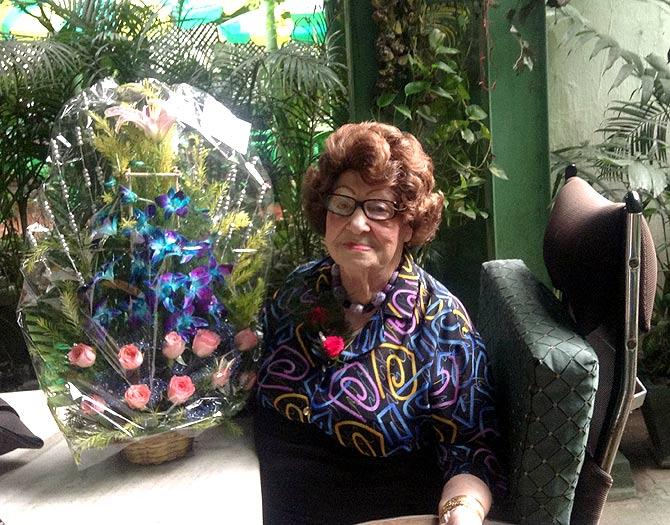 Violet Smith, who reminds you of novelist Barbara Cartland, is the daughter of Armenian refugees who escaped genocide during the First World War and sought refuge in India.
At 92-going-on-93, she lives in a quaint hotel-cum-home that she owns in old Kolkata's Sudder Street, clinging to an era long gone.
At the edge of a table, in a foyer stacked with potted plants, sits the Duchess of Sudder Street. At 92, her hair is coiffured, her dress elegant. She reads the morning newspaper with a magnifying glass, looking up to greet each guest that walks in.
Over the years, in that green foyer, she has welcomed people like the late Hollywood actor Patrick Swayze; or Shashi Kapoor, who got married there; or British playwright Tom Stoppard; or rock icon Sting ... some of the many guests who have stayed at the hotel she has owned for fifty years in Kolkata.
"She sits on her throne and greets and meets everybody. We get on with the business in the background," says her India-born-and-raised daughter Jennifer Fowler who visits from England twice or thrice a year.
"Mum is definitely the matriarch. The Duchess of Sudder Street is what I call her!" Jennifer continues with a hearty laugh.
Mrs Violet Smith, who reminds you of novelist Barbara Cartland, gives a broad grin as she listens to her daughter who she ushers to a chair beside her.
"Baitho Jenny," says the cheerful lady whose memory defies her age as she remembers the handover by the British in 1947 and gives vivid sketches of her beloved Calcutta, the city she had arrived in as a young girl in 1936.
"I am very grateful to Calcutta. It has given me dignity, respect. Malum hai kya hota hai? Otherwise I would have been nowhere," she says as guests and staff walk past saying hello and "Salaam Memsahib" in the colonial double-storied hotel that dates back to the late 18th century.
"Calcutta is my desh. It is my city," she says holding her heart.
"My mother left this for me for my old age. So that I was not dependent on anyone, so that I would not go to an old age home. This would be my home."
Please click Next to read further...
'My mother carried my grandmother on her back and fled the genocide'
November 21, 2013 11:21 IST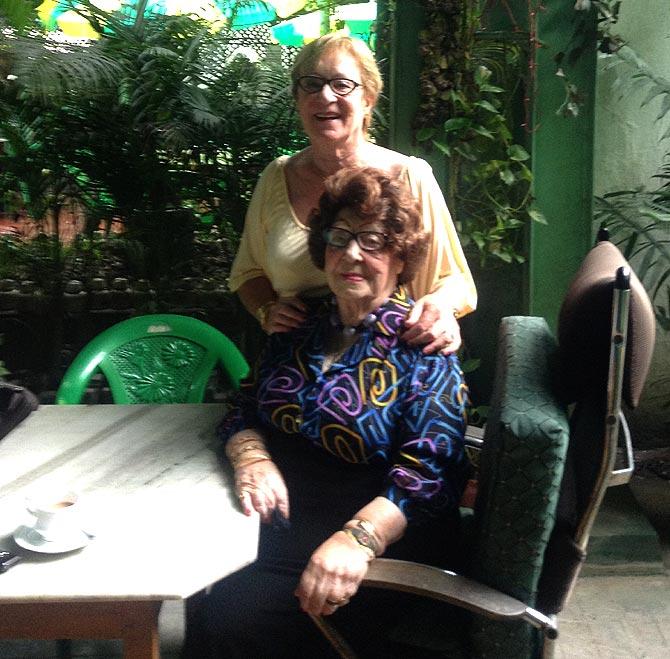 Mrs Violet Smith is a repository of the past, a chronicler of changing times and the custodian of a fascinating history. She represents an era long gone, one that remains restricted to the pages of novels or fragments of fading memories.
She also represents India's long culture of opening its heart to immigrants who from centuries past came to its shores seeking refuge.
During the First World War her parents had escaped the genocide of Armenians by the Ottoman government in what is present day Turkey, and were among the 50,000 Armenians who fled their homeland.
"My mother brought my grandmother on her back, all the way -- via Afghanistan, Kabul, Khyber Pass into Dacca in 1915."
"Unlike the English, Armenians don't put our mothers in old age homes, we take our mothers with us," says Mrs Smith who was born in Dacca in 1921 and has never been to Armenia. Neither have any members of her family. Almost a century later, her great grandson is determined to make that trip next year.
Please click Next to read further...
'Armenians used to own a lot of hotels here'
November 21, 2013 11:21 IST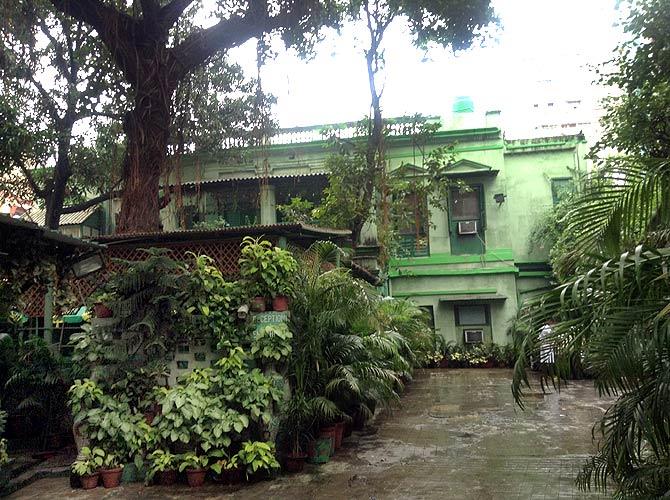 Many Armenians had escaped to Dacca, which was one of the important trading cities in Bengal. Violet Smith's father found a job in a jute factory but when the jute trade dried up between India and Scotland, he came to Calcutta, then the other great centre of trade.
It was his wife Rosie Sarkies, with an extremely shrewd business sense, who brought financial stability to the family. She saved every paisa she could in hidden empty kerosene cans and went on to buy the Astoria Hotel in Calcutta.
Most of the hotel's patrons were Armenian traders whom she charged Rs 150 per month. Then two years later, in 1936, sold the Astoria for Rs 6,000 to another Armenian and bought the Fairlawn hotel from two British spinsters who wanted to retire and return to England.
The hotel would become their home and workplace for the rest of their lives.
"The Armenians owned a lot of hotels then here... Grand Hotel, Queens Mansion, Stevens Mansion, Russell Hotel, New Kenilworth, Continental Hotel... sab Armenian logon ka tha," says Mrs Smith, whose mother eventually went on to own five hotels in Calcutta and one in London.
"My mother was an amazing woman. She left this hotel to me in her will," says Mrs Smith, who lives in the room where her mummy once lived. It has a large balcony with flowered cushioned cane chairs and potted plants.
Please click Next to read further...
'I couldn't live in England because England is not my home'
November 21, 2013 11:21 IST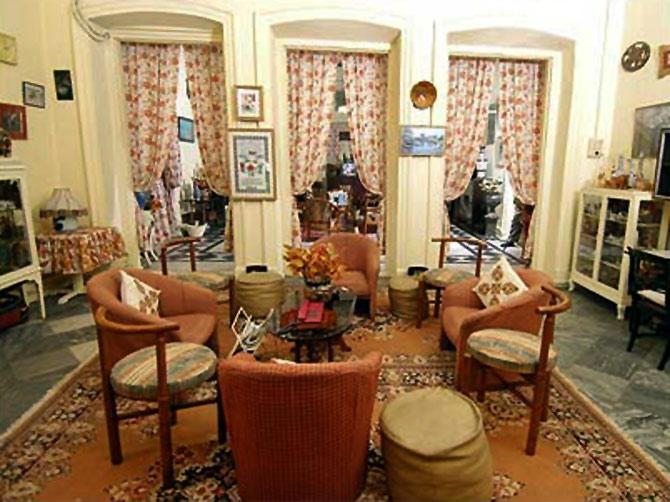 It was here on a rainy night during the Second World War that a young Violet Smith met her husband, a major in the British Army whose regiment was fighting in Burma.
The officer had arrived looking for a room with his batman. Not satisfied with getting a room for himself, he insisted that his 'batty' too was provided comfortable lodging. Accommodation was found for the young lad in the Salvation Army nearby.
Violet and John Smith had a military wedding in Calcutta and moved to Taunton in Somerset but Mrs Smith did not like it there. She missed India too much and longed to return. So after a short stay of six months, the couple was back in India for good.
Her husband found a job with a British company in Bombay where they lived for ten years.
"I could not live in England because England is not my home. I like my Eastern blood," she says with both pride and satisfaction as a day nurse brings her some tablets.
"When my husband took ill, I nursed him here in this hotel for eight years before his death. In England, who would have looked after him?" she asks, remembering her husband who is buried in the British cemetery in Kolkata.
"My dad loved India. He made it his home," adds Jenny, a resident of Somerset who grew up in Kolkata and went to school in England at the age of 11.
"He would never have survived in England."
Please click Next to read further...
'Old people go nuts. I don't want to be like that'
November 21, 2013 11:21 IST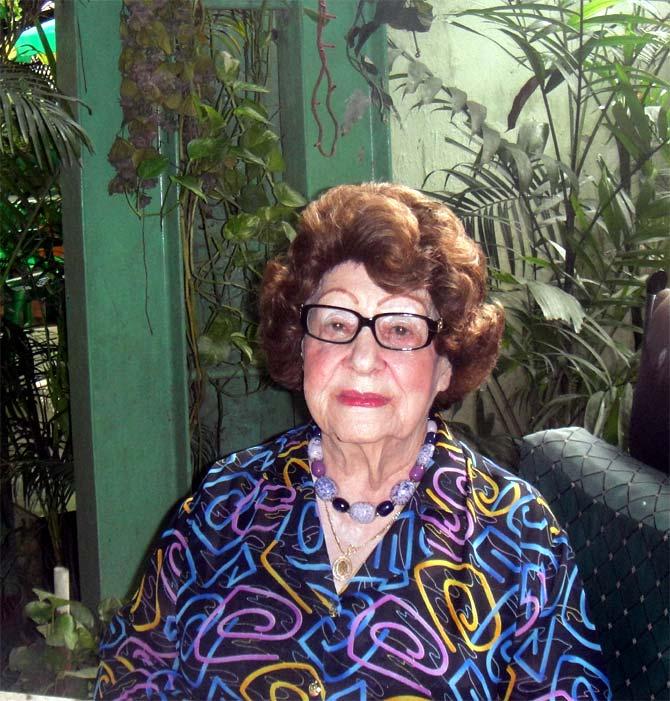 Mr Smith's job as a sales director had taken him to many places like Kashmir, Simla, Mussoorie, Jaipur, Rawalpindi. "He told me there are such beautiful places -- just like Switzerland and Scotland. I haven't travelled much in India," says Mrs Smith.
The couple returned to Calcutta when Mr Smith took ill and Mrs Smith finally took control of the hotel.
"I did it with all my heart. Dil se kaam kiya hain. It has taken me 35 years," she says of the hotel that stands out for its old-worldly charm.
A bell is sounded for morning breakfast and evening tea; a slot board with guests's names and room numbers hangs at the reception; the large drawing room on the first floor is lined with framed pictures, newspaper articles and family photographs.
Talking of her fondness for the quaint hotel, theatre-crusader Sanjna Kapoor wrote in The Week magazine recently: 'The family-run Fairlawn Hotel in Kolkata is special to me because it was a home for my gypsy grandparents. The third generation of waiters at Fairlawn remembers my grandparents and even my father as a young actor with Shakespeareana. It is the only place in the world where the waiters still call my father Shashi baba.'
Her grandfather Geoffrey Kendal and his family would often stay at the hotel as they toured the country with their travelling theatre company performing more than 3,000 plays of Shakespeare between the 1940s and 1960s.
One of the framed pictures that lines the stately staircase is of the actress Felicity Kendal, Sanjna's aunt.
Every morning, Violet Smith slowly climbs down two flights of stairs to have breakfast in the guest dining room and then sits in her green foyer.
"My legs hurt, but I will not sit on a wheelchair darling. I go up the staircase with great difficulty but I make it. Ab kya karega? I am 93 now. Only on my dying day will I be confined to my bed."
She sometimes goes for a short drive nearby and retires to her first floor room to read, watch television and rest. In the evening, she meets her staff in her room and gets the summary of the day.
"I don't like to sit in a vacuum. Old people go nuts. I don't want to be like that," she grins.
"I sit on my throne. I meet the world. The world comes to me."