Signs of a thaw: US returns priceless sculptures to India
Last updated on: January 16, 2014 10:02 IST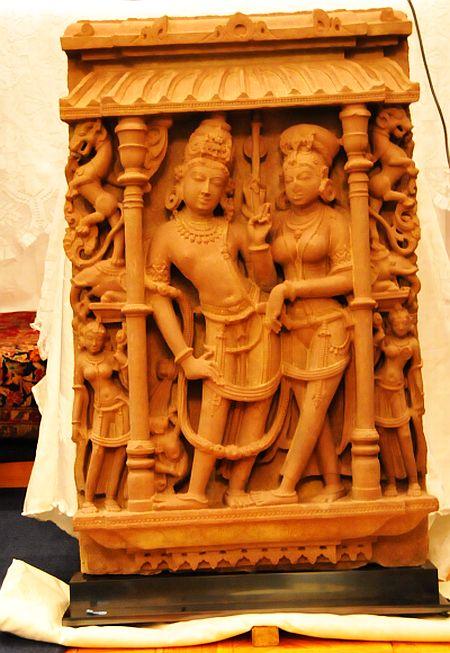 Three artifacts dating back to the 11th and 12th centuries AD and stolen from temples in India were recovered by the US investigators and handed over to India at a ceremony in New York consulate, an event marked by a guarded silence over the Devyani Khobragade controversy.
Rediff.com's P Rajendran and Suman Guha Mozumder report from new York.
Three priceless Indian sculptures valued at more than $1.5 million (around Rs 9.23 crore/Rs 92/3 million) were returned to the Indian government on Tuesday, January 14, after the United States Immigration and Customs Enforcement's Homeland Security recovered them following investigations.
The artifacts were handed to the Indian consul general in New York by ICE officials during a repatriation ceremony attended by over 40 people at India's consulate in New York City.
Right at the door, the media was told that no questions other than those about international art smuggling would be entertained. Proscribed questions possibly included those about diplomats who left the country after facing charges of visa fraud.
Kindly click NEXT to read further...
Signs of a thaw: US returns priceless sculptures to India
Last updated on: January 16, 2014 10:02 IST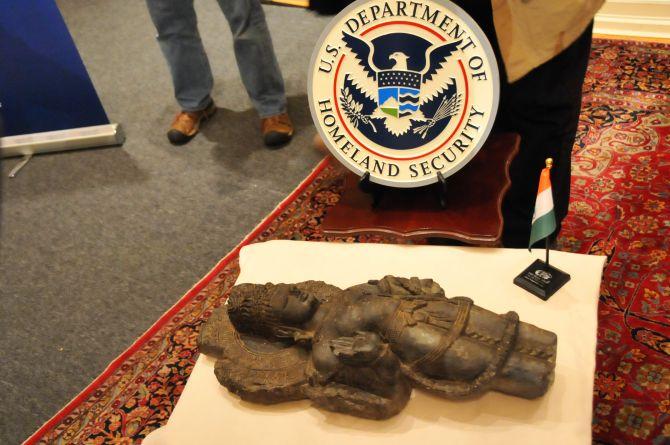 Two of the sculptures, dated between the 11th century AD and 12th century AD were 'Mithuna' (paired) figures from the Gadgach temple in Atru, Rajasthan.
The Archaeological Survey of India had reported it stolen in 2009 from an excavated Shiva temple.
One of them of what was described as Vishnu and Lakshmi was sixth on Interpol's list of top most wanted works of art.
The process of its recovery began when ICE's Homeland Security Investigations learned that it was taken to Hong Kong where it was sold to a dealer in Thailand who resold it to a buyer in London who shipped it to New York for an exhibition in March 2010.
HSI agents recovered the piece on April 15.
The investigation traced the other Mithuna piece, which, once in Hong Kong, had been sold to a buyer in New York, who shipped it to a buyer in Basel, Switzerland. The officials recovered it July 7, 2011.
Customs and Border Protection officials found the third piece, a black stone statue of the Boddhisattva, from Bihar or West Bengal, and dated to the 11th century or early 12th century.
They seized it at Newark airport in New Jersey when they saw it the country of origin was marked Great Britain.
Kindly click NEXT to read further...
Signs of a thaw: US returns priceless sculptures to India
Last updated on: January 16, 2014 10:02 IST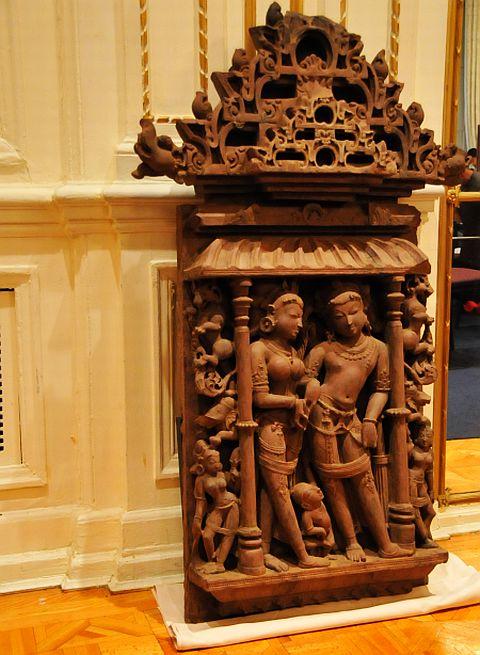 HSI Executive Associate Director James A Dinkins presented the artifacts to India's Consul General in New York Ambassador Dnyaneshwar M Mulay, alongside Interpol's Washington Director Shawn Bray.
'The excellent international cooperation between the United States and India led to the recovery and return of these priceless antiquities,' Dinkins said. 'The pilfering of a nation's cultural patrimony cannot and will not be tolerated.'
Expressing happiness at the return of the artifacts, Ambassador Mulay said he grew up in a village where he imbibed the reverence given to such items in India that had nothing to do with their monetary value.
"I've seen how important these deities are to the people of India who see them every day," the Kolhapur native said, and expressed his gratitude to the different organisations, including Interpol, involved in their recovery and return to India.
He said he had felt similar pleasure once before, when a person in Tokyo had given him some of Rabindranath Tagore's original written material.
Asked why it had taken so long to return the material, Dinkins said his team had to first establish the provenance of the objects and institute a forfeiture process first.
Kindly click NEXT to read further...
Signs of a thaw: US returns priceless sculptures to India
Last updated on: January 16, 2014 10:02 IST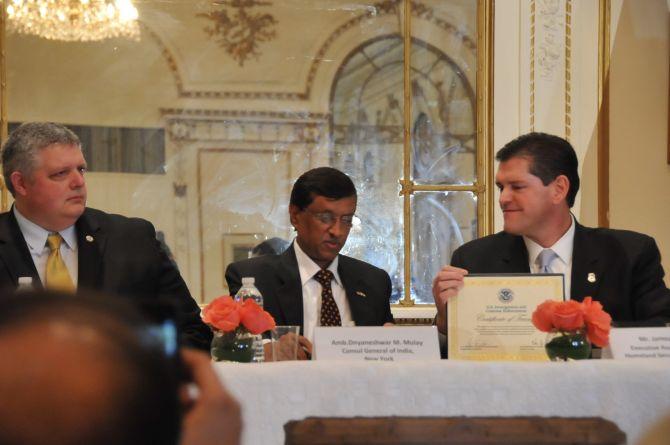 To a more pointed question about whether the current ceremony was a way to establish that US-India ties, shaken by the recent diplomatic imbroglio, was on an even keel, Dinkins pursed and licked his lips before saying it had been on the agenda for some time.
ASI officials had told Reuters last November that they were trying to get back the artifacts.
The last ICE cultural property repatriation to India occurred in 2006 when ICE agents in New York returned a 9th century stone idol that had been stolen from a temple in Mandsaur in Madhya Pradesh in 2000.
Mulay said there were many aspects to the US-India relationship, including those involving science, nuclear technology and space research.
"We have a number of issues (we deal with), including a few problems," he said, asserting that US-India cooperation, two of the world's largest democracies, could weather them, and shine through in cases such as this one.
At no time did anyone mention the name Devyani Khobragade.