Marilyn Monroe sings 'Happy Birthday, Mr President'
Last updated on: September 28, 2014 18:55 IST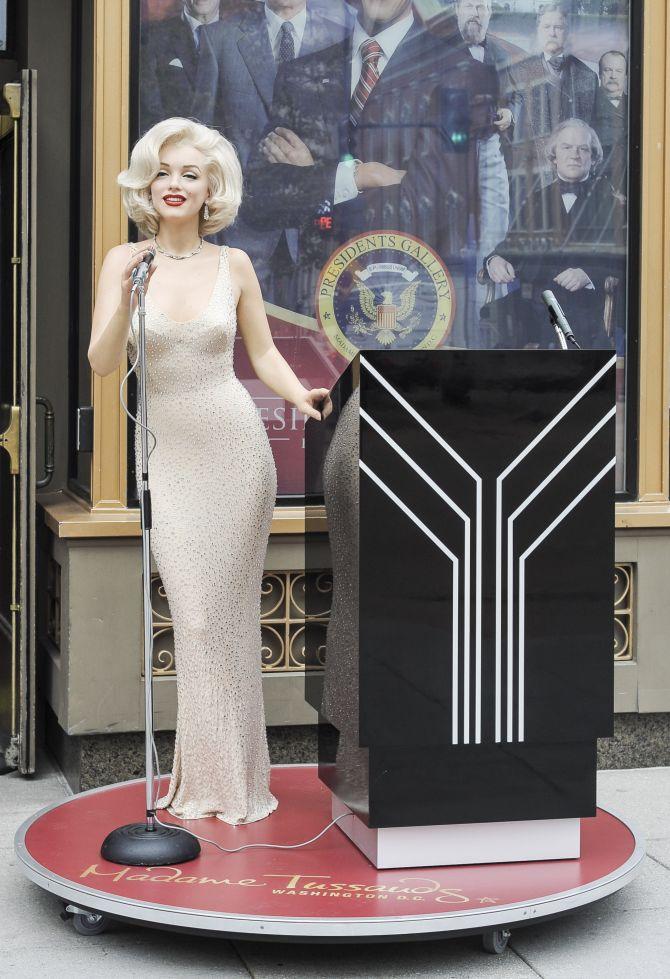 Prime Minister Narendra Modi joins a long list of greats who have headlined at the iconic Madison Square Garden in New York, United States.

Rediff.com goes back in time to chart the most iconic events that have taken place at these grounds.
On May 19, 1962, President John F Kennedy's birthday celebration was held at the third Madison Square Garden with more than 15,000 in attendance. The event was a fundraising gala for the Democratic Party.
Actress and singer Marilyn Monroe sang the tradition 'Happy Birthday to You' lyrics in a sultry voice with 'Mr President' inserted as Kennedy's name.
Her performance was given an extra charge because of rumours of an affair between her and Kennedy. Monroe's dress was noted for being made of a sheer and flesh coloured marquisette fabric, with 2,500 rhinestones sewn into it. The dress was so tight-fitting that Monroe had to be literally sewn into it; she wore nothing under it.
It was one of her last major public appearances before her death less than three months later, August 5, 1962.
Please Click NEXT to read more...
Ali vs Frazier -- The Fight of the Century
Last updated on: September 28, 2014 18:55 IST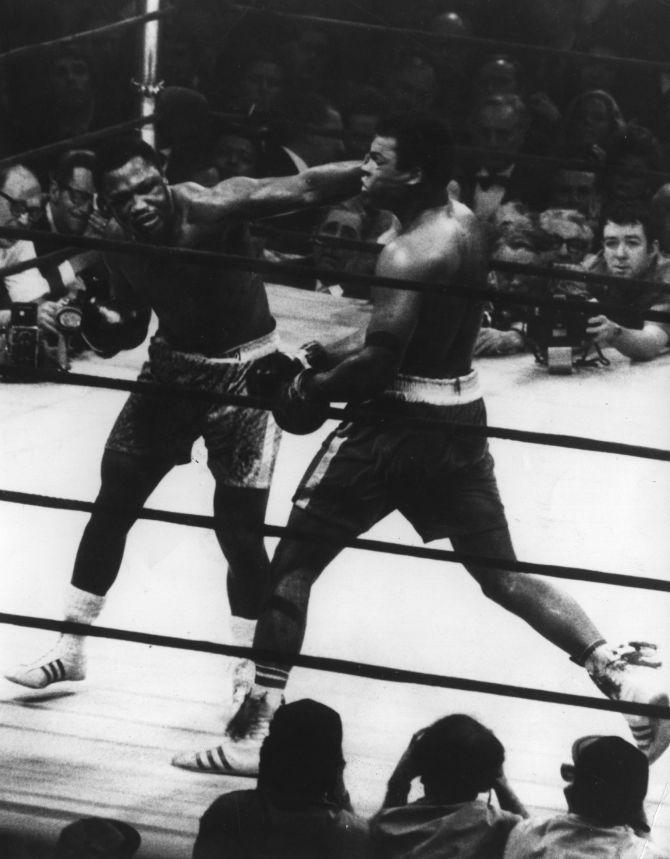 The boxing match between champion Joe Frazier and challenger Muhammad Ali held on March 8, 1971, at Madison Square Garden in New York City, has been dubbed as the Fight of the Century by writers and historians. The Garden was sold out a full month before the fight and ringside tickets were going for a record $150.
The participants were each compensated with a guaranteed purse of $2.5 million, a record at the time.
The fight was witnessed by 20,455 at the Garden and it has been estimated that 300 million more watched it across the world on closed-circuit television.
Ali and Frazier set the standard that night at the Garden. They would meet two more times and their rivalry stands as one of boxing's most dramatic trilogies.
Please click NEXT to read more...
Elton John and John Lennon concert
Last updated on: September 28, 2014 18:55 IST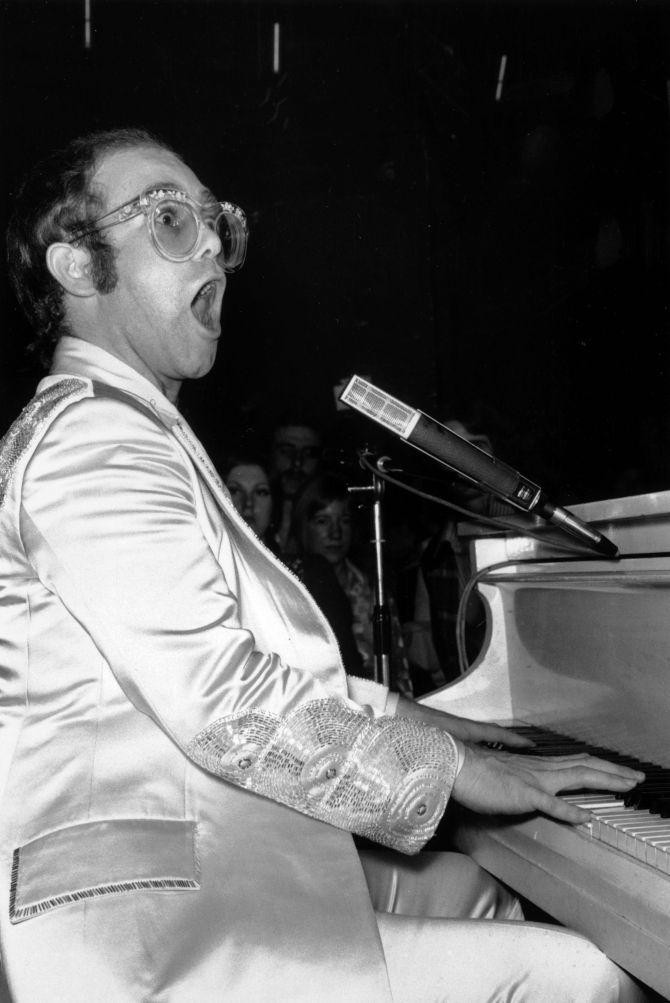 On November 28, 1974, John Lennon made a surprise guest appearance at an Elton John concert. It was Lennon's last ever concert appearance. They sang together as a duet on 'Lucy in the Sky with Diamonds', 'Whatever Gets You thru the Night' and 'I Saw Her Standing There'.
Lennon's onstage appearance was unannounced prior to the event, and the crowd reaction was ecstatic.
The concert was released as the 'There' portion of John's 1976 live album Here and There. Elton John's song 'Empty Garden', a beautiful tribute to Lennon, clearly refers to The Garden.
In October 2012, MSN reported that Sir Elton John had unveiled some very rare film footage of his duet with the late John Lennon from a 1974 New York performance.
The film footage is reported to have been shot by a fan, and is the only colour footage of the performance.
Please click NEXT to read more...
The Concert for Bangladesh
Last updated on: September 28, 2014 18:55 IST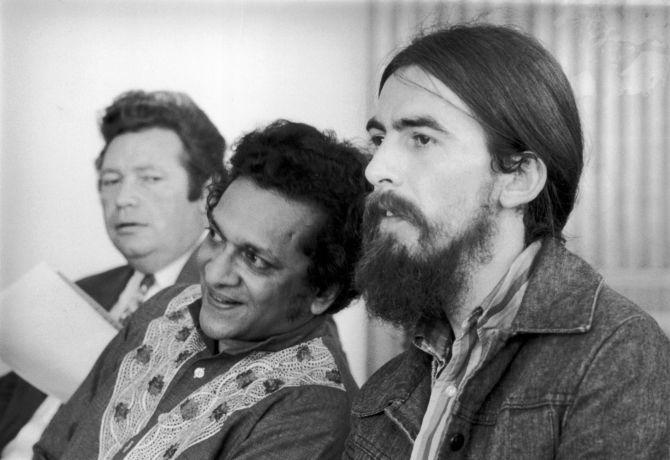 Major musicians joined together for the first time to raise funds for a humanitarian effort on Sunday, 1 August 1971. The Concert for Bangladesh was the name for two benefit concerts organised by George Harrison and Ravi Shankar for Bangladeshis recovering from the devastating effects of a cyclone.
The musicians played to a total of 40,000 people at Madison Square Garden in New York City.
The event featured a super group of performers that included Harrison, fellow ex-Beatle Ringo Starr, Bob Dylan, Eric Clapton, Billy Preston, Leon Russell and the band Badfinger.
The concerts raised close to US $ 250,000 for Bangladesh relief.
Please click NEXT to read more...
Rev and Mrs Sun Myung Moon hold mass wedding
Last updated on: September 28, 2014 18:55 IST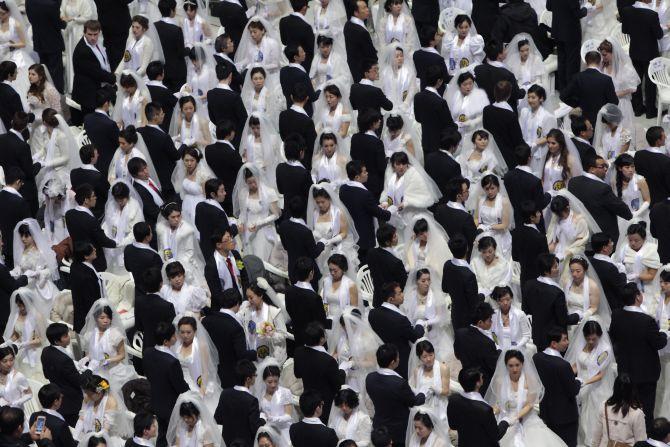 On July 1, 1982 Rev and Mrs Sun Myung Moon held a blessing ceremony in the Garden for 2,075 couples. This event attracted much public and media attention, often being called a "mass wedding."
Sun Myung Moon was a Korean religious leader, business magnate and media mogul. A self-proclaimed messiah, Moon was the founder of the Unification Church and of its widely noted 'Blessing' or mass wedding ceremony.
The Korean businessman and evangelist and his wife, Hak Ja Han, led the mass wedding ceremony in which the men reportedly wore identical blue suits and the women wore lace and satin gowns, according to nypost.com.
Please click NEXT to read more...
The Concert for New York City
Last updated on: September 28, 2014 18:55 IST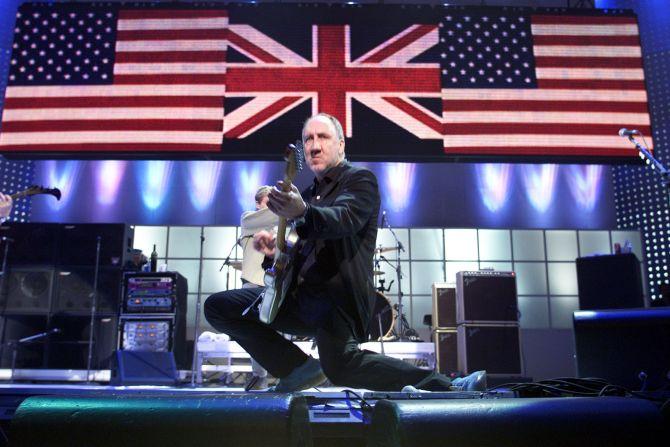 An emotionally charged benefit concert was held at Madison Square Garden in New York City on October 20, 2001, in response to the September 11 attacks.
The concert was organised by Paul McCartney and included many of his legendary British contemporaries, including The Who, Rolling Stones bandmates Mick Jagger and Keith Richards, David Bowie, Elton John, and Eric Clapton.
American artists included Bon Jovi, Jay-Z, Destiny's Child, the Backstreet Boys, James Taylor, Billy Joel, Melissa Etheridge, Five for Fighting, Goo Goo Dolls, John Mellencamp with Kid Rock, and a humorous performance by Adam Sandler as "Operaman," singing a medley covering the events of 9/11, the greatness of New York City, and about Osama Bin Laden being a coward.
Paul Shaffer acted as Musical Director for the show and various celebrities and political figures including Howard Stern and Rudy Giuliani appeared between the acts.
The concert was an attempt to honour the first responders from the New York City Fire Department and New York City Police Department, their families, and those lost in the attacks and those who had worked in the ongoing rescue and recovery efforts in the weeks since that time.
Please click NEXT to read more...
Elvis: As Recorded at Madison Square Garden
Last updated on: September 28, 2014 18:55 IST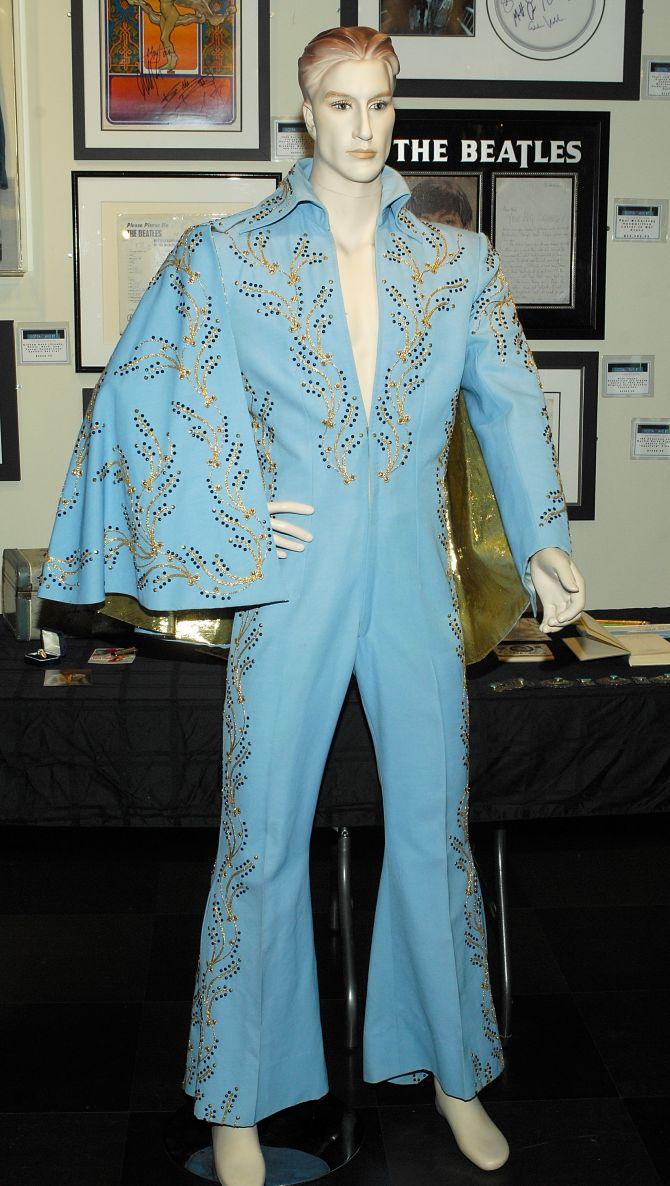 Elvis Presley recorded a live musical album at Madison Square Garden in June 1972 by RCA Records peaking.
Recorded at the Garden arena in New York City on Saturday June 10, 1972, the concert, and the subsequent album, were promoted as being Presley's first live concerts in the Big Apple since the 1950s.
It was Presley's only appearances in New York City at the Garden. Elvis played four shows to 80,000 people, which at the time was a record for the venue. To mark the 25th anniversary of Elvis' Garden shows, a recording of the Saturday afternoon performance was released titled 'An Afternoon in the Garden'.
Please click NEXT to read more...
Led Zeppelin -- 1973 North American Tour
Last updated on: September 28, 2014 18:55 IST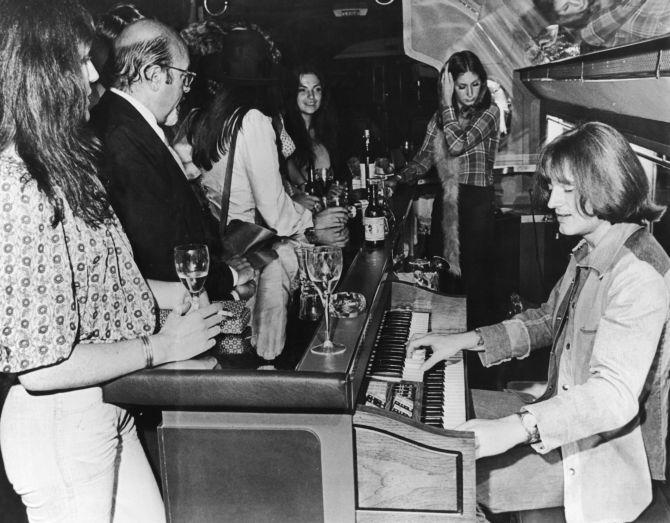 English rock band Led Zeppelin performed three consecutive, sold-out performances which were filmed and recorded at The Garden during their 1973 North American Tour.
The performance was later released on the concert film The Song Remains the Same and its accompanying soundtrack. Additional footage from these concerts was released in 2003 on the Led Zeppelin DVD.
It was also during this tour that Led Zeppelin hired for the first time The Starship - a former United Airlines Boeing 720B passenger jet.