'Terrorists were firing blindly, one bullet drilled a hole in Harish'
Last updated on: November 25, 2011 13:24 IST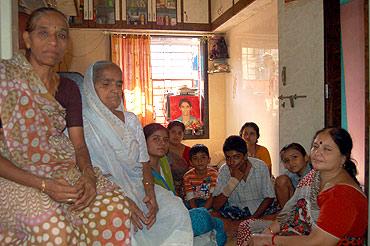 For the Gohils from Colaba not a day passes without shedding a tear for Harish, who fell prey to a stray bullet fired by terrorists at Colaba on November 26, 2008. All of 25, he was a pillar of support for this family of 14. Three years on, they still struggle to pick up the pieces, angry that crores of rupees have been spent on Ajmal Kasab, the lone surviving gunman behind the Mumbai attacks.


Three years after November 26, 2008 -- the worst-ever terror attack on Indian soil -- much has changed in Mumbai. Today, 26/11 has become just another date on the calendar with candlelight vigils, other anniversary functions and observing a minute's silence. And then the city is back to business.
But not for the Gohils. For this family of 14 -- Harish lived with his mother (father passed away when he was three), his two uncles, their wives and children -- residing in Room No 5, Ganesh Lane, Colaba time has come to a standstill since the night of November 26. The dreadful night has left a huge void.  
Harish Gohil, then only 25, fell prey to a stray bullet fired from Chabad House, which was under siege of two among the 10 terrorists, who massacred Mumbai.
"Why him," wonders Harish's cousin Preeti, 24. The two grew up together and Preeti has been unable to come to terms with the shocking loss.
"Eight people were injured, but none lethally. The terrorists were not targeting anybody in particular," she recalls. "They were just shooting blindly and hurling grenades. A bullet went through his back and came out from his chest drilling a big hole," says Preeti who chatting with a friend on the phone when she saw one of the terrorists shooting from the top balcony of Chabad House.

Click NEXT to read further...
'My grandson was covered in blood, I dragged him to a shed'
Last updated on: November 25, 2011 13:24 IST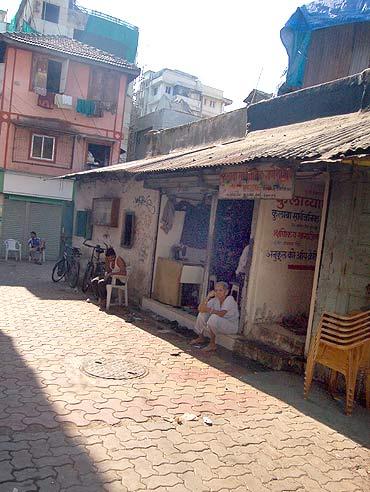 Having completed her masters in microbiology, Preeti is now studying for a BEd and she takes tuitions. She does all that the family would expect from Harish.

Along with other men of the Gohil clan, Preeti is supporting her family financially. To fulfil all Harish's wishes she has pledged not to marry till the family's financial condition improves. But it seems like a distant dream.
The family currently ekes out a living from what comes home by way of Preeti's income and a tailoring shop downstairs in front of which, Harish lay in a pool of blood on that fateful night.
A slit-like narrow opening adjacent to the tailoring shop winds its way up through even narrower staircase into the Gohils' 12 feet by 18 feet house that accommodates a smallish bathroom and toilet. There's a tiny loft too -- half the size of the carpet area underneath it. Add the 80 square feet tailoring shop below where 14 members of the family accommodate themselves.
Not a day passes without the family remembering Harish. Their complaint -- come November and the media begins to throng our house.
Harish's Ba -- his grandmother -- guards the entrance of the tailoring workshop and confronts this correspondent for being pesky. Two minutes into the conversation about Harish softens her. "Why do you remember us once a year," she asks not really wanting an answer to her pointed query.
"Look at that place," she points to the spot where Harish lay in a pool of blood. "Harish's mother and I dragged him under this shed with all the chaos around," she says wanly. "You will not understand how it feels to see someone so dear to you covered in blood unable to speak a word," she continues teary-eyed before a local social worker, Vikas Walunj, intervenes and calms her down.
'Harish was our pillar of support'
Last updated on: November 25, 2011 13:24 IST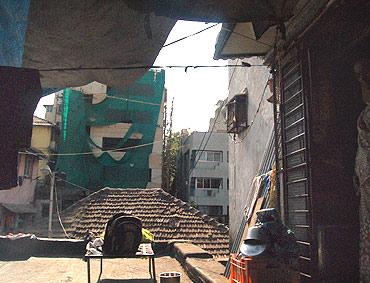 Harish's mother Damayantiben chokes each time she remembers her son. She's unable to complete her sentences; her sisters-in-law help her out.  
"We had pinned so many hopes on Harish. He was our pillar of support," she says and is lost in her thoughts. 
There is a reason why the Gohils had come to expect so much from Harish.
For one, he was the first educated male in the family having passed out of Wilson College as a commerce graduate. Harish worked at a pharmacy during his college days to supplement his family's meagre income. He was an ace dancer who taught students at his alma mater Holy Name School in the evenings. And he was at the forefront of all cultural activities in the neighbourhood. 
"The entire locality knew of Harish's family because he was famous for his dance. People identified Damayantiben as dancer Harish's mother," says Vikas.
After graduation Harish started working at call centre in Goregaon East, a Mumbai suburb. But he was never made for a life that works at night and sleeps during the day. "He had quit that job and had cleared an interview at some garment company," informs Preeti.
'When we leave our house we pray to Harish, then God'
Last updated on: November 25, 2011 13:24 IST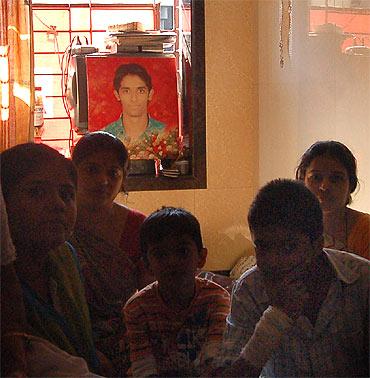 Harish was to join the company after attending a friend's sister's wedding in Ahmedabad that December,   
"We still have those tickets," says Damayantiben longingly pointing to the loft overhead.
As the family remembers Harish, his younger cousin climbs the narrow staircase and brings a photo frame of Harish. He settles down after placing it at a window that faces Nariman House.
Like most families of 26/11 victims, Preeti has one question -- Why is Kasab alive? "Why couldn't the government use the obscene sum that they spent on Kasab's security on victims and their families who are in dire need of money and space," she begins her tongue-lashing against those who she thinks are responsible for not acting upon Kasab's death sentence. "He is still alive. Why," she asks angrily.
Tears trickle down her cheeks. "His memories will never fade. While leaving our home we first pray to him and then bow in front of God. Harish has become our god," says Preeti.