Yeh dil maange more: Modi after PSLV launch
Last updated on: June 30, 2014 16:37 IST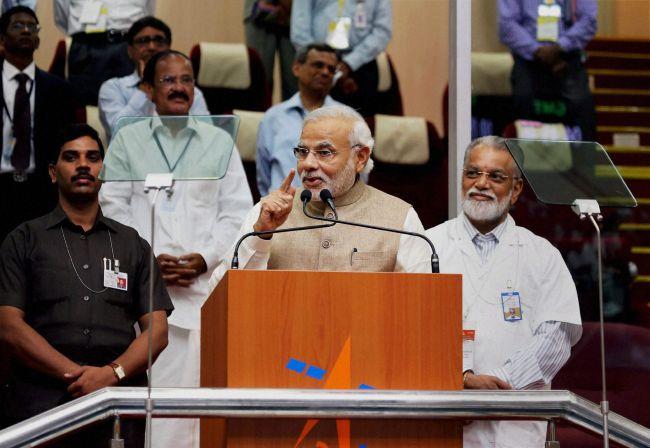 In yet another milestone in space technology, India on Monday launched five foreign satellites on board an indigenous rocket, prompting Prime Minister Narendra Modi to ask Indian scientists to develop a SAARC (South Asian Association for Regional Cooperation) satellite, which can be dedicated as a 'gift' to the neighbours.
After a perfect lift off from the first launch pad in Satish Dhawan Space Centre in Sriharikota at 9.52 am which was witnessed by Modi, Indian Space Research Organisation's workhorse Polar Satellite Launch Vehicle PSLV-C23 placed all five satellites into their intended orbits, one after the other between 17 and 19 minutes of the launch, in textbook precision.
Besides its primary payload of 714 kg French Earth Observation Satellite SPOT-7, the rocket carried and placed in orbit 14 kg AISAT of Germany, NLS7.1 (CAN-X4) and NLS7.2 (CAN-X5) of Canada, each weighing 15 kg, and the 7 kg VELOX-1 of Singapore.
Please click NEXT to read more…
Yeh dil maange more: Modi after PSLV launch
Last updated on: June 30, 2014 16:37 IST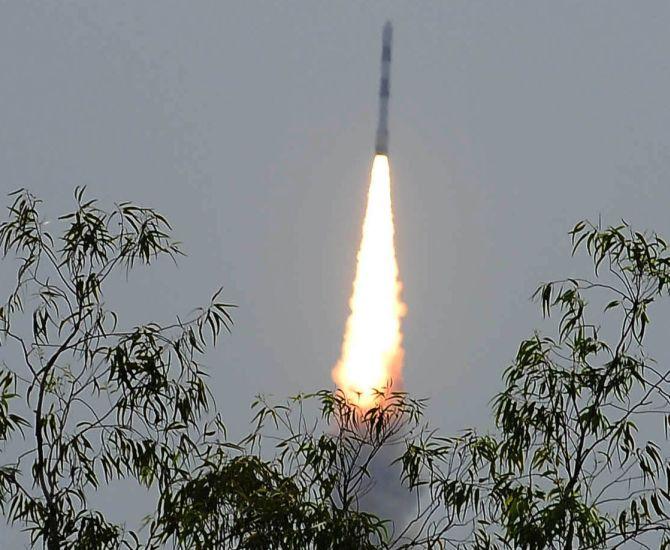 Modi, who witnessed the launch from Indian Space Research Organisation's mission control room, made a pitch for satellite diplomacy asking scientists to develop a SAARC satellite that could be of use to India's neighbours.
In his first official visit to this spaceport, the prime minister said, "Today I ask you, the space community, to take up the challenge of developing a SAARC satellite that we can dedicate to our neighbourhood as a gift from India. Such a satellite will be helpful in SAARC nations' fight against poverty and illiteracy, the challenge to progress in scientific field, and will open up avenues to provide opportunities to the youth of SAARC countries," he said.
Though the mission readiness review committee and launch authorisation board had on Friday cleared the launch, the launch time was rescheduled to 9.52 am on Monday, a delay of three minutes, attributed to "probable space debris" coming in the rocket's way.
The five satellites were launched under commercial arrangements that ANTRIX (ISRO's commercial arm) entered into with the respective foreign agencies.
India's age-old ethos of 'vasudhaiva kutumbakam' (the world is a family) spurred the need for a SAARC satellite, Modi said, adding the fruits of technological advancement must be shared with those who do not enjoy them.
Click NEXT to read further…
Yeh dil maange more: Modi after PSLV launch
Last updated on: June 30, 2014 16:37 IST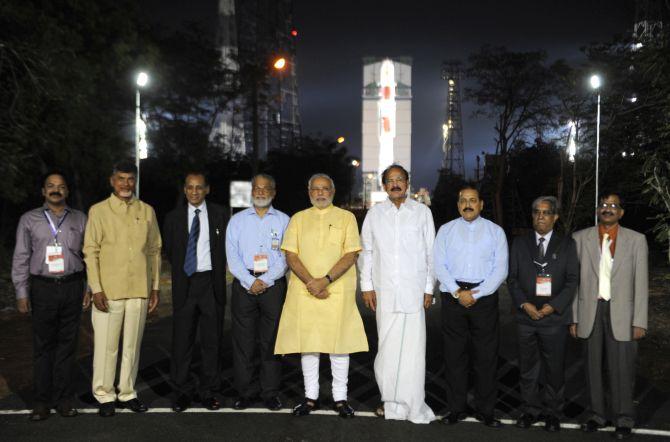 "We provide benefits of telemedicine to Afghanistan and African countries. But we must do more. 'Yeh dil maange more' (the heart desires for more)," Modi said repeating a famous tagline.
The PM said the successful launch of the foreign satellites was a "global endorsement" of India's space capabilities developed by "our brilliant scientists".
The space programme and its scientists came in for generous praise from the PM who said that the success "fills every Indian's heart with pride".
"India's advanced space programme puts her in an elite global group of five to six countries today. This is one domain in which we are at international cutting edge, pushing beyond mediocrity to achieve excellence," Modi said and noted that the space programme had made rapid strides despite resource constrains and "international hurdles".
Stating that India had the potential to be a "large service provider" in this area, Modi said efforts must be put in to achieve this which include constructing new infrastructure and upgrade to launching heavier satellites.
Please click NEXT to read more…
Yeh dil maange more: Modi after PSLV launch
Last updated on: June 30, 2014 16:37 IST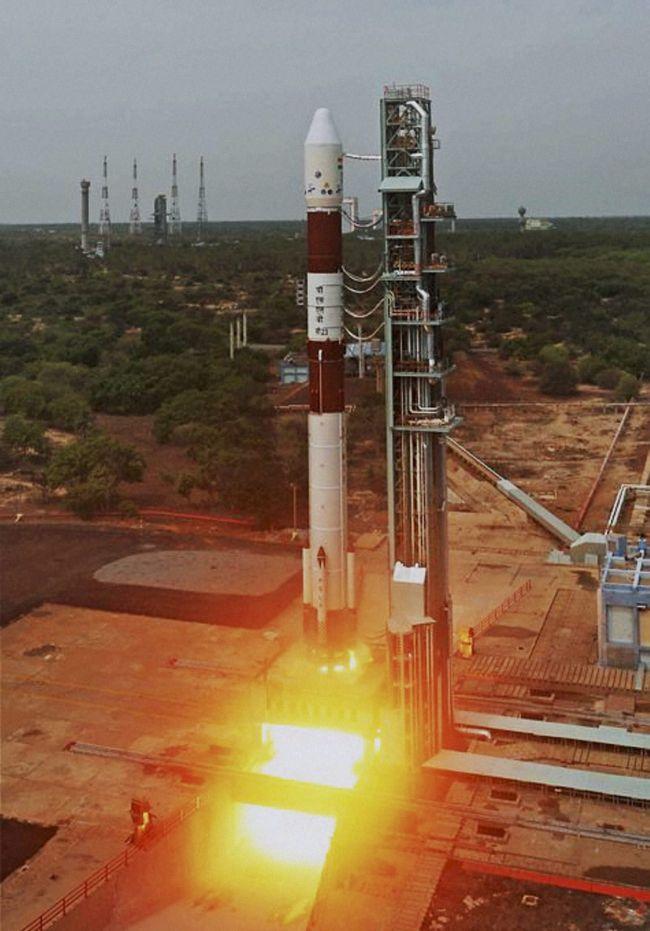 From the days of some rocket components transported in bicycles and India's first satellite Aryabhatta, the space programme has come a long way, in the process becoming a cost-effective one, he said.
In a lighter vein, he said he came to know that ISRO's Mars mission cost less than Hollywood sci-fi 'Gravity' a movie about space.
"The success has a deep historical root. Human journey started from Upanishads (vedic texts) to upagrah (satellites)....Our ancestors conceived ideas like shunya(zero) and flying objects," he said, adding but for the idea of zero there could be no scientific progress.
Modi lauded the space community, saluting among others its founding fathers Vikram Sarabhai and Satish Dhawan, besides ISRO for the 'perfect' placement of the satellites in intended orbit today.
"Our space scientists have made us global leaders in one of the most complex areas on modern technology. This shows that we can be the best and we must feel proud of it. If we apply ourselves, we can meet the aspirations of our people," the PM said.
Please click NEXT to read more…
Yeh dil maange more: Modi after PSLV launch
Last updated on: June 30, 2014 16:37 IST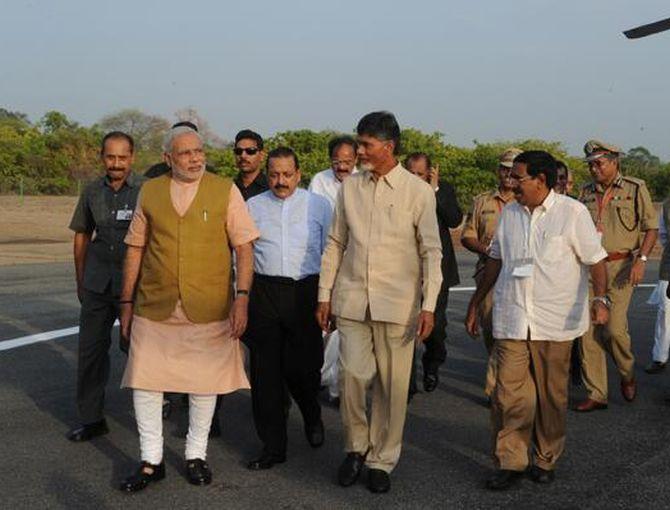 Besides Modi, Andhra Pradesh Chief Minister N Chandrababu Naidu, Andhra Pradesh Governor E S L Narasimhan and Union Minister M Venkaiah Naidu also witnessed the launch from the Sriharikota spaceport, about 100 kilometres from Chennai.
The PM had on Sunday arrived in Chennai enroute to Sriharikota to witness the event.
French satellite SPOT 7, identical to SPOT-6, which ISRO had launched in 2012, would be placed diametrically opposite to SPOT-6, forming part of the existing Earth observation satellite. European space technology company Airbus Defence and Space has built SPOT-7.
Germany's AISAT satellite would focus on the global sea-traffic monitoring system with special emphasis on high traffic zones using AIS signals. It is also Germany's first DLR satellite in the nano-satellite class.
NLS 7.1 and NLS 7.2 are from the University of Toronto, Institute of Aerospace Studies/ Space Flight Laboratory in Canada. Both payloads would perform two-spacecraft precision formation flying using differential GPS with centimetre-level relative position and sub-metre level accurate position control system.
Satellite VELOX-1 from Nanyang Technological University, Singapore is a technology demonstrator for in-house design of image sensor, MEMS-based attitude determination and control system and inter-satellite RF link.
ISRO has so far launched 35 satellites from 19 countries around the globe -- Algeria, Argentina, Austria, Belgium, Canada, Denmark, France, Germany, Indonesia, Israel, Italy, Japan, Korea, Luxembourg, Singapore, Switzerland, The Netherlands, Turkey and the United Kingdom, bringing a huge sum to the country as foreign exchange.