Pride, prejudice and irony at DMK state conference
Last updated on: February 17, 2014 12:02 IST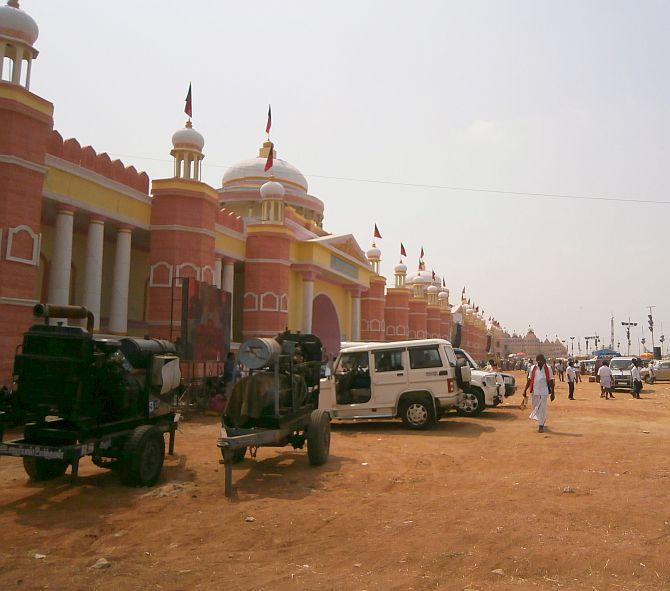 A Ganesh Nadar marvels at the grandiose state conference of the DMK, held in Tiruchirappalli over the weekend
If someone from, say, Timbuktu visited Tiruchirappalli now, they'd be forgiven for thinking M Karunanidhi and his son Stalin are India's biggest stars.
Everywhere you go, huge banners with photographs of father and son greet you.
The reason? The Dravida Munnetra Kazhagam held its 10th Tamil Nadu state conference in Tiruchirappalli on February 15 and 16.
Even the car passes, VIP passes and VVIP passes to the convention had father and son beaming at you.
Meanwhile, sales at government-approved liquor store TASMAC outlets in Tiruchi on these two days surpassed sales in the rest of Tamil Nadu. Probably it is safe to say that the DMK cadres were in high spirits.
Please click NEXT to read further…
Pride, prejudice and irony at DMK state conference
Last updated on: February 17, 2014 12:02 IST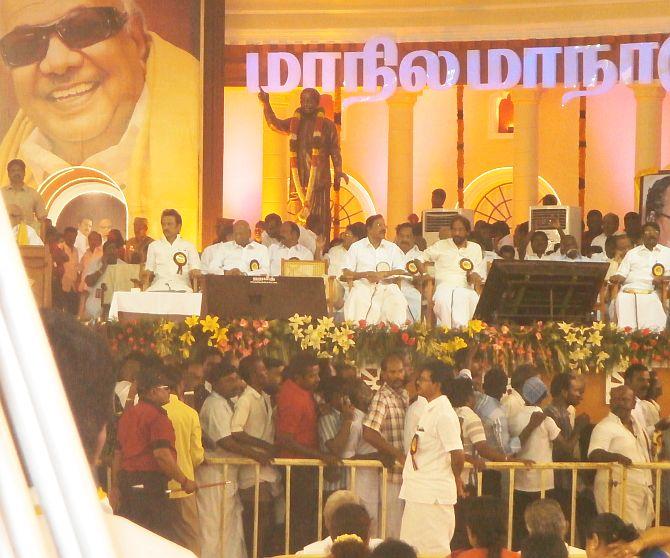 Another feature that strikes you is that the many local DMK leaders that share banner space with the father-son duo are all smiling. You wonder why, because in the last state elections the DMK fared worse than the fledging DMDK of Vijaykanth.
The DMK could manage to win only 23 seats to the DMDK's 29.
Add to that, three DMK members of Parliament have corruption cases against them. Almost all their leaders in Tamil Nadu have land-grab or other cases on them. None of that affected the smiles. Maybe the idea is to not affect the cadres' morale.
"We always have state conferences when we are in the opposition," said Suresh, a DMK supporter. "When we are the ruling party we are busy making money."
When Narendra Modi came to Tiruchi last year for a few hours, 5,000 policemen were on duty for 24 hours. The DMK state conference had three times the crowd, and no cops.
Please click NEXT to read further…
Pride, prejudice and irony at DMK state conference
Last updated on: February 17, 2014 12:02 IST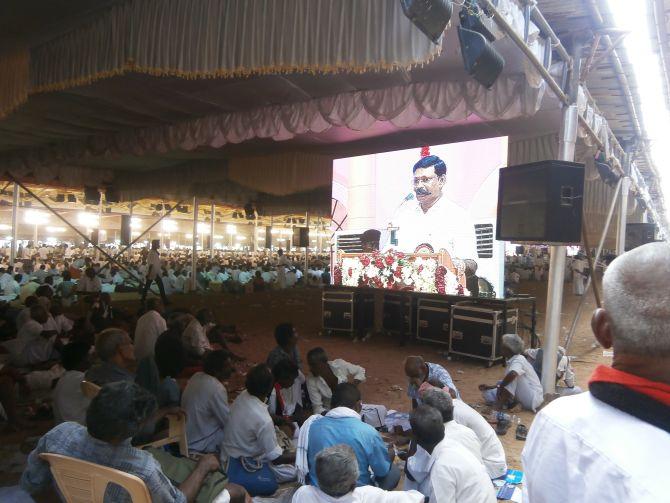 Travelling the last 2 km to the conference venue took 2 hours. And of course you could see Karunanidhi and Stalin smiling at you all the while.
Perhaps we're being too harsh. There were some banners showing Kanimozhi, Dayanidhi Maran and A Raja too. The three famous lawmakers -- if one can call them that without flinching at the irony -- were sitting onstage with the other dignitaries.
Kanimozhi and Raja even addressed the conference. Perhaps they're taking lessons in brazenness from their senior T R Baalu of the United Progressive Alliance's first term.
Alagiri, the 'black sheep' of the DMK first family, has been suspended. That didn't stop the member of Parliament from Madurai from instructing his supporters to attend the conference.
They came in a cavalcade from Madurai and in an admirable show of discipline not one raised any slogan in Alagiri's support.
Please click NEXT to read further…
Pride, prejudice and irony at DMK state conference
Last updated on: February 17, 2014 12:02 IST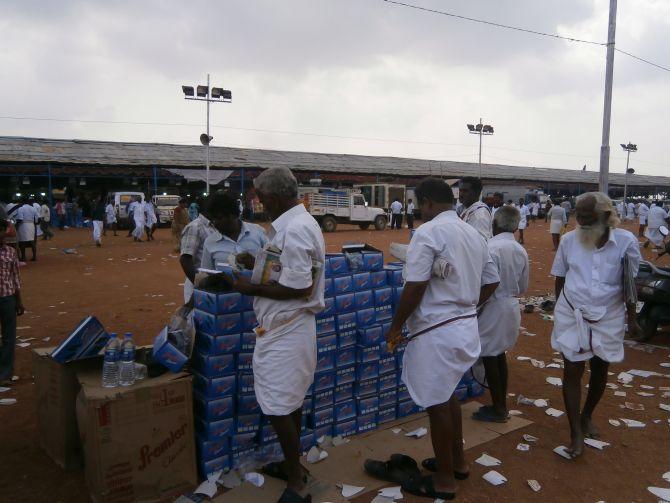 Only one MP, from Ramanathapuram, had an Alagiri poster on his car.
"He is already a one-time MP," Suresh quipped. "He won't get another chance so it doesn't matter if the high command doesn't like his poster."
One thing the conference had no dearth of was speakers. And they spoke on a wide variety of subjects, from women's emancipation to the protection of the Tamil language.
They waxed eloquent about how in the olden days it was the Tamil Sangam that protected the Tamil language, and now it was their party and of course their dear leader carrying the torch.
No one asked just who they were protecting the language from.
Another thing you could not help but notice was how all speakers talked about the 1950s -- when Periyar, Anna and Kalaignar interacted with each other. But then Periyar and Anna were not around to contradict anyone.
While there were a lot of speakers, one could not say the same about audience. There were many, many shops selling food -- everything from cut pineapples to chicken biryani. Suffice to say, no one went hungry.
Please click NEXT to read further…
Pride, prejudice and irony at DMK state conference
Last updated on: February 17, 2014 12:02 IST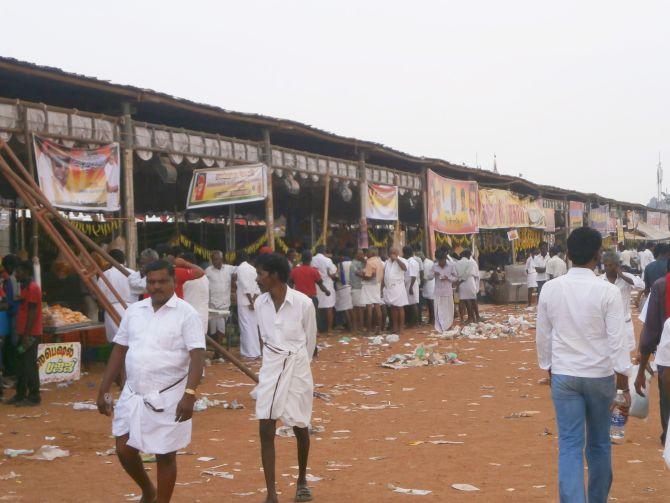 And for those who had just come from a TASMAC outlet, the huge pandal -- the conference was held in a 200-acre area, 100 acres of which was the pandal -- gave them ample space to cool off from the biryani's after-effects.
The pandal must have cost a couple of crores. The entrance had three layers. First you entered a fort, then you entered a palace and then you entered another fort, and then you saw this pandal stretching to infinity.
There were huge screens everywhere just in case you wanted to catch the onstage action in-between shuteyes or while playing cards for money, as some were. The heat meant ice-cream sellers did brisk business.
The dignitaries read out the decisions that had been taken at the conference. No one asked when these decision were taken, or by whom.
The first decision was to 'implement the Sethusamudram project.' Maybe not enough money had been made while dredging the ocean the first time?
None of the other decisions were revolutionary, or news worthy.
M Karunanidhi had built a secretariat for Rs 1100 crores and JJ had just spent another 100 crores to make it a super specialty hospital which was going to be inaugurated next week.
One of the speakers said they would spend another Rs 100 crores and make it a secretariat again.
Another important feature was how each of the myriad speakers steered their speech towards the eventual praise of Karunanidhi and his son Stalin.
It would probably be safe to estimate that 300,000 people turned up from 30 districts for the conference. The cost one person incurs for a two-day conference is Rs 2000 -- right from diesel for the vehicle to food and TASMAC goodness.
That works out to Rs 60 crores.
Most of the hotels in Tiruchi were booked by the party for its leaders. The marriage halls were booked for the cadres.
Karunidhi's channel Kalaignar TV announced that a million people were attending, would mean the party spent Rs 200 crores.
Whatever be the number of attendees and the cost, the collection by the district secretaries for the Lok Sabha elections was announced as Rs 106 crores. The highest was from Tiruvannamalai (Rs 7 crores) and the lowest was Andaman Islands at Rs 500,000.
"When you are in the opposition, you cannot collect a single paisa from the public," informed a well-informed party supporter. "It is good that all the district secretaries of the DMK are billionaires. You know why? In the AIADMK, district secretaries are changed every time Amma coughs. Here they have been there for 40 years."
Please click NEXT to read further…
Pride, prejudice and irony at DMK state conference
Last updated on: February 17, 2014 12:02 IST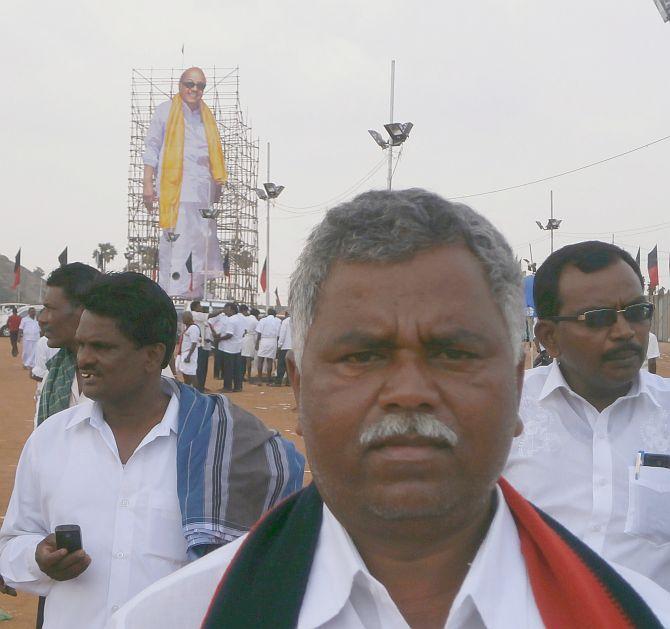 The AIADMK has already announced that Amma -- aka J Jayalalithaa -- will be India's next prime minister. Not to be outdone, a DMK leader said the next prime minister will be decided by Kalaignar.
The DMK patriarch inaugurated the conference by hoisting a flag on a 91-foot pole -- because he is 91 years old.
He concluded the event by promising his allies that they would win all 40 seats from Tamil Nadu, and secular allies are always welcome to join them.
"We must ally with the Congress. They have the winning margin" said C Devendran, the panchayat secretary of the DMK in his village
He has attended many conferences, but said this is the biggest. He contested his village panchayat elections and lost, but he is still the DMK secretary of his village.
Underlining his importance in the party, Natarjan, who is the custodian of the DMK party office in Villupuram, held up a bunch of keys.
"They are the keys to the city office of the DMK in Villupuram," he declared. "I look after the office there".
Incidentally, Tiruchi is also filled with posters of Udaynidhi Stalin, MK's grandson. His movie released last week. What a lucky coincidence!
TOP photo features you missed last week
Last updated on: February 17, 2014 12:02 IST
Click on MORE to see another PHOTO feature...