Round 8: Polling held in 64 seats including Seemandhra, Amethi
Last updated on: May 07, 2014 22:20 IST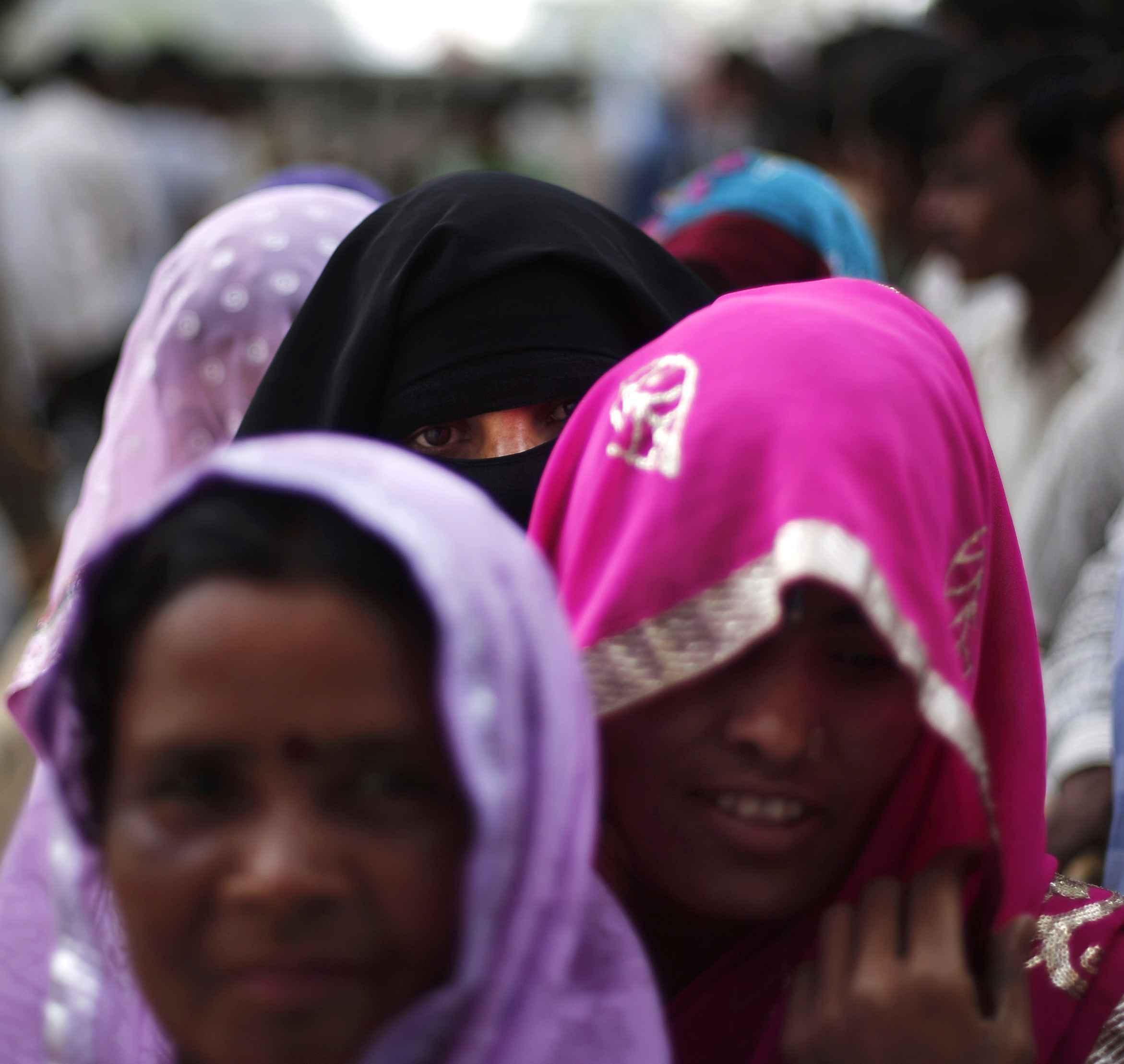 Having won in 2009 nearly half of the 64 seats going to polls in the penultimate round, the Congress appears to face a difficult task as people in the whole of Seemandhra, Himachal Pradesh and Uttarakhand lined up to cast their vote in the Lok Sabha elections on Wednesday.
Coverage: Lok Sabha Election 2014
Conversely its main rival Bharatiya Janata Party, which currently has only five seats in Wednesday's round, may have everything to gain if it improves its performance in parts of heartland UP and Bihar that go to polls along with some constituencies in Jammu and Kashmir.

Of the 64 seats in seven states, including West Bengal, Congress had won 31 in 2009 while BJP had five.

In all, voters in seven states will pick their candidates in the eighth of the nine-phased elections.
Already elections have been completed in 438 of the 543 constituencies.

41 seats will go to polls in the last round on May 12.

Faced with complaints of large scale rigging in some places, the Election Commission has increased videography of polling stations to ensure free and fair poll.

The fate of 1,737 candidates, including Rahul Gandhi (Amethi), his cousin Varun (Sultanpur), Union minister Beni Prasad Verma (Gonda), cricketer-turned-politician Md Kaif (Phulpur-all in UP), Ram Vilas Paswan (Hajipur), Rabri Devi and Rajiv Pratap Rudy (Saran-all in Bihar) is in the hands of 18.47 crore voters who are eligible to cast their franchise.

Click on NEXT to read further...

MAP CREDITS: Rediff Labs Team

55.56 pc polling recorded in Uttar Pradesh
Last updated on: May 07, 2014 22:20 IST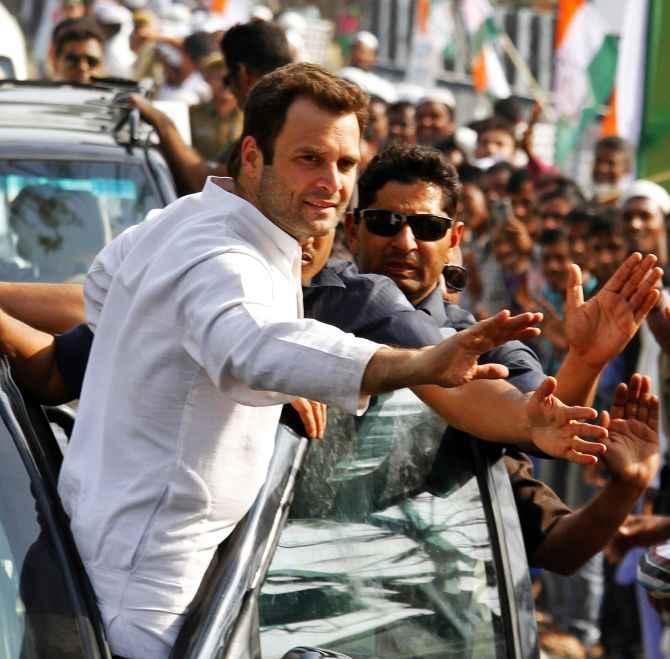 Around 55.56 per cent voters cast their votes in the fifth phase of elections in Uttar Pradesh, where 243 candidates, including Congress vice president Rahul Gandhi and BJP's Varun Gandhi, are contesting on 15 seats.
In Amethi, where Rahul Gandhi is contesting, 50.66 per cent polling has been recorded so far whereas in neighbouring Sultanpur from where Rahul's cousin Varun is contesting, 53 per cent voters have cast their votes.
The other prominent candidates contesting from Amethi include TV actress-turned-politician and BJP nominee Smriti Irani and Aam Aadmi Party's Kumar Vishwas.
In Pratapgarh 48.6 per cent, while in Faizabad 53.4 per cent, Gonda 49.2 per cent, Kaushambi 50 per cent, Phulpur 48.5 per cent votes were cast.
Allahabad recorded 51 per cent voter turnout whereas, Ambedkarnagar 56.6 per cent, Bahraich 53.2 per cent, Kaisarganj 53.4 per cent, Shravasti 51.2 per cent, Basti 54.02 per cent, Sant Kabir Nagar 51.20 and Bhadohi 49 per cent.
Highest turnout was reported from Basti with 54.02 per cent votes.
More than 2.6 crore electorate, including 1.19 crore female, are expected to exercise their franchise in this phase.
While 34 candidates are in the fray from Amethi, 10 candidates are contesting from Bahraich constituency.
Of the 25,085 polling centres, 3,715 has been identified as critical.
In 2009 Lok Sabha elections, poll percentage in these seats was 43.37 per cent.
Complaints of EVM malfunction were received from nearly eight booths in Bhadohi and five booths in Bahraich which saw delay in voting process.
In Bhadohi, polling was temporarily stopped in Bhadohi, Gyanpur, Aura and Handia for nearly half-an-hour and began only when faulty machines were replaced.
A booth level officer was replaced in Bhadohi for allegedly distributing slips in favour of a particular candidate.
In Pratapgarh's Kandhai and Madhupur area, some people were not allowed to vote as their names were not in the list.
In Shravasti, most of the villagers of Piprigram did not cast their votes till 3 pm in the evening as they were protesting against poor development and a bridge in the area.
Cajoling by the district officers could not budge the villagers as by the time news was written only three out of 1,272 votes were cast at the booth.
Villagers said if bridge was not constructed, their village will turn into an island and remained disconnected with neighbouring areas.
Please click NEXT to read further...
High turn-out in Seemandhra, figure may touch 80 per cent
Last updated on: May 07, 2014 22:20 IST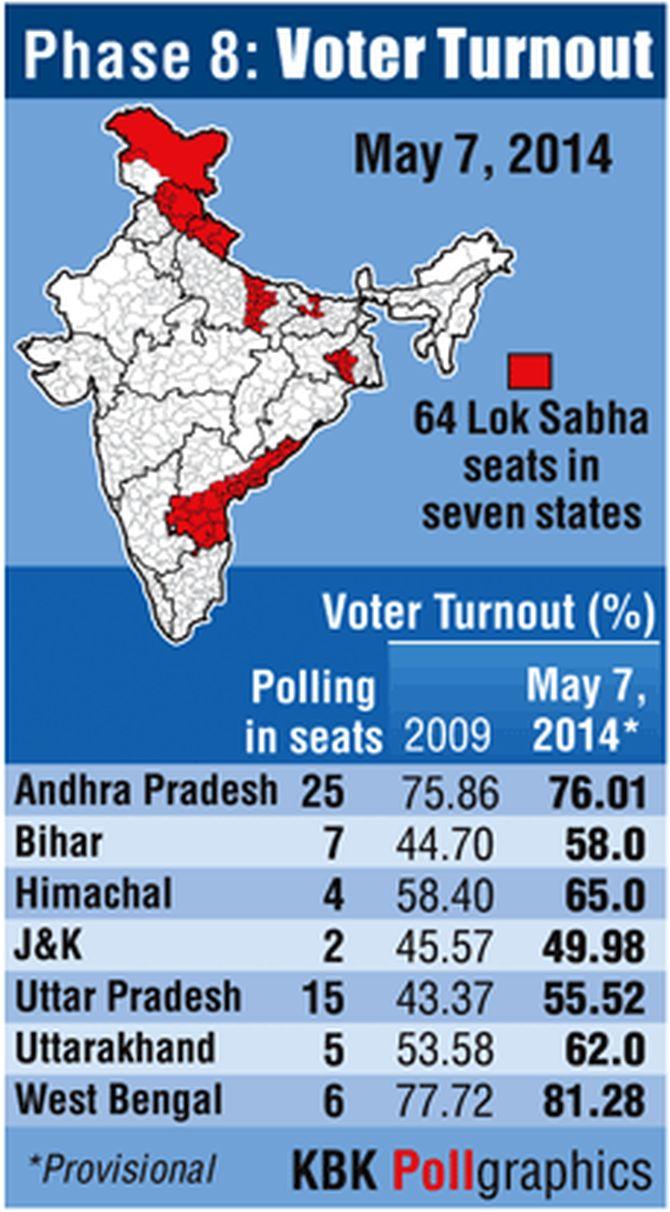 Braving the scorching heat, voters of Seemandhra turned out in large numbers to exercise the franchise for Lok Sabha and Assembly elections today even as sporadic violence and clashes between YSR Congress and TDP-BJP workers were reported from some areas especially Kadapa.
The state's Chief Electoral Officer Bhanwar Lal said the overall polling percentage in 13 districts of Seemandhra where elections were held for 25 Lok Sabha and 175 Assembly constituencies was an impressive 77-78 per cent, as per the tentative figures, with Guntur recording the highest 83 per cent and Visakhapatnam the lowest at 73 per cent.
The final polling percentage is expected to touch 80 per cent when all the reports are compiled, he said. In 2009, Seemandhra had recorded 76 per cent turn-out.
Clashes between TDP and YSRCP workers, and some violence by Maoists were reported during the day. The Maoists torched an Electronic Voting Machine and a vehicle at Palakagidi agency area (on Andhra-Odisha border) of Visakhapatnam district, forcing authorities to order repolling in one of the polling stations.
Several workers of YSR Congress and TDP were injured in clashes in Kadapa district. Police fired in the air in Guntur and Kadapa districts to disperse the workers.
About Rs eight crore in unaccounted-for cash was seized during the day, which took the total cash seized so far to Rs 152 crore since the model code of conduct came into force across Andhra Pradesh.
Having been out of power for a decade, today's elections were a do-or-die battle for TDP supremo N Chandrababu Naidu, who has forged an electoral alliance with BJP. His main rival is YSR Congress chief Y S Jagan Mohan Reddy.
Today's elections, the last general election to be held in the undivided Andhra Pradesh, were conducted amid a heavy security.
Elections in Telangana, which is to become the 29th state of the country, were held on April 30.
Please click NEXT to read further...
82 per cent polling recorded in West Bengal
Last updated on: May 07, 2014 22:20 IST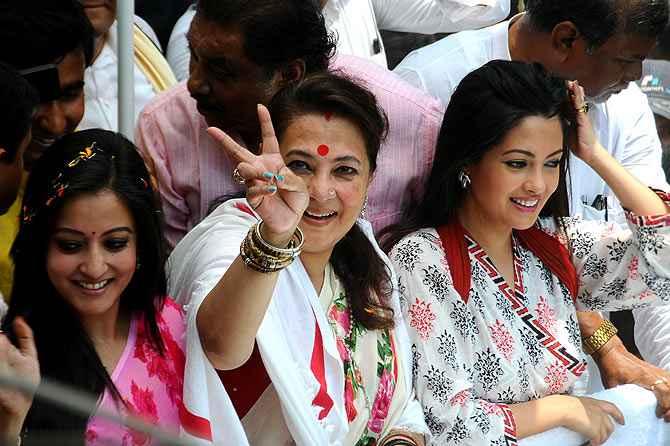 Nearly 82 per cent voter turnout was recorded in six Lok Sabha seats which went to the polls in the fourth leg of the five-phase elections in West Bengal.
"On an average 81.28 per cent of the electors cast their votes till 6 pm in the six constituencies of Jhargram, Midnapore, Purulia, Bankura, Bishnupur and Asansol," state Chief Electoral Officer Sunil Gupta said.
Gupta said polling has been completed in the LWE areas covering six Assembly segments of Jhargram, Binpur and Bandwan in Jhargram Lok Sabha seat and Balarampur, Baghmundi and Jaypur in Purulia constituency two hours ahead of the normal schedule at 4 pm.
Polling continued till 6 pm in rest of the constituencies, he said.
"Queues have been seen in some polling stations and polling will continue till they are cleared," Gupta said.
CPM and other opposition parties alleged massive rigging and booth capturing in many parts of the constituencies, but the CEO said barring some stray incidents the election was free, fair and peaceful.
"All complaints had been taken care of with timely action against each of them, but many were found baseless," Gupta said.
Elaborate security arrangements were made for the polling in Jangalmahal with deployment of central forces in all polling stations.
Please click NEXT to read further...
Over 56 cent voting in 7 LS seats of Bihar
Last updated on: May 07, 2014 22:20 IST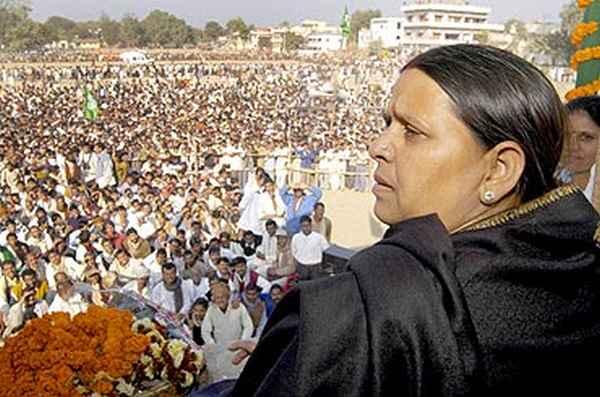 Over 56 per cent voting was registered on Wednesday in Bihar in the fifth phase of elections in the state which also witnessed death of one person in police firing outside a booth.
Sheohar registered 55.5 per cent voting, Sitamarhi 54 per cent, Muzaffarpur 61.92 per cent, Maharajganj 53 per cent, Saran 56 per cent, Hajipur (SC reserved) 56 per cent and Ujiyarpur 56 per cent, the Election Office statement said.
Despite impressive turnout of voters in the morning, the percentage did not increase later in the day and voting on two high profile seats of Saran and Hajipur (SC, Reserved) saw 56 per cent polling each.
While RJD president Lalu Prasad's wife Rabri Devi is pitted against BJP's Rajiv Pratap Rudy and Saleem Parvez of JD-U at Saran, LJP chief Ramvilas Paswan is in the fray from the Hajipur (SC) seat.
One person was killed in police firing outside a booth in Ramnagara village under Bathnaha police station area in Sitamarhi district during voting in the day, police said.
Additional Director General of Police (Headquarters) Ravindra Kumar told reporters that a woman was stopped from casting bogus votes following which a large number of villagers gathered and started quarrelling with the policemen.
During this an effort was made to snatch the rifle of a policeman which prompted him to open fire resulting in the death of 40-year-old Khobhari Rai, the ADG said.
Following the incident, the villagers gheraoed booth number 224 at the primary school and took the election officials hostage.
The situation was brought under control after District Magistrate Pratima and Superintendent of Police Pankaj Kumar Sinha reached the spot.
Please click NEXT to read further...
65 percent voter turnout in Ladakh constituency
Last updated on: May 07, 2014 22:20 IST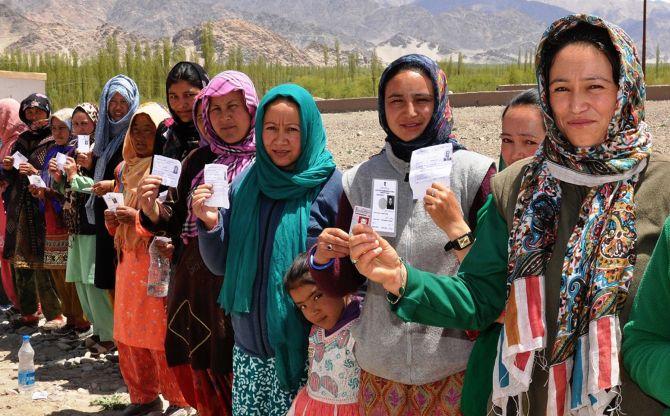 The sprawling Ladakh constituency recorded 65 percent voter turnout, while north Kashmir's Baramulla constituency saw moderate polling of 39.6 percent.
The polling in Baramulla where the contest is between the ruling National Conference candidate, Sharief-ud-Din Shariq and opposition Peoples Democratic Party candidate, Muzzafar Hussain Baigh, was marred by clashes and low polling.
Thousands of police and paramilitary central reserve police force personnel were deployed across the constituency spread over three districts of Baramulla, Kupwara and Bandipore to ensure peaceful polling.
The separatists had called for a poll boycott and a shutdown in north Kashmir.
While major towns in the Baramulla constituency saw very low polling, polling was brisk in the hinterland and border towns.
Authorities had to relocate 61 several polling stations from the major towns of Baramulla, Sopore and Pattan for security reasons.
The Ladakh constituency, however, saw incident free brisk polling with long queues outside the polling booths in the two districts of Leh and Kargil.
The chief electoral officer, Umang Narula said that 39.6 percent of electors exercised their franchise in the Baramulla parliamentary constituency comprising 63.19 percent in Kupwara, 25.04 percent in Baramulla and 35.65 percent in Bandipora districts.
He said 64 percent votes were cast in Leh and 65.8 percent in Kargil districts of Ladakh parliamentary constituency adding that the exact figures of the polling percentage will be available only after details are received from various far flung areas.
Narula said that as many as 2147 polling stations were set up across both the constituencies at 1878 different locations which included 132 critical polling stations, 1,091 hypersensitive and 455 sensitive ones. He also said that web casting facility was available in 55 polling booths, besides 20 digital as well as 92 video cameras were installed for covering the poll process in these constituencies.
He said that as many as 13,726 polling personnel were deployed in these constituencies during Wednesday's phase of electioneering adding that logistically the phase was challenging due to remoteness of various areas, as such number of air sorties were carried out to lift the polling parties directly to many polling stations.
The chief electoral officer said that total number of electorate in this phase was 13,57,321 and 19 candidates were in the fray.
Please click NEXT to read further...
62 per cent polling in Uttarakhand
Last updated on: May 07, 2014 22:20 IST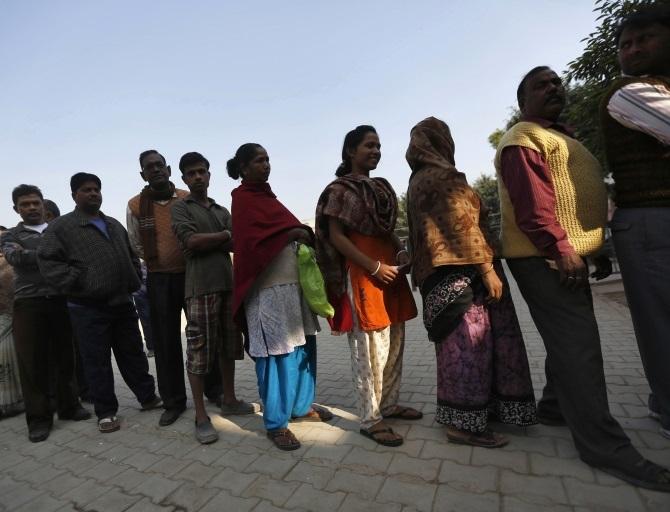 Around 62 per cent of the voters cast their votes in Uttarakhand where polling for 5 Lok Sabha seats completed peacefully amid tight security. Nearly 62 per cent of the 71.29 lakh voters across the state cast their votes till 6 PM, Joint Chief Election Officer Saujanya told PTI.
However, polling percentage from some remote areas in the hills are still awaited, she said.
Though polling remained peaceful, a poll official Arvind Singh due to cardiac arrest at Nargarha booth of Bageshwar district in Almora Constituency, Chief election officer Radha Raturi said.
Polling began amid tight security across the hill state for Pauri-Garhwal, Tehri, Nainital, Almora and Haridwar seats at 7 am with men and women in large numbers turning up at the polling stations since early morning to cast their votes.
Long queues of voters were seen outside polling stations waiting for their turn to exercise their right to franchise.
A total of 71.29 lakh voters across the state are likely to exercise their voting rights to elect legislators out of 74 candidates, including three former BJP chief ministers, contesting elections.
Elaborate arrangements were made to conduct free and fair polling across the state with the deployment of 48,122 poll personnel on 10,094 booths, election officials said.
The 48,122 polling personnel deployed on the booths included 11,484 presiding officers and 36,638 polling officials. 711 micro observers were also deployed to ensure free and fair poll.
76 gazetted police officials, 122 inspectors, 759 sub-inspectors, 1531 head constables, 11,225 constables, 11,245 home guards, 5409 gram prahris, chowkidars and forest guards besides 21 companies of the Provincial Armed Constabulary and 56 companies of central police forces were deployed across the state to oversee the conduct of polling, election officials said.
Some high profile candidates trying their fate in these elections are three former BJP Chief Ministers Bhuvan Chandra Khanduri, Bhagat Singh Koshiyari and Ramesh Pokhariyal Nishank besides Chief Minister Harish Rawat's wife Renuka, former CM Vjay Bahuguna's son Saket and daughter-in-law of erstwhile Tehri royal family Mala Rajya Laxmi Shah.