Lessons for Narendra Modi from Indira Gandhi
March 27, 2014 14:41 IST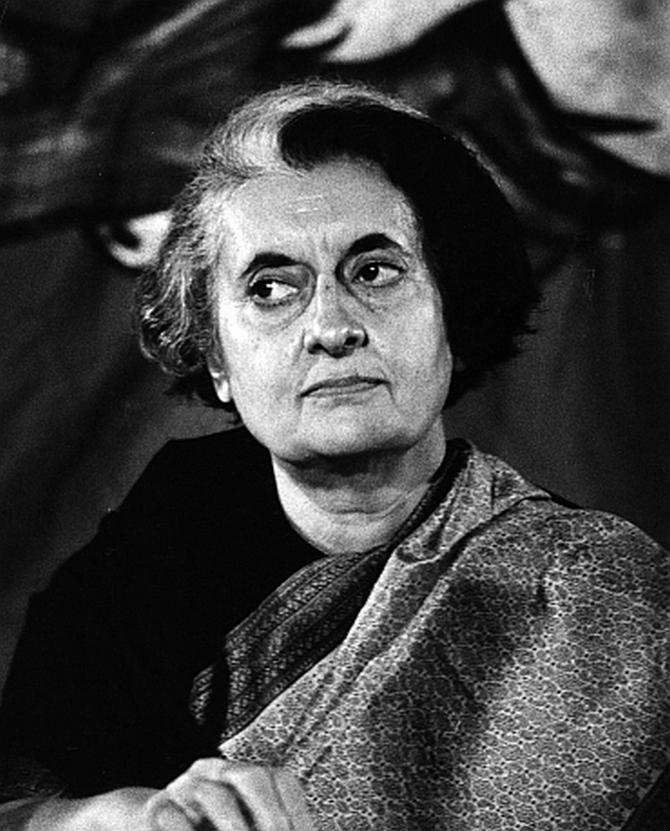 Narendra Modi appears to be confronting the BJP's 'Old Guard' just as Indira Gandhi fought the 'Syndicate' within the Congress, says Bharat Bhushan
Marginalised by the Bharatiya Janata Party, former Union minister Jaswant Singh has claimed that the current decision-making in the party reminded him of 1975, Indira Gandhi's Emergency era.
A more apt comparison might be made with the years preceding the Emergency when Gandhi split her party to create a new Congress in 1969.
Gandhi was then fighting a powerful group within the Congress known as the 'Syndicate' that was opposed to her.
Narendra Modi also appears to be struggling with what can be termed the 'Old Guard'.
Just as the Congress became synonymous with Gandhi after the party split -- literally as Congress -- the BJP is fast becoming synonymous with Modi. Gandhi made the institutions of the Congress irrelevant, as Modi seems to be doing in the BJP.
If Gandhi was likened to goddess Durga after the Bangladesh war, Modi is being likened to lord Shiva (ironically, the god of destruction), with Hindutva supporters adapting the chant "Har Har Mahadev" -- to "Har Har Modi".
The slogan may be no accident considering Modi deliberately chose the city of lord Shiva, Kashi (Varanasi), to establish his credentials as leader of the nation. It was withdrawn, however, when it upset religious Hindus -- underlining the chasm that exists between Hindu religiousness and Hindutva as a political ideology.
Click on NEXT for more...
Gandhi fought a bitter but democratic battle
March 27, 2014 14:41 IST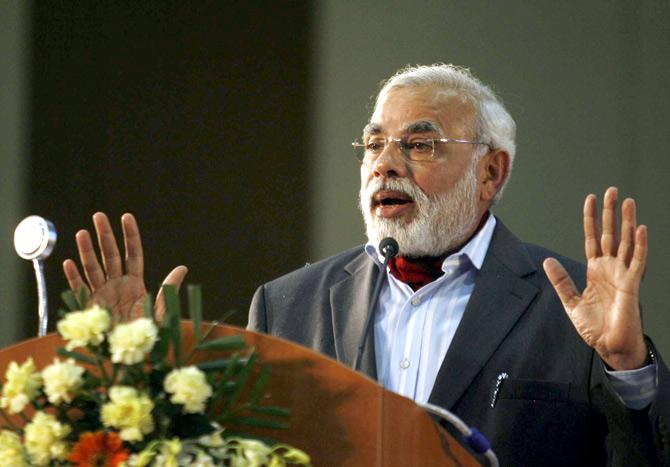 However, there are crucial differences between Gandhi's reshaping of her party in the face of opposition from the older leaders of her party and Modi's latter-day attempt to do this in the BJP.
Gandhi established her democratic credentials as prime minister in 1967, through an election in the Congress Parliamentary Party -- winning 355 votes against Morarji Desai's 169. Modi is yet to go through that baptism and was anointed prime ministerial candidate through more opaque processes.
Gandhi fought a bitter but democratic battle within the party for her social agenda before she was expelled from the party by its president, S Nijalingappa, forcing a Congress split.
Modi has fought no such battle of ideas in eliminating potential challengers in his party.
Gandhi's 10-point programme, announced in May 1967 at the All India Congress Committee meeting at Bangalore, was radical for its time -- it proposed nationalisation of banks and insurance, state control over import and export trade, ceiling on urban property and income, curbs on business monopolies and concentration of economic power, public distribution of food grain, rapid implementation of land reforms, provision of house sites for the rural poor and, most importantly, abolition of privy purses of erstwhile princes. It was a socialist programme with a focus on distributive aspects of wealth.
Modi comes with a corporate-funded and corporate-inspired agenda of growth premised on alienation of public resources to private entrepreneurs and no promise of distributive justice.
Gandhi had an inherent advantage in reshaping the Congress and consolidating it because she began to take on the older leaders in the party after she had become prime minister.
Being in government, she held a monopoly over patronage distribution. Her victory in the 1971 war also helped reinforce control over the party in the 1972 elections.
Click on NEXT for more...
26 outsiders have been fielded in UP
March 27, 2014 14:41 IST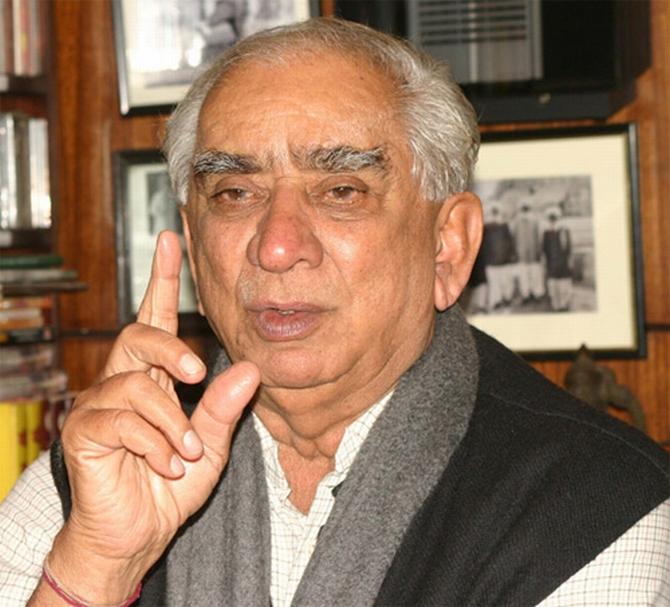 Modi, however, is putting together a party of loyalists even before he has come to office. They include many opportunists salivating over the prospect of loaves and fishes.
Anyone who seems to have the slightest chance at the hustings -- from rank opportunists opposed to the party till yesterday to fading film stars -- is welcome.
Consider the two states that hold the key to the BJP's prospects of forming the next government.
Nearly 26 outsiders have been fielded as Lok Sabha candidates in Uttar Pradesh. The number of outsiders in Bihar is 10 (one new entrant, two independent MLAs and seven defectors).
In other states, candidates with a proven record have been sidelined because their loyalty to Modi is in doubt.
Thus, Harin Pathak, seven-time Member of Parliament and an L K Advani loyalist, was cast aside in favour of Bollywood's funnyman, Paresh Rawal in Ahmedabad East.
In Barmer, Sonaram, a defector from the Congress who was defeated once in the parliamentary election by Jaswant Singh's son, is being fielded instead of Jaswant Singh.
In Sikar, three-term MP and former Union minister Subhash Maharia was ignored in favour of a Ramdev acolyte, Swami Sumedhanand, who is from Haryana.
The story is repeated in constituencies across Madhya Pradesh, Punjab and Delhi.
Click on NEXT for more...
BJP president is an acolyte of Modi
March 27, 2014 14:41 IST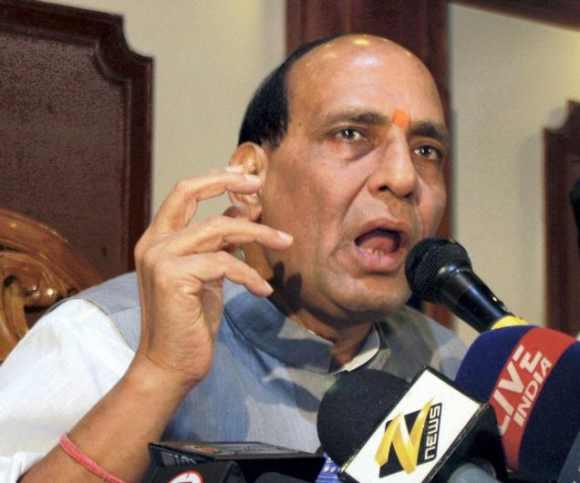 The deliberate humiliation and marginalisation of leaders critical of Modi are evident in the way senior leaders have been forced to change constituencies, their candidature not announced in time, or denied the opportunity to contest altogether. Adding insult to injury, Modi's supporters have publicly advised them to grin and bear it.
Such is the surveillance of the "thought police" in Modi's dystopian new BJP that even party president Rajnath Singh had to face the ire of Modi loyalists for tweeting, "Ab ki bar, Bhajpa Sarkar (This time, a BJP government)".
Barely 33 minutes later, he modified it to "Ab ki bar, Modi Sarkar (This time, a Modi government)".
In confronting his own 'Syndicate' within the BJP, Modi has the advantage that his party president is an acolyte.
He also has the additional advantage that, despite apprehensions, the organisation that provides the cadre to the BJP for elections, the Rashtriya Swayamsevak Sangh, has thrown its weight behind him.
Unlike Indira Gandhi, Modi, therefore, does not need to split his party. It is enough to relegate contenders to the margins. The RSS, led by a weak and confused leader like Mohan Bhagwat, will not be able to check Modi in this.
In one breath he blesses Modi as the BJP's prime ministerial candidate, in the next, Bhagwat cautions against promoting a personality cult.
Modi could well argue after the elections that, like the BJP, the RSS too needs a generational change and advise an ageing Bhagwat to retire.
If he succeeds, Modi's control over the BJP and the RSS would be complete. The big assumption here, of course, is that those opposed to Modi will roll over and oblige.
Click on NEXT for more...
TOP photo features you missed last week
March 27, 2014 14:41 IST
Click on MORE to see another PHOTO feature...
Source: